Wenceslas Square New Town District – Prague One
---
The only other time you'll have heard the name "Wenceslas" is probably from a Christmas Carol. Well in Prague you cannot fail to notice King Wenceslas sitting on one of the largest bronze horses on one of the largest squares in the country named after him. But it wasn't always this way. Once upon a time this used to be a horse market accessed via a secure gate in the New Town Wall that ran across the top of the square. If you are up at the top of the square you'll find main roads and large buildings which are built on what used to be that wall. Even at the top of Wenceslas Square you are still less than a 10 minute walk from the Old Town.
---
Accommodation In the Wenceslas Square New Town District
There are several excellent hotels right on the Square and others close to it to suit all budgets and styles. You can read about my recommendations on the Wenceslas Square Hotels with a Bit Extra page.
---
What's to See?
Nowadays, Wenceslas Square itself has a reputation for two things namely Stag Parties and Shopping although people interested in all kinds of late 19th and 20th Century architecture will find Cubism, Art Nouveau and Rokoko styles here some of which are covered on the Prague Architecture Walking Tour. Although you won't find many bars on the Square itself, the roads running left and right away from the square have many options for smart bars and smaller restaurants. Bars include Nebe and Duplex, Irish Bars like Rocky O'Reillys and American bars like Jama. Restaurants like Modry Zub (Thai), Kobe (Steak and Sushi), Kogo (Italian) and a range of classic Czech food pubs are within a couple of minutes walk. Stag parties will largely be visiting "Ve Smeckach" which is part of the Red Light District.
---
---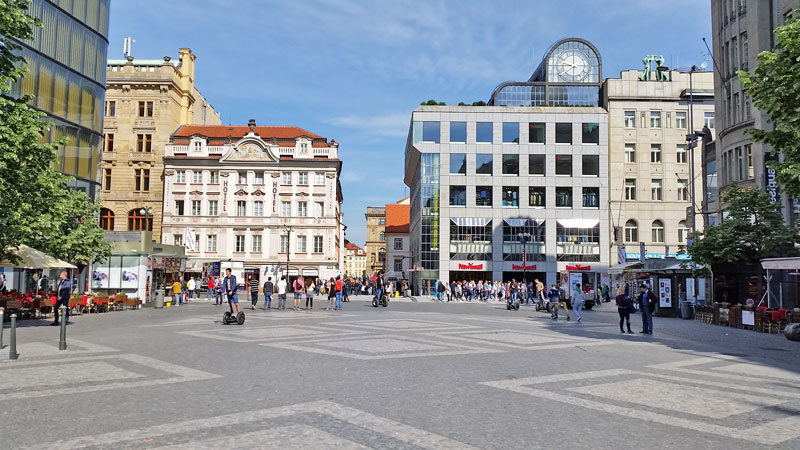 ---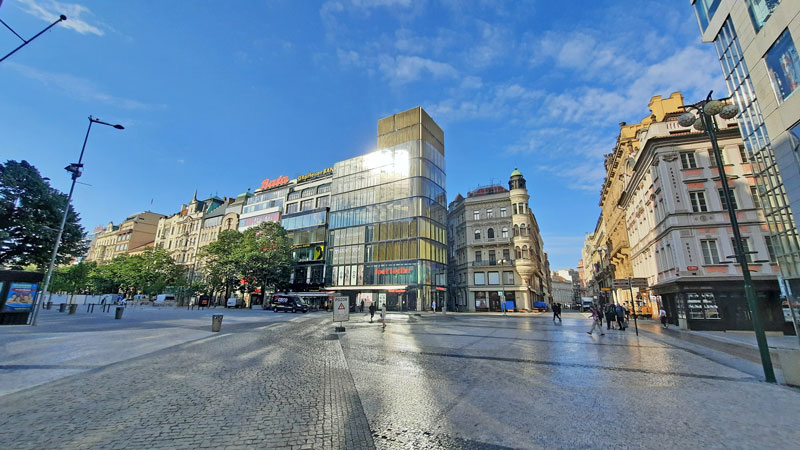 ---
---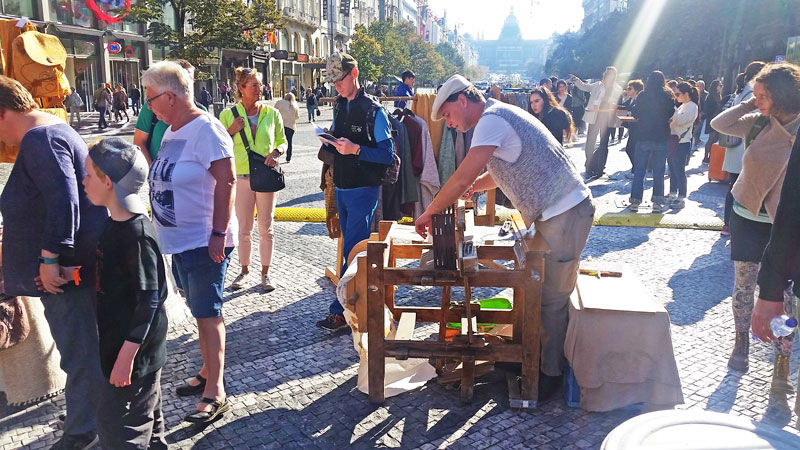 ---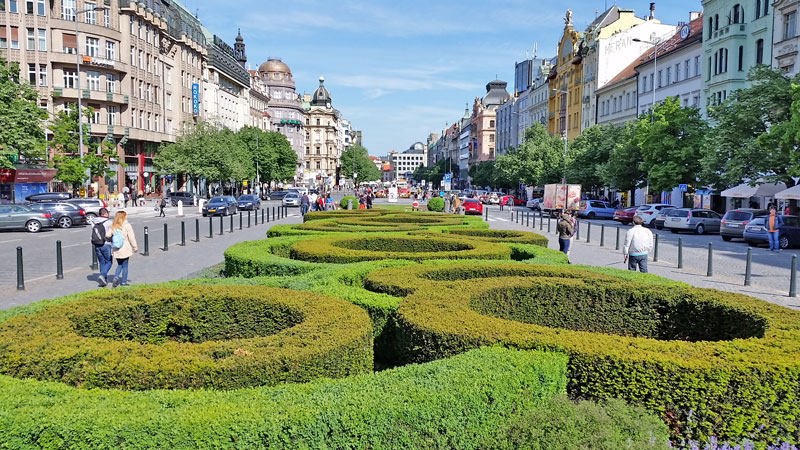 For shopping you have a pretty good choice of popular chain department stores on both sides of Wenceslas Square and don't forget that many smaller independent shops and businesses exist in the small passages and centres that sit just behind the main shops.
---
Wenceslas Square is one of the locations for a Christmas Market which normally starts at the bottom end and extends almost up to the top. Either on the Square or just a few steps from it you'll find the National Museum (beautifully lit at night), the State Opera, the Franciscan Garden, Lucerna Passage and the Main Railway Station. Since 2015 the bottom half of Wenceslas Square is largely pedestrianised and the open part at the bottom also provides a location for hosting food, music and sport festivals.
---
Transport and Access
Wenceslas Square has metro stations on all three lines. Mustek (Green and Yellow) and Muzeum (red). It also has a tram line running through it, the two closest stops are Vaclavske Namesti and Jindrisska. Here's a guide on How to Use a Touch-Screen Ticket Machine.
---
Something Related or a Few Minutes Away
---
Some Random Things to Do and See in Prague