Prague Gluten Free Guide
---
If you are reading this then you are probably on a Gluten Free diet. This may be for general health reasons in which case there can be some flexibility or you may be gluten intolerant in which case there is no flexibility. If there is any question of nut/seed allergy then check the post about Nut Allergy in Prague. On this post I will assume you are at worst, gluten intolerant.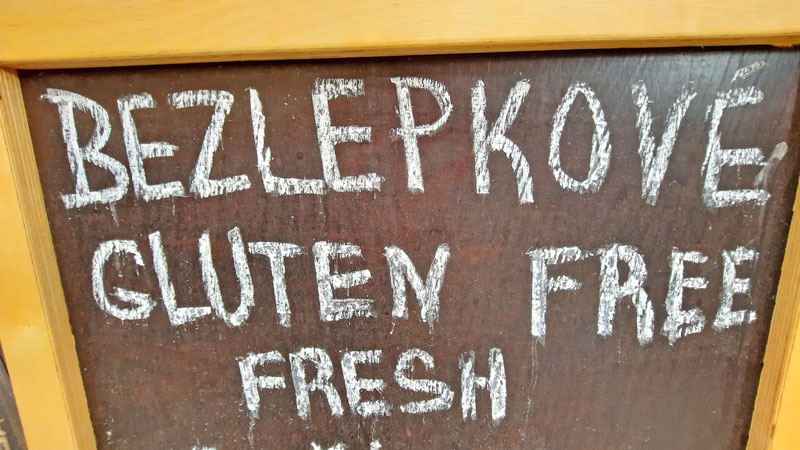 ---
Labels and Indicators
The exact Czech translation of "without Gluten" is "bez lepkove" or "bez lepkovy" or another version can be "bez lepku". So if you are in any shop looking at products then this is a fast way of knowing it's safe for you. Many Prague Gluten Free raw ingredients may also list being "without Phosphates" in which case look for "bez fosfatovy". A processed product may have the "crossed-ear" symbol below: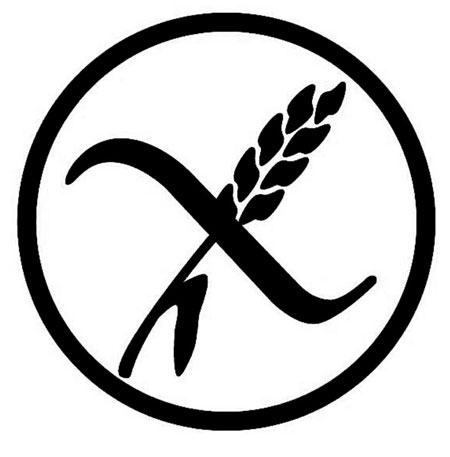 It might be a bit confusing but according to EU law, a product which is naturally Gluten free should NOT have this symbol so it only applies to things which would normally contain gluten but in this case, has been eliminated.
Prepared food in cafes and restaurants etc may also be labelled using the EU Allergen System. The necessary numbers will be after the food title. For example, people with a general intolerance for dairy products will often look for 1,3,7:
Allergens:
cereals containing gluten
crustaceans
eggs
fish
peanut kernels
soybeans
milk
nuts
celery
mustard
sesame seeds
sulfur dioxide and sulphite
lupines
molluscs
---
Eating in Prague – Gluten Free Restaurants
If you want to walk into a restaurant and you are looking for Prague Gluten Free options then we must consider if you are eating alone or are you with people who are not gluten intolerant. It's important to understand because I could just say go to any Vegan restaurant in Prague and you'll have Gluten Free options but then not everybody wants to eat Vegan. When I do Private Walking Tours with people who have a Gluten Free diet I can stop at one or more of these places depending on the route.
1) My number ONE choice for Italian style options but NOT pizza is called Alriso which offers a 100% Prague Gluten Free experience. Located in the Old Town, warning: you might just forget everywhere else and keep coming back here.
2) Also in the centre of town (Monday to Friday) is the Vegan Country Life in Melantrichova. They used to mark their meals with a "GF" sign but now they use the EU allergen system so look out for 1 (contains gluten) and possibly 6 (soyabeans).
3) For a simple burger meal then any branch of Tom's Burger in Prague offers the option of a Gluten Free bun (as does any branch of McDonalds). Check the Cafes section below as well.
4) If you are looking for Prague Gluten Free pizza then check Pizza Without Gluten to find pizzerias in Prague offering that product. Or check point 7 below.
5) Pepe Nero is a Mediterranean-style restaurant and although it's not 100% Prague Gluten Free, the menu is very clear in which options are GF. On the Pepe Nero website skip the on-screen menu and download the full PDF version to see the GF offer.
6) There's a chain of Mexican restaurants here called Las Adelitas where you can go Gluten Free so long as you order Corn products. They are used to GF requests.
7) If you are in the New Town close to the river or Charles Square then at Pštrossova 4 you'll find the Bassotto Cafe/Restaurant. They do their own Prague Gluten Free baking and it's my favourite for gluten free pizza with a glass of wine in the city.
---
Tour Tips: Here are a few Food Tour options that have been around and established themselves as high quality food activities in Prague which can include Gluten-Free.
---
Eating in Prague – Cafes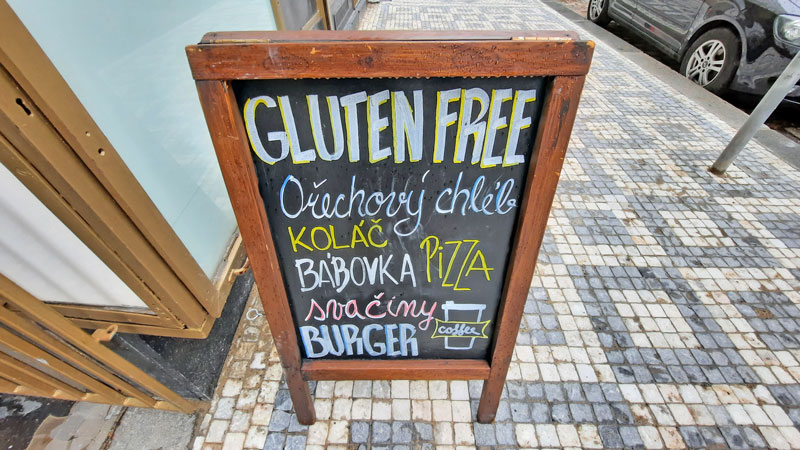 Not many city bakeries are producing their own Prague Gluten Free products. They will be supplied by one of several professional bakeries on the outskirts of the city and individual products are often labelled with the "crossed-ear". There are many cafes that may offer pastries or other individual products so here are my favourites:
1) My favourite place with a 100% Prague Gluten Free menu is Grandmas Pantry just 2 minutes walk from Republic Square in Prague 1. I know this place mainly as a cafe but it does burgers as well.
2) In the same area there's a mini-bakery/bistro called Sisters that does a nice range of Gluten Free open sandwiches and canapes.
3) In the Smichov (Prague 5) area there's a 100% Prague Gluten Free offer at Sweet Life. It's a nice cafe that does a good range of pizzas as well but treat this place as breakfast/lunch as it shuts at 6pm.
4) If I'm in the Namesti Miru (Prague 2) area then I stop in a small family business called Cafe Waffle. It's not 100% Prague Gluten Free but the idea is that you select a topping (or make one yourself) and you request a Gluten Free waffle to put it on.
---
Drinking in Prague
You too can enjoy a drink with a choice of Prague Gluten Free beers in supermarkets but you are less likely to find them in bars because of the low demand. So if you are ok to buy with a view to taking a bottle back to your apartment etc then here are two pieces of advice. 1) as mentioned earlier, a beer with the words "bez lepkovy" like the Bernard beer in the picture will be ok for you and 2) we have a brand here called Celia which is a gluten free brand in Prague so anything from Celia is ok for you.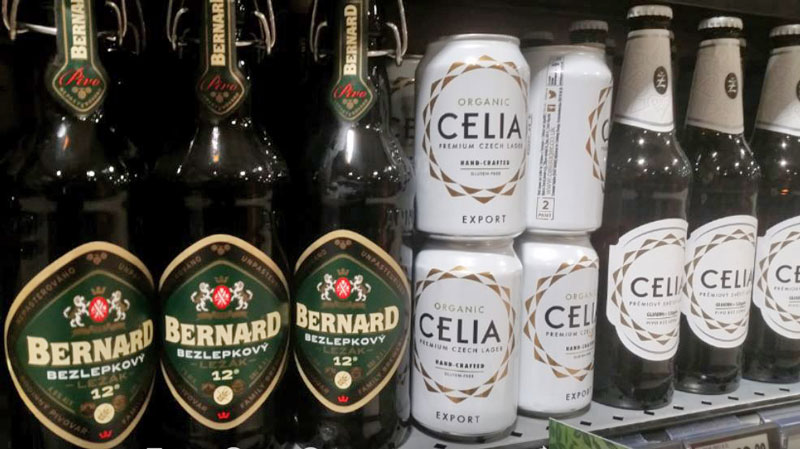 ---
Home Cooking and Online Ordering of Prague Gluten Free Products
Getting ingredients together for you to prepare your own food can be time consuming and let's also say that this could be more expensive than you thought. Of course we have shops selling Prague Gluten Free products but these are usually limited to specialist bio/organic shops and will be charging several times the price of the equivalent gluten product. If you prefer to walk into a shop then check out Sklizeno http://www.sklizeno.cz for raw ingredients (Health and Diet Section) which has various shops in the city. Country Life https://www.countrylife.cz/ also has shops in the centre.
However, if you want to load up on Prague Gluten Free and you are happy to use an e-shop then without doubt the best option is Obchod Bezlepku. Supermarket prices, much cheaper than the shops mentioned above but there's a delivery weight limit of 15Kg.
---