Prague Franciscan Garden
---
The Franciscan Garden and the Church of Our Lady of Snows can be visited together if you like. Although most people from the area will go mostly to the garden for a takeaway lunch or ice-cream during a work break.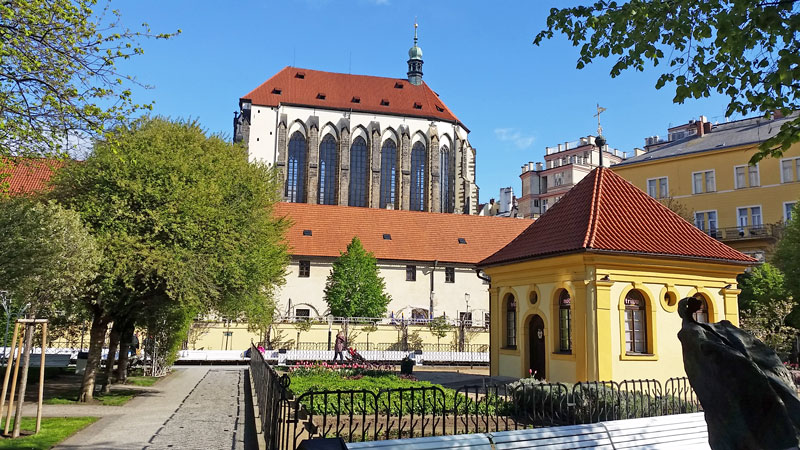 ---
What's the History?
You have to go back to 1347, the year of the coronation of the famous King Charles IV, Holy Roman Emperor. The day after the coronation he ordered that this land be given to the Karmelites for the purposes of building him a coronation church. As it was outside of the fortified Old Town most of the original church was detroyed during the Hussite wars of the early 15th Century. In 1604 the Franciscans took over the area, repaired the church and added the monastery.
---
The Franciscan Garden
Although redesigned several times in it's life and largely destroyed during the Hussite Wars of the early 15th Century. by the mid 18th Century the Franciscan Garden was now in it's present French Baroque form with ornate hedging, sculptures and a chapel in the centre (now a craft shop in a herb garden), but it was still privately owned. It's not until 1950 with the communist takeover and forced arrest of the monks that the Franciscan garden was opened to the public. It was replanted with fruit trees, rose gardens and renovated in the early 1990s but was never returned to the Catholic Church and today remains the property of the city Prague 1 district.
---
Where is the Franciscan Garden?
Unbelievably it's less than 100 metres from Wenceslas Square. The map below shows how it can be accessed in 6 different ways:
1) From Wenceslas Square via Palac U Styblu
2) From Vodickova via the Palac Svetozor
3) From Vodickova via the Mysak Gallery
4) From Palackeho via the Poliklinika
5) From Jungmannova via Teta Passage
6) From Jungmannova Square via the corner next to the church
---
What's It Used For Now?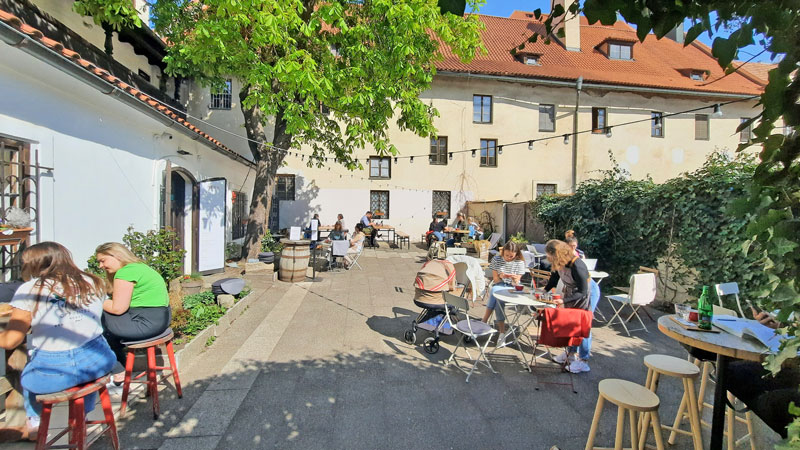 As I mentioned earlier. It's a place to relax during the day but it's closed at night. People use it for sitting in the sun, an informal meeting point, reading and eating lunch. There is a pay-toilet just outside the gate adjacent to the cafe. There's also a public play park which will be used by under 5's and associated parents. There are many benches laid out through the garden but no tables. There is a small cafe in the garden and another two in the Světozor passage. If you are looking to stay in the area then the Hotel Adria overlooks the Franciscan garden.
---
Something Related or a Few Minutes Away
Activity – Prague City Walking Tour
Food and Drink – Jidelna Svetozor
Famous Czechs – Josef Jungmann
---
Some Random Things to Do and See in Prague