Prague Red Light District
---
When Stag parties come to Prague the common question will be to ask "Where is the Prague Red Light District?" but if you are looking for sex rather than just a performance then that's the wrong question. The correct question is "I'm willing to pay for sex, now what are my options?". So on this post I'm not going into the whole social question of prostitution, trafficking and efforts to legalise the industry. This will be about what's on offer, what to expect and tips for a tourist coming to Prague looking for sex.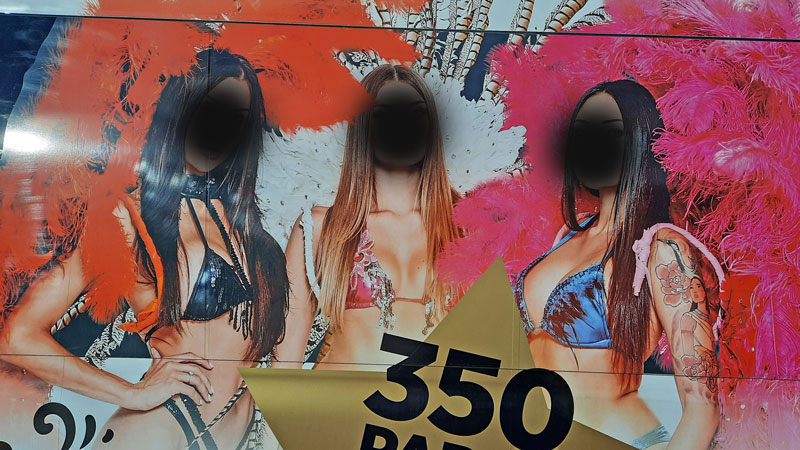 Disclaimer: I have chosen to display this picture because its from a company which, as a cabaret/strip club, promotes the sex industry in the city. Therefore I do not say that the people portrayed in the picture are connected to the sex industry in any way other than this company has chosen their images to advertise their business, hence I have covered the facial detail.
---
Is There a Prague Red Light District?
The location of street sex-workers moves around the city depending on where the police are applying pressure. Consistently the place with the most amount of street sex-workers is Charles Square. A recent BBC investigation found that there are at least 200 brothels in the Prague area, all of which are illegally offering sex services. The data came from medical services, not the police. In the last serious study back in 2002 there were approximately 12,000 sex-workers in Prague in an industry worth around $200 Million a year.
---
Tour Tip: The Prague Pub Crawl and International Party has two start times. Begin at the earlier time and you get 2 hours of unlimited drinks!
---
Outside Proposition
By this I mean you engage services on the street. On a place like Charles Square you'll have to walk up to a sex-worker and communicate with them about what you want and how much. This is not illegal but note that 1) the sex worker may not speak English and 2) for some acts they may simply walk you over to the park but for others you'll probably be walking down empty streets to a shared apartment i.e. as a rule anybody that walks off the street into a strange building with an unknown person is taking the most risky option.
---
Inside Proposition
As far as a Prague red light district is concerned then this applies to any "club" offering sex services but the street called Ve Smečkach off Wenceslas Square is the most well known for its "night-time" options. With any club, big or small, whether it starts with a performance, drinking, dancing, massage or sauna, this is all just the first stage in the game.
---
How Much?
Of course it's important that you have an idea of how much things cost. A Czech journalist investigating Charles Square sex-workers suggested that street workers were selling vaginal sex for CZK1000 and oral sex for CZK500 but prices are a moving target depending on circumstances and any "extras". Expect these prices to double in a "club".
---
How The Prague Red Light District Works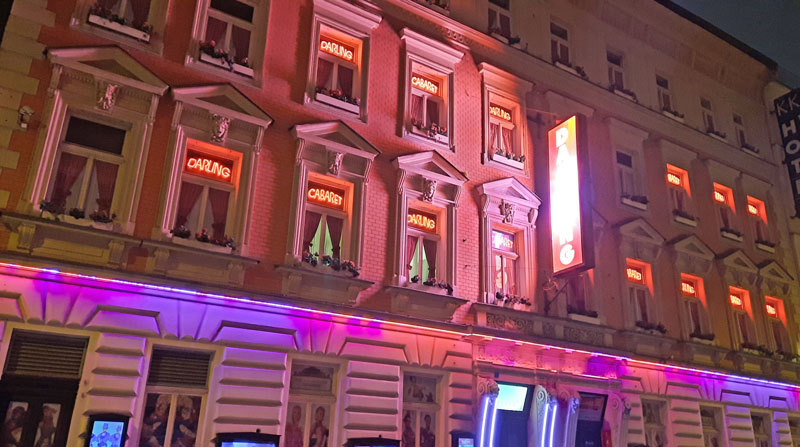 I can't stress this enough, it is not illegal for a sex-worker to provide services but it is illegal for that sex-worker to be working for somebody else or to solicit sex first. So lets take the stag night example and lets say that a group of guys has gone to a strip club, there's a booth close to the stage where a girl may be dancing and it's bottle service i.e. you have waitresses coming to and from the table. Is doesn't have to be so grand. The most important thing to understand is that in any club this is "first-contact".
In the Prague red light district the job of the waitresses is to find out the intention of the group so if it's just watching and drinking that's fine, they'll sell you the drink. If it's looking for company then that's when the hostesses will appear. These are girls who will immediately increase your drinks bill but they cannot solicit although if a conversation starts with "do you want a private performance?" then you know what's coming. The job of the hostess is two-fold. Firstly its to extract "the question" they want you to ask them for sex services and to be completely open about what you want because remember, the illegal part is soliciting. At this point you may even get a ballpark figure on the price. Secondly they'll move you away from the table for the transaction.
Now we are getting to the business end. This last stage is where you agree what you want, with who and for how much plus you almost certainly will be discussing this with a third-party who will speak English/German. You are now at your most vulnerable, maybe a little drunk, being pressured to pay for more services than you wanted, maybe with a different sex-worker than the one you thought you were getting. And remember how exactly are you paying? Credit card? No freaking way would I ever tell a person who wants to buy sex at a club to hand over a credit card.
---
Tour Tip: This is the original Drunken Monkey bar crawl and in my opinion, probably the most fun if you like beer drinking games.
---
Tips and Tricks for the Prague Red Light District
1) This should be done in a club. Street sex workers are cheaper but can just be fronts for petty crime and robbery. At least a club will reduce the risks.
2) Don't wait until the end of the evening before you buy sex. You need to be aware of what is going on and eventually exit the venue in an orderly manner.
3) This is a cash transaction so as a group make sure that everybody has sufficient cash to pay for the evening. Keep a credit card as a backup but NEVER let anybody walk away with it. A person who gets to the stage of agreeing a price for a sex service should NOT be carrying any cash or cards i.e. after the price is agreed then they should go back to the group to get the required money.
4) When you walk away from the table with a hostess YOU ARE COMMITTED to buying a service. I can't make this any clearer. If you have indicated that you want to buy a service and back down then hopefully the venue staff will remain courteous.
---
You Also Might Like to Read
---