Prague Black Light Theatre
---
Black Light Theatre has been around Prague since 1959 but only became truly popular in Prague post revolution. Now Prague is the recognised centre for this type of theatre. If performed well, it gives people the opportunity to see a creative and artistic performance with stunning imagery and you'll only give up an hour or so of your time.
---
Read on first to learn how to pick the right one for you. My recommended Prague Black Light theatre is the "Image Theatre" which circulates a few different performances including "Best of Image" and "Galaxia". A close second is the Broadway Theatre in the Broadway passage off Na Prikope which shows the "Wow" production and finally "Black Light Theatre" which does the storylines "Faust" and "Frankenstein". A newcomer to the scene is the Savarin Palace (Animato) Theatre which is performing a kind of Beatles music review called "Rock Therapy". I've not seen it yet. Most Prague Black Light Theatre performances are held in the evening from 7pm and last between 60 and 90 minutes.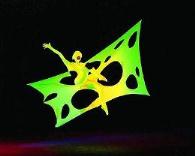 The term "Black Light" is because the light used on stage is Ultra-violet or UV-A. It's beyond human vision hence "black light". Now if you've been to any nightclub lately you'll have seen all manner of weird colours showing up under the UV lights in the club. Shirts, dress labels, dandruff, shoe laces, underwear etc. This is because these items have "fluorescence" or the ability to absorb and reflect UV-A light. In the 1950s, French film directors played with taking the centuries-old "black box" idea and putting the effect on the big screen but it didn't work out too well. But for a small theatre seating 200 or less it was perfect.
---
The Black Light Theatre Effect
The effect is achieved largely due to the fact that the human eye has trouble telling the difference between layers of black material. Hence if the background is entirely black (black velvet is the favourite) and the performers are dressed in black, then you would not see them against the background. Now give the performer fluorescent clothing or a fluorescent prop then you'll see the shape and colour of the fluorescent part, but not the black part. Now as the performer moves, you are only going to see the prop doing gravity-defying actions before your eyes.
There are different types of performances which roughly divide into "story" and "scene". An example of the story format is "Aspects of Alice" at Theatre Ta Fantastika in Karlova or "Faust" at the "Black Light Theatre". These basically have a concentric line of performances that follows a known story. The other type "scene" are typically choreographed for that theatre and display an artistic interpretation of the composer/designer. Very often they contain the combination of modern dance and a theme. The "scene" type can involve a mix of regular lit stage with visible performers for some parts and full black light for others. Each scene can be a singular event and not connected to anything else. The Image Theatre "Best of Image" production is an example of this.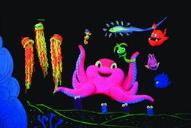 Theatre is theatre. Artistic interpretive performances are either admired or tolerated based on the observer. With Black Light the performer must be absolutely co-ordinated in the dark surroundings or he risks falling or hitting another performer etc. The storylines like "Aspect of Alice" may appeal but then you may not like it. My advice is to try a "scene" based performance like "Best of Image" at the Image theatre close to the Old Town Square (see the "All Black Light Venues" link below). It will give you a chance to sample the many ways of using black light. Don't forget NOT to sit at the front. Tickets may be bought but seating is first-come, first-served so take a seat in the middle or rear of the theatre for best effect.
---
All Black Light Theatre Venues
Click below to get the listings for all the black light theatre events coming up. All venues and productions. These are all centrally located theatres. Read about the production, the venue, see related events and buy tickets.
---
TA FANTASTIKA – Aspects of Alice
This is a 90 minute performance with an intermission which is loosely based on the "Alice in Wonderland" story. Very engaging dance and music makes it suitable for children and adults alike. The theatre is located in Karlova which is only 50 metres from the Charles Bridge.
---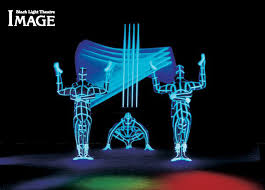 IMAGE THEATRE – Best of Image
This is a 90 minute collage of all the performances that have ever been staged here. It is a very eclectic mix of dance, drama and comedy spanning 20 years of productions. I often recommend this one for Prague black light theatre "first timers" purely because of the mix. Note that there is no intermission here. Blacklight Theatre is located in Betlemske Namesti close to the Old Town Square.
---
SAVARIN PALACE – Anthology
This is a 95 minute production and is similar to the "Best of Image" above but this one is the Best of Srnec. Jiri Srnec is the recognised inventor of Black light theatre so this show picks out some of the production highlights from the last 50 years. There is an intermission. Savarin Palace is located in Na Prikope close to Wenceslas Square.
---
LATERNA MAGIKA
It's not a traditional Prague Black Light theatre but I've included this one because it uses Black Light as part of it's multimedia performances. Take a look at what performances they have on during your stay and read more about this venue on the Laterna Magika page.
---