Prague Culture Venues
---
The standard of classical music in Prague is very high so here I cover specific venues that you might like to combine with a concert. If you want a quick view of what's on for classical performances then check the Classical Events Schedule.
---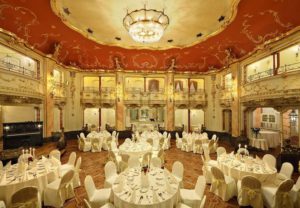 Special Dinner Event – Mozart Dinner at the Boccaccio Ballroom
This is a 2 and a half hour Prague culture event. Three reasons for coming here are 1) to spend an evening in one of Prague's finest ballrooms, 2) to be entertained by musicians and performers bringing you the most popular works of Mozart and 3) to enjoy a selection of menu courses between the performances.
Check availability for the Boccaccio Ballroom Mozart Dinner
---
Prague Culture – Municipal House – The Smetana Hall
The Smetana Hall, part of the Municipal House and largest interior classical concert venue in the city which seats more than 1000 people. The building was finished in 1911 and was the location of the Czechoslovak declaration of Independence in 1918. It's a beautiful place with neo-renaissance influence and Art Nouveau decor. Smetana Hall is the home of the Prague Symphony Orchestra and as a Prague culture venue, absolutely must not to be missed by anybody with any love of classical music. You'll find the Municipal House at Namesti Republiky (Republic Square).
Check the Smetana Hall program, get performance artist details and buy tickets
---
The Mirror Chapel
The Mirror Chapel is part of the Klementinum complex in the Old Town. It's a fairly small venue and sells out quite quickly in peak season. Well known for Vivaldi Four Seasons recitals and "Best of Mozart" etc but it also hosts the occasional choir. A beautiful venue, acoustically very good and places for around 75 people so an intimate Prague culture venue as well. Well worth a stop if you've got time late in the afternoon or early evening.
Check the Mirror Chapel program, get performance artist details and buy tickets
---
St Nicholas Church Mala Strana
St Nicholas specialises in chamber music and makes frequent use of it's organ in several different productions. Actually you'll struggle to find a date where the organ is NOT playing. Sometimes accompanied by oboe, violin, trumpet or a solo soprano or in fact any combination. Performances usually start at 6pm.
Check the St Nicholas Church program, get performance artist details and buy tickets
---
St Martin in the Wall
St Martin specialises in chamber music but compared with ST Nicholas it's 400 years older, Gothic and hence, a less grand setting. The church is now quite hidden away on the border of the Old and New Towns but it's well established as a venue for chamber music and uses it's organ in most productions. It has the staple offer including Mozart and Vivaldi but here as at the Smetana Hall they introduce the listener to Czech classics as well and the acoustics are great. Prague culture performances here are usually 70 minutes with no intermission and start around 5pm or 6pm.
Check the St Martin in the Wall program, get performance artist details and buy tickets
---
Spanish Synagogue
Prague culture at the Spanish Synagogue (part of the Jewish Museum) is very often a solo performer supported by the "Czech Collegium" which is a string quintet. Unless there is a particularly strong artist (Best of Gershwin etc), normally you'll get a selection of foot-tapping popular music from a choice of composers. I've been to piano recitals here and generally you'll be looking at just over an hour for the performance starting around 7pm. Something quite mystical about having only a pianist and a solo violinist on stage.
Check the Spanish Synagogue program, get performance artist details and buy tickets
---
Lobkowicz Palace (Prague Castle)
The Lobkowicz (Lobkovice) Palace gives you a rare opportunity to experience Prague culture on a visit to a fairly restricted area of Prague Castle. Seating for about 60 people in a classically decorated drawing room, parquet flooring, fresco ceiling, portraits and loads of Stucco. The music is usually based on "highlights" of classical pieces and restricted to piano/viola/flute for the recital. Perfect for delicate piano and flute pieces, the room is fairly small and certainly not a venue for the larger wind instruments. Still, it's a memorable location. Read more detail on the Lobkowicz Palace post.
Check the Lobkowicz Palace program, get performance artist details and buy tickets
---
Rudolfinum – Dvorak Hall
The Dvorak Hall in the Rudolfinum is second in size only to the Smetana Hall. The Rudolfinum is also well known for it's art exhibitions but in this case we are here for the Dvorak Hall which is the single biggest space in the building and seats more than 1000 people. Prague culture here is likely to involve performances of the Czech Philharmonic Orchestra. With it's massive open fronted area and bordered by side balconies with high columns it is an unforgettable venue. Primarily suited to large orchestras from Czech and international guests etc it also can be filled up by Chamber Music recitals and big names.
Check the Dvorak Hall program, get performance artist details and buy tickets
---
St George Basilica
The St George Basilica looks like a big venue but inside it seats less than 200. I have to say that it's a little uncomfortable here as it's bench seating looking up to the performers in the distance. Its better known for supporting smaller orchestras and has found Prague culture popularity with it's Chamber Music recitals. I usually advise people to make this a summer venue or dress up warm for the winter as there is no heating. The tall vaulted ceilings and stone walls make for good acoustics when an orchestra is playing. Where you see "Prague Royal Orchestra" this is a rotating group of musicians taken from other top orchestras including the Czech Philharmonic, the National Theatre and the State Opera.
Check the St George Basilica program, get performance artist details and buy tickets
---
National Theatre
The foundation stone of the Prague National Theatre was laid on May 16th 1868. The building was finished, after 13 years of hard work, in 1881 and then was destroyed accidentally by fire. The Theatre was rebuilt and opened again on November 18th 1883 with the premiere of Bedrich Smetana's opera Libuse. The National Theatre offers a broad repertoire of opera, ballet and drama performances by famous authors of the Czech and World theatre history. You can read more about the venue and event program on my National Theatre page.
---
Estates Theatre
Estates Theatre (also known as Stavovske) was built in 1781. In 1787 the premiere of Mozart's Don Giovanni took place here and for Prague culture this is still the most common performance. This is the only surviving theatre where Mozart conducted his own work. Nowadays the theatre is one of the most beautiful Classicist buildings and offers, besides other plays, modern representations of present as well as classical authors. This theatre offers performances for the cheapest prices if you are willing to watch a matinee. You can read more about the venue and event program on the Estates Theatre page.
---
State Opera
The State Opera was built in Renaissance style in 1886-87 as a copy of the Vienna Opera House. It was a German theatre showing German operas and operettas on stage. It was seriously damaged during the bombing of Prague in 1945. In 1950 it was reconstructed. This is Prague culture based mainly on operas and ballets. You read more about the venue and event program on my State Opera page.
---
Laterna Magika
The Prague Laterna Magika theatre (also called the New Stage) was created through successful combination of theatre genres with audiovisual techniques including blacklight. The first performance took place at the Brussels World Fair in 1958. Located next to the National Theatre. You can read more about the venue and event program on my Laterna Magika Theatre page.
---
Ta Fantastika
Ta Fantastika Black Light Theatre was established in 1989 thanks to a chance meeting between Petr Kratochvil, who had just returned home after ten years in the USA, and Pavel Marek, whose Pan Optikum black light theatre company had been active in Prague since 1983. The new Prague theatre was immediately successful in the former Czechoslovakia and later the Czech Republic. In 1993 it obtained a permanent building in Prague, in the Unitaria Palace in Karlova Street.
Check the Ta Fantastika program details and buy tickets
---
Opera, Ballet and Dance FAQ
A few questions answered:
Q1. Why is it that I search for State Opera and it keeps giving me options for National Theatre?
A1. State Opera, Estates and Laterna Magika all come under the auspices of the Narodni Divadlo (National Theatre) state company.

Q2. Can I get tickets posted to me before I come to Prague?
A2. Some ticket providers do offer postage within CZ but not outside. Companies like Via Musica allow you to print your own ticket at home or collect from their office when you get here.

Q3. What's the dress code?
A3. In general all the major theatres that do opera and ballet require smart attire. No Jeans, no loud t-shirts and no trainers. For Premieres and basically anything in October/November even black tie would not look out of place. Men are guaranteed entry with jacket and tie. Women seem to be able to wear what they want.

Q4. Are operas and ballets in English?
A4. Ballets are dance based, not language based. Operas are performed in their original language so that's generally Italian, French and German but most productions (all listed on my theatre pages) have a screen with English subtitles.

Q5. How do I get a specific seat in a theatre?
A5. The booking agent will generally have a seating plan with defined areas like "stalls", "Balcony", "boxes" etc. You select an area but usually cannot select a specific seat number as seats are assigned as booked. If you are travelling with a group, email the booking agent direct and they'll arrange a block booking with the theatre.

Q6. How can I see what's on during my stay?
A6. The next 11 days of events at the big four venues are all covered at http://www.narodni-divadlo.cz/en. Scroll to the base of the page and click the "Next Months" tab. Or simply check Operas for the next 4 months to see what is on where (and buy tickets).

Q7. Is the National Theatre and Laterna Magika the same place?
A7. Technically they are on the same plot of land but performance wise they are separated into different buildings with separate productions. Think of the National as "Classic" and Laterna Magika as "Modern".
---
Some Random Things to See and Do in Prague