John Lennon Wall in Prague – A History
---
One of many in the world, the John Lennon Wall in Mala Strana is one of the "cool" places to visit in the city and everybody wants a picture from here but the history is no less interesting.
Post 1948 the wall of the compound of the Knights of Malta was used mainly for people protesting the communist takeover and was largely text. It seems to have been chosen for it's proximity to the French Embassy (less chance of getting a kicking from the police if they thought they might be being watched). In the 1960's it became known as the "Crying Wall" and was still associated with protest text/lyrics and art although the authorities regularly painted over it.
---
On December 8th 1980 everything changed with the murder of John Lennon. The Crying Wall was then the obvious place for the outpouring of grief and protest against his death and almost overnight with the painting of his face and the old gravestone it becomes the John Lennon Wall. The wall has been a victim of it's own success with layer after layer of paint being added, parts of the wall fell down on their own.
---
Post 1990 the Knights of Malta actually gave their permission for the graffiti to continue but there have been many occasions when the wall has been damaged. The two most famous incidents were on August 14th 2002 when the largest flood in more than 100 years caused part of the facade of the John Lennon Wall to collapse but it was repaired. On November 17th 2014 an arts protest group completely whitewashed the wall leaving only the message "Wall is Over" believing that there was nothing on the wall of political, protest or artistic value. The Knights of Malta took the artists to court but later withdrew charges once they understood the reasoning.
---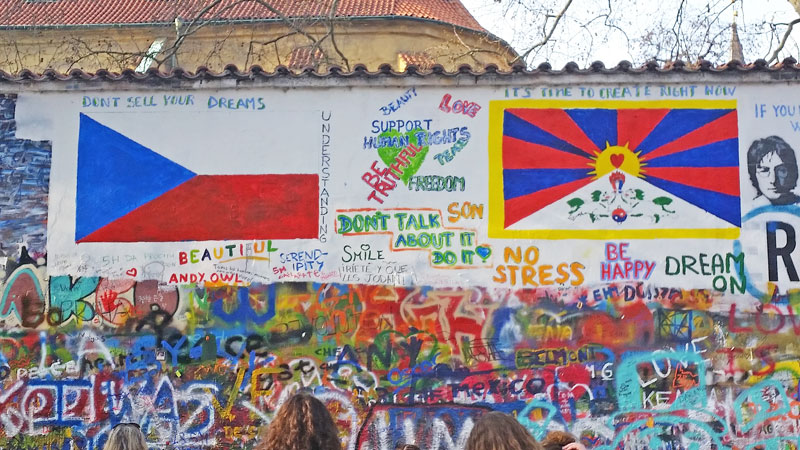 They used the Prague John Lennon Wall as a protest site during the visit of the Chinese Premier in March 2016. Notice on the far right of the picture is the letter R with a blue circle around it. That was all that was left of "Wall is Over". There's a lot more text than pictures on the John Lennon Wall today but it remains the only place in the city where graffiti is legal but you can't use spray paint anymore, only pencil or chalk.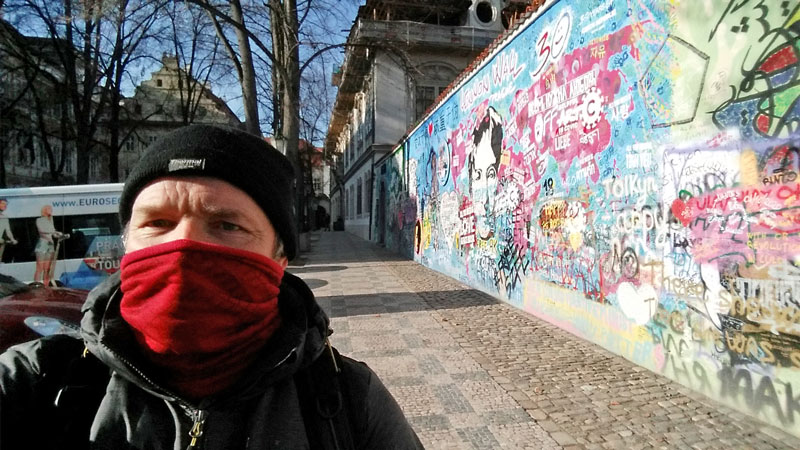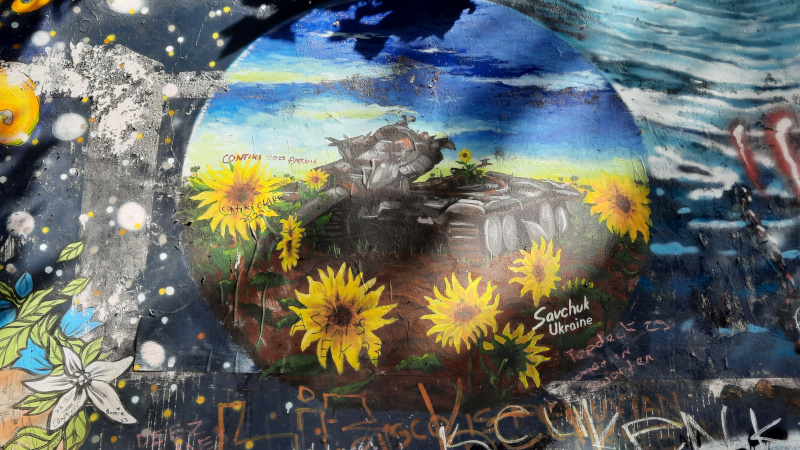 Here's a picture of me taken on February 1st 2021 during the third coronavirus lockdown. Not only was I the only person at the John Lennon Wall, I was the only person in the entire square.
The John Lennon Wall is an option for clients doing my Prague City Walking Tour or a private tour.
---
Something Related or a Few Minutes Away
Attraction – Infant Jesus of Prague
Parks and Gardens – Kampa Island
Art and Culture – Kampa Modern Art Museum
Art and Culture – Modern Art of David Cerny (Babies)
Legend – The Water Wheel and the Demon
Activity – Little Venice Cruise
Memorial – New York Firefighters
Mission Impossible 1996 Filming Locations
---
Some Random Things to Do and See in Prague