A Unique Old Town and Jewish Quarter Prague Walking Tour
---
NOTE: I've now moved all of my tour related pages over to the dedicated website at https://www.livingpraguetours.com where you can read about me, my ethos, the range of tours that I offer, the booking process, Reviews and FAQ etc. Any links below will direct you to that site.
---
Duration: 2.5 Hours
Meeting Point: Starts and ends on the Old Town Square
Guide: That's Me! Jason, Native English, lived in Prague since 1996
Group Size: Maximum 6 places unless booked privately
Difficulty: Easy Pace
---
Who may like this tour?
This is my Flagship tour, most booked, most reviewed. It's perfect for the first-time visitor to the city looking for an introduction to Prague, learning some of the history of the Old Town area. As well as the popular legends and amusing stories it takes in both Old Town and Jewish history/events, architecture, communism, world war two, synagogues, churches, Franz Kafka and Czech traditions. Solo travellers, couples, families, friends and colleagues have all enjoyed this tour. See reviews at the end.
---
What do you see on the Old Town and Jewish Quarter Prague Walking Tour?
The Old Town Square, the surrounding architecture including the Old Town Hall, Church of Our Lady Before Tyn, Church of ST Nicholas, Kinsky Palace and hear about the changes over the years and events that have happened here.
Let's get Off The Beaten Path and explore many passages, alleyways and courtyards.
Understand the events that triggered the Velvet Revolution.
Franz Kafka, a literary giant now but not always. Learn about his short but fascinating history and his unintended legacy.
The Jewish Quarter, what still exists like the Pinkas Synagogue, Klausen Synagogue, Ceremonial Hall, Old New Synagogue, Spanish Synagogue, Jewish Town Hall. See what it used to be like and the stories of triumph and sacrifice.
The Old Jewish Cemetery, see inside and learn the real reason why it closed.
Czech and Bohemian heroes like Jan Palach, where and why they fell.
Understand the memorial Plaques (Prague Uprising and "Stumble Stones").
Jan Hus, a priest burned at the stake but not a Saint, learn why not.
The meanings of the street names and why they've changed several times.
Enjoy the Gothic, Cubist, Art Deco and Art Nouveau architecture of the area. Learn why it's so widespread in the city and features to look for.
Learn about the Gory Details of Revolution, the winner takes it all.
Plus a selection of Stories, Legends and Personal Anecdotes from over the years.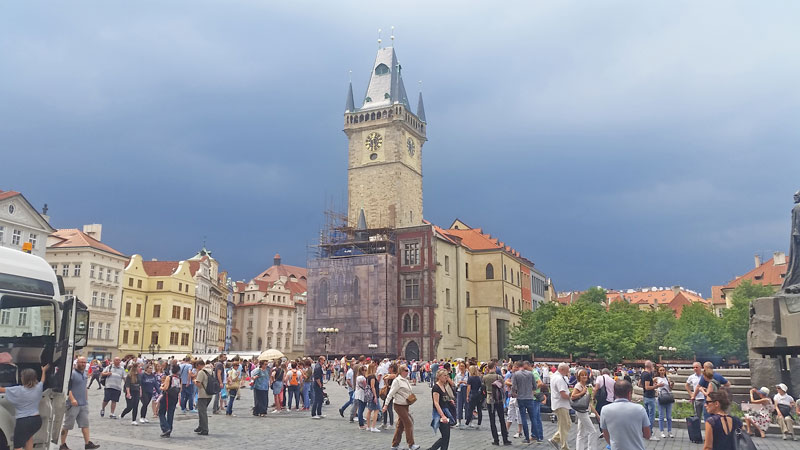 ---
Brilliant way to see Prague, Little did I know it was going to be the best city walking tour I've had the privilege to experience. To get the history, tidbits of interest and that in someone who loves what they do is priceless.

Trip Advisor Review
Check Tour Availability and Book Online
---
---