Prague Architecture Tour
---
NOTE: I've now moved all of my tour related pages over to the dedicated website at https://www.livingpraguetours.com where you can read about me, my ethos, the range of tours that I offer, the booking process, Reviews and FAQ etc. Any links below will direct you to that site.
---
Duration: 2 Hours (2.5 hours with break)
Meeting Point: Starts on the Old Town Square and ends on Wenceslas Square
Guide: Livingprague owner Jason, Native English, lived in Prague since 1996
Group Size: Maximum 6 unless it's a private tour
Difficulty: Easy Pace, Flat ground
---
So What's on the Prague Architecture Tour
You've heard that Prague is a beautiful city and you've undoubtedly seen pictures. Now let's expand your knowledge to include some more detail about a selection of those fantastic buildings. If you have any kind of interest in architecture you'll enjoy this tour. Prague is considered to be one of the architectural gems of the world with an eclectic mix of building types covering a thousand years of history so people that do this tour want to know:
1) Why the city looks like it does – I'll show you more than 10 architectural styles.
2) Who designed it – You'll learn about several different architects.
3) The main influences – You'll learn about reformists, a new emperor, a new law, the Vienna connection and the biggest city redevelopment project in Europe.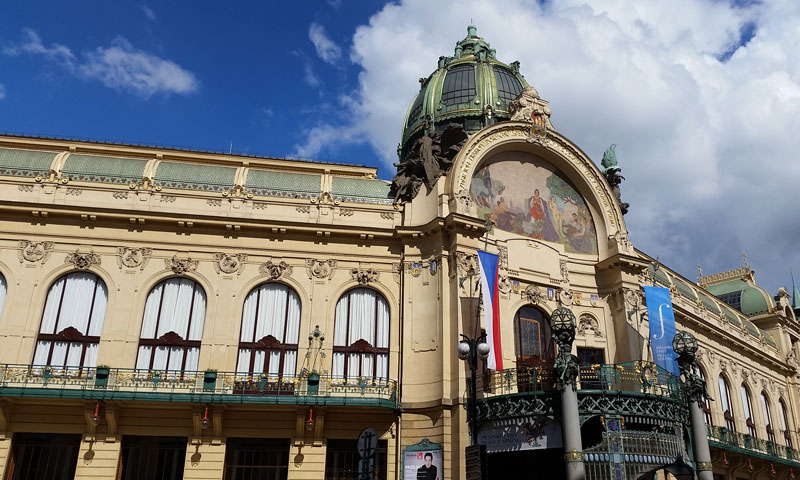 ---
The Prague Architecture tour starts with an introduction to the Gothic and Renaissance parts of the Old Town Square so that you build up from the 13th Century to the 1850s, the Czech Reformist Movement and the drive for National Identity which sets the scene for the Modernists. From there we'll cover more than ten revivalist/modernist architects covering 1885 to 1933 stretching across the Old Town, Jewish Quarter and New Town. We'll see multiple examples of their work covering the late revivalist period (what people refer to as "neo") and Avant-Garde which includes Secession, Art Nouveau, Art Deco, Cubism, Rondo-Cubism plus that which cannot be classified. We'll also touch on Brutalism.
Although not a comprehensive coverage of all the architects working during the period, what you learn here you can apply to anybody active at that time. By the end of the Prague Architecture tour you'll have learned how to recognise individual architects by their signature designs. You'll also have seen the first Art Nouveau and Cubism buildings built in the city.
Check Tour Availability and Book Online
---
---