Koruna Palace
---
The Koruna Palace at the base of Wenceslas Square is not really a place you aim for but it's a lovely place to walk through especially if you are an architecture fan. It was a commission by a Czech Insurance company and text on the upper part of the building still refers to it's offer of pensions and life insurance. Even the buildings that were demolished to make way for it were historic with the famous Cafe Wien containing the first billiard hall in the city and another pioneering the use of metal furniture. The old buildings were demolished in 1912 when construction of the Koruna Palace began and at the time of official opening in September 1914 it was one of the deepest buildings in the city with three sub-basement levels.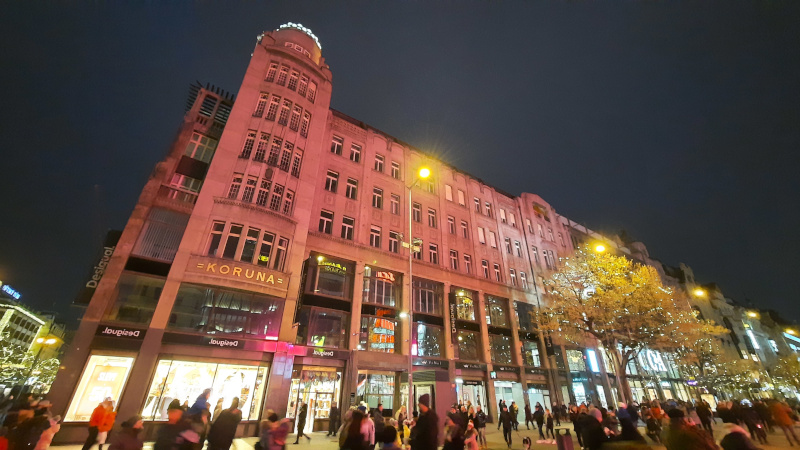 Two of those sub-basement levels included a cinema and a spa. The 470-seat cinema (Bio Koruna) was part of the original building opened in 1914. It had a sound system added in 1930 but ceased operation in the 1950s. The spa opened in 1924 and was part of the building air-conditioning system until it closed in 1975.
The road adjacent to the building was busy enough that it was the first junction that required a traffic policeman (1919) and the second junction in the city to have automated traffic lights (1927).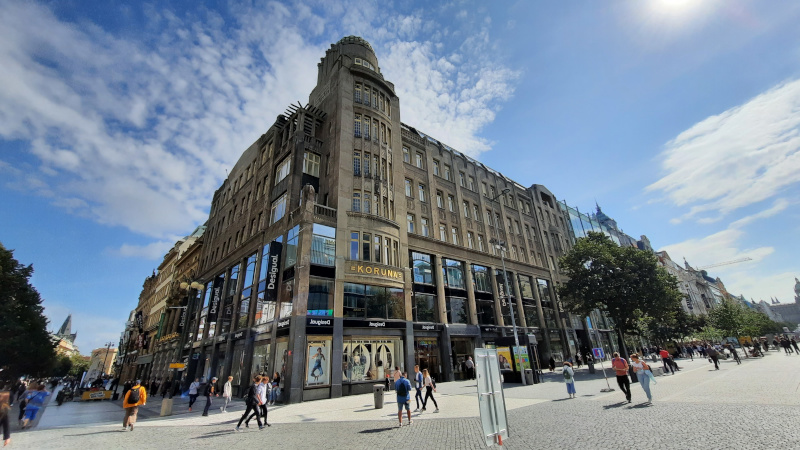 In 1931 on the Na Prikope side of the building hosted something called Automat Koruna. It was the first self-service vending machine restaurant in the city serving up to 10,000 people daily with 27 types of main hot and cold dishes, sandwiches (13 varieties), salads, 4000 desserts and 7000 pieces of bakery. In 1958 the Koruna Palace came under the Cultural Heritage Protection programme. In 1971 is was included in the Prague Monument Reserve.
1978 brought several changes when the basement of the building had to be reconfigured due to the construction of the metro system (the building has an entry to the Mustek station). In 1991 a 5 year reconstruction of the ground and basement began so what you see now is a result of that work. In 1992 it was included in the UNESCO World Heritage List due to it's Prague 1 district location.
---
Koruna Palace Architecture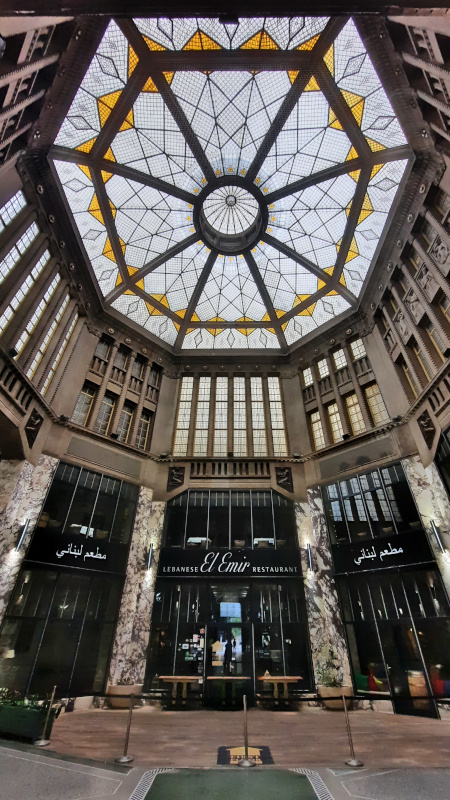 The structure of the building was one of the first to use reinforced concrete. The design of the building also bucked the trend at the time because up until 1912, Art Nouveau in the city had been "inspired by nature" with both the French and Slavic styles. Koruna Palace is seen as a variant called "geometric" Art Nouveau with symmetrical structures especially in the glazed areas (the glazed octagonal dome has almost 4000 pieces of glass) plus allegory on the external tower. There should be a chandelier under the dome but that was removed in the 1990s and has not been replaced. This building is included in my Prague Architecture Walking Tour.
---
Something Related or a Few Minutes Away
Parks and Gardens – Franciscan Garden
Activity – Prague Architecture Walking Tour
---