Czech Food and Beer Tasting, Selected Beer, Classic Czech Food and Great Conversation
---
THIS TOUR IS CURRENTLY SUSPENDED DUE TO RESTAURANT/PUB CLOSURES AND GENERAL COVID RESTRICTIONS. I HOPE TO RESTART AT A LATER DATE BUT IN THE MEANTIME IF YOU WANT FOOD AND DRINK AS PART OF A TOUR THEN IT CAN BE ARRANGED AS PART OF A PRIVATE TOUR. JUST CONTACT ME AND WE CAN WORK OUT DETAILS.
---
NOTE: I've now moved all of my tour related pages over to the dedicated website at https://www.livingpraguetours.com where you can read about me, my ethos, the range of tours that I offer, the booking process, Reviews and FAQ etc. Any links below will direct you to that site.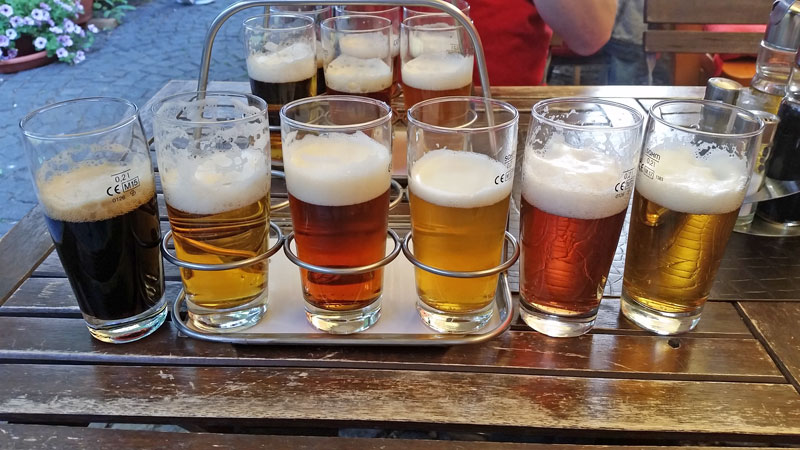 ---
Duration: 2.5 Hours
Meeting Point: Old Town Square
Guide: That's Me! Jason, English and lived here since 1996
Group Size: Maximum 6 places (unless a private tour has been arranged)
Difficulty: Easy Pace
Food and Drink Included: YES
---
Who may like this tour?
Take the guess work out of it. Enjoy a nice walk, delicious classic Czech meal, selection of beer, pleasant location and interesting conversation. Like the Old Town and Jewish Quarter tour, Czech Food and Beer Tasting explores roughly the same area but it's a shortened version. One large beer (0.5L) during the walk and when we sit down to eat your choice of Classic Czech Food like "Roast Pork with Sweet Cabbage and Dumplings", "Beef Sirloin with Dumplings", "Beef Goulash with Potato Pancakes" and light grill options. You'll get SIX more local beers (0.15L) to enjoy during your meal and every one of them has a story. In warm weather we stay out in the pretty garden courtyard (pictured). In poorer weather we go inside. Consider it a light meal and varied conversation with a city local which takes in local tips and advice, Old Town and Jewish history/events, architecture, communism, world war two, Czech traditions and much more. People under 18 can join the tour but cannot be served any beer. I usually run this as a 3pm tour during the week but if you've got a date/time in mind and there's nothing scheduled just contact me and I'll see how I can fit in with your plans. Wine can be substituted for beer but there is an additional charge.
Interested? First see what's included below then see when the tour is scheduled. Select any day in green to see available times and ticket prices (no additional taxes or charges, pay what you see). Great value, great experience. Got any questions, feel free to CONTACT ME with any tour queries, private tour options or whatever advice you need.
---
What else do you see?
The Old Town Square, the surrounding architecture including the Old Town Hall, Church of Our Lady Before Tyn, Church of ST Nicholas, Kinsky Palace and hear about the changes over the years and events that have happened here.
Let's get Off The Beaten Path and explore many passages, alleyways and courtyards.
Understand the events that triggered the Velvet Revolution.
See what it used to be like and the stories of triumph and sacrifice.
Franz Kafka, a literary giant now but not always. Learn about his short but fascinating history and his unintended legacy.
The Jewish Quarter, what still exists like the Pinkas Synagogue, Klausen Synagogue, Ceremonial Hall, Old New Synagogue, Jewish Town Hall.
The Old Jewish Cemetery, see inside and learn the real reason why it closed.
Czech and Bohemian heroes like Jan Palach, where and why they fell.
Jan Hus, a priest burned at the stake but not a Saint, learn why not.
A story about a pair of red shorts
The meanings of the street names and why they've changed several times.
Plus a selection of Stories, Legends and Personal Anecdotes from over the years.
Check Tour Availability and Book Online
---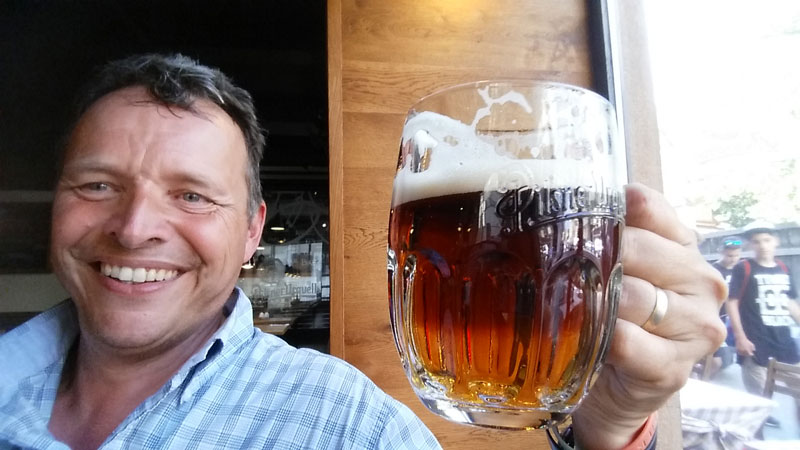 As one of my previous clients put it:
Jason graciously and gratuitously shared his vast knowledge of Prague/Czech Republic, answered all of my questions and gave excellent advice.

Trip Advisor review
---
---