Top Attraction – Prague Old Town Hall
---
The viewing gallery opened in the mid-14th Century after the Old Town successfully petitioned the king for their own town hall the building was originally composed only of two much older privately owned buildings which were then reconfigured to support the workings of the Prague Old Town Hall. The tower and the clock came later. It contains the Old Town city registry office (where I got married) but it also has a ground floor gallery and the upper floors still contain city offices. The main attractions are the Astronomical Clock and the tower viewing gallery. There's also public toilets, a tourist information centre and an ATM here. Check the Skip the Line Tips and Tricks and also the Town Hall Pass for saving money and time to explore here.
---
The Orloj: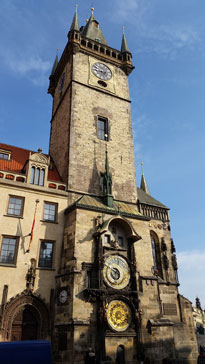 Orloj is the collective name for the Astronomical Clock (top) and Calendarium (bottom). They might look like they work together but in fact the movements are completely separate. It's the clock that is connected to the procession of the apostles which are popular with tourists and generally run on the hour between 9am and 9pm the whole year (in summer season it runs until 11pm). The Calendarium is actually a disc which is rotating clockwise once per day. You can read more about this on the Astronomical Clock page or enjoy the How to Tell Time on the Astronomical Clock post.
---
The Viewing Gallery
A trip up the tower is about 250Kc and you can walk or take the lift. Note that the fastest way to buy a ticket is online (check the Skip The Line post). Second fastest is the ticket office on the 3rd floor. Check the Town Hall Pass post for other entry options. Once at the top you'll have 360 degree views around the city and you'll be above the majority of the surrounding rooftops with views across to the Church of Our Lady Before Tyn, St Nicholas, the Jan Hus Monument, most of the Old Town and a view up to Prague Castle. Photography is popular but beware if you are using a tripod as the gallery floor is quite narrow. If you're lucky you'll catch the trumpeter. The Old Town Hall and Astronomical Clock are included as free entry on the Prague Visitor Pass.
---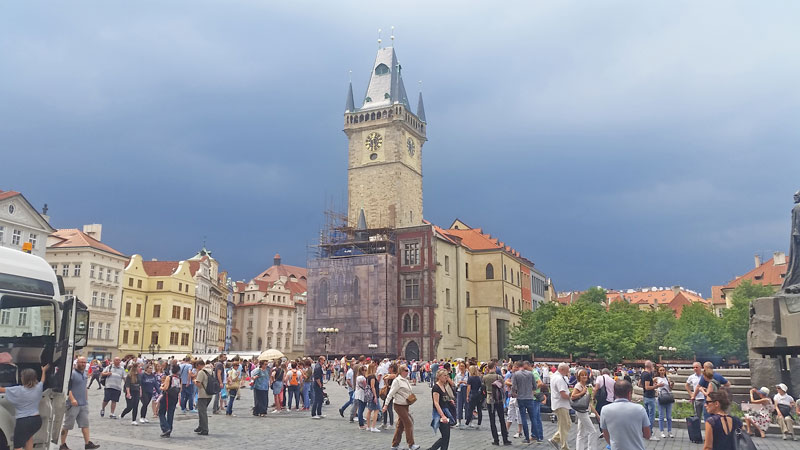 ---
Something Related or a Few Minutes Away
Hidden Secrets of the Old Town and Jewish Quarter Prague walking tour
Memorials – 1621 Battle of White Mountain
Churches – ST Nicholas Old Town
Churches – Church of Our Lady Before Tyn
Attraction – House at the Stone Bell
Food and Drink – Old Prague Ham
---
My Own Guided Tours – Cheaper Than You Think!