Prague Cafes – Cafe Savoy
---
As you approach Cafe Savoy in Prague you should pay attention to the extra words on the main signage which say "Restaurant – Vinotheque – Patisserie" so this is going to be a lot more than your regular coffee and cake stop. Note: This place has nothing to do with the Hotel Savoy.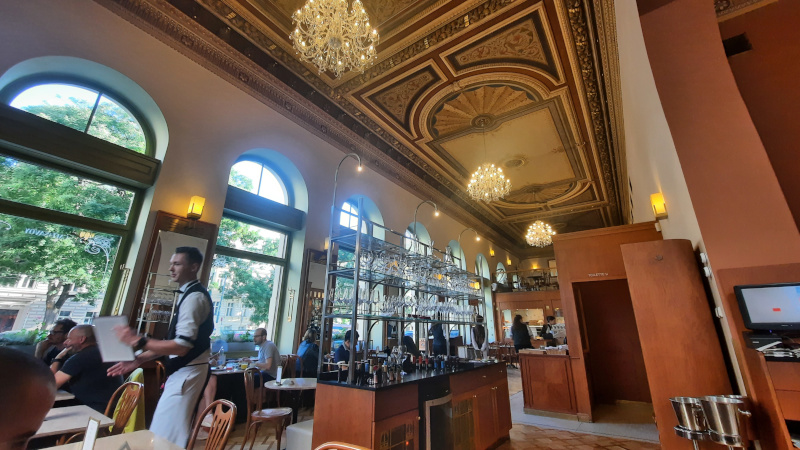 ---
Why Visit Cafe Savoy?
Whatever anybody says about the location or how nice the people are or the architecture etc it comes down to three things 1) You want really nice food that leans toward French, 2) you are prepared to pay above average prices and 3) you want really good service. There is a fourth reason but it's only for families in that it's always been on my list for being family friendly.
---
Where is Cafe Savoy?
I've dropped a map link below but on a tourist map look for the National Theatre by the riverside. The bridge there is called Legie Most and the Cafe Savoy is exactly opposite the theatre on the other side of the bridge. Or if you have crossed Charles Bridge and you are looking at Kampa Island it's a 5 minute walk through the park to the next bridge. It's a mix of tourists and locals. Google Maps link.
---
When to Visit?
Read any blogs about Cafe Savoy and it'll look like it just opens for breakfast and indeed there is a breakfast menu (from which I selected my egg and chives open sandwich pictured above) but their patisserie is open all day for coffee and cake. The lunch menu extends into the evening when most of the wine drinking takes place. It's open everyday but shuts at 10pm and be aware that last food orders from the kitchen will be around 9pm. Weekdays it opens at 8am and weekends at 9am so it's about the same as other cafes at this level.
---
History and Architecture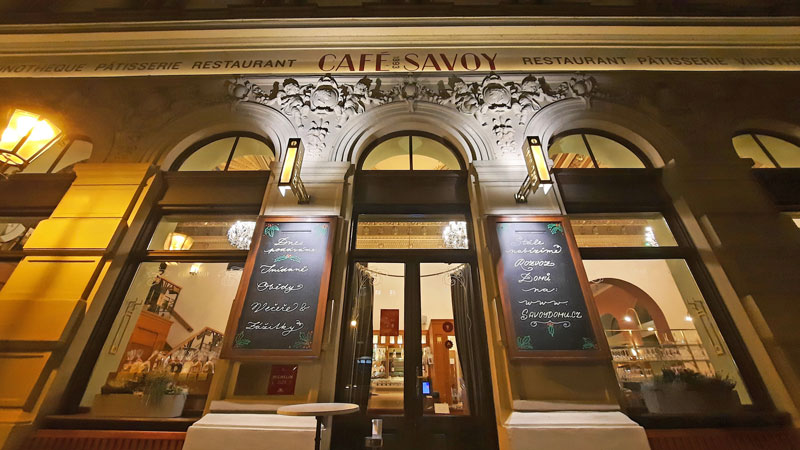 It originally belonged to a Jewish family who had bought the land when the old fortified wall was demolished and they spent 6 years constructing the building which now contains Cafe Savoy. It opened for business in 1893 and you'll read everywhere that this is neo-Renaissance or it has a neo-Renaissance ceiling or it is even sometimes referred to as Art Nouveau. I beg to differ. The interior is a splendid colour scheme, the detailed ceiling with lunette decoration and spiderweb muntins. The exterior is covered with cartouche, cherubs, ribbons and margents. All of which point more to neo-Baroque. If you're interested then consider my Prague Architecture Walking Tour which explains a lot of these details. Anyway what you need to know is that in it's time it's been a cafe twice, a butchers and a fish shop (the communists were not great fans of neo-classical decor). What you see now is from the extensive work carried out in the 2005 renovation.
More details on the Cafe Savoy website
---
Something Related or a Few Minutes Away
Art/Culture – National Theatre
Art/Culture – Slavonic Island and Sophies Palace
Art Culture – Kampa Museum (Modern/Contemporary)
Memorials – Victims of Communism 1948-1989
Churches – Infant Jesus of Prague
---