A Prague Christmas
---
Doing your research for your Christmas trip? wondering what to wear? what to do? what to expect? etc etc then let me help you out. Videos about the Christmas Markets on the Old Town Square, Wenceslas Square and Republic Square including food stalls, prices and warnings are below. I also run my own Prague Christmas Markets Walking Tour in December. Or if you want to take in some culture while you're here then check out availability of the Mozart Christmas Special at the Boccaccio Ballroom.
---
Where are the Markets?
There are 4 central markets. The largest is at the Old Town Square, smaller versions are on Wenceslas Square, Republic Square and Namesti Miru. These are better described (with YouTube Video links) below:
---
OLD TOWN SQUARE (Staromestske Namesti)
The Old Town Square Prague Christmas Market is the biggest and oldest. The square has the official Christmas tree, a range of art, craft and a wide selection of food/drink stalls (the food and drink available is covered in more detail in the next section). There'll be a kiddies pony-ride area at the back of the Jan Hus monument and a viewing deck in the middle of the square so you can take some pictures etc. If you are coming here with kids then either keep close hold of them or agree a meeting point if you get separated. Opens the first Saturday before December 5th and closes January 6th. It's a crush. Metro Staromestske Namesti is the closest stop. Check the Old Town Square Christmas Market Video.
Get details on hotels that overlook the Prague Old Town Christmas Market like The Old Town Square Hotel and Residence (5 star), Grand Hotel Praha (4 star) or the Hotel Lippert (4 star).
Prague Christmas Markets, Old Town Square layout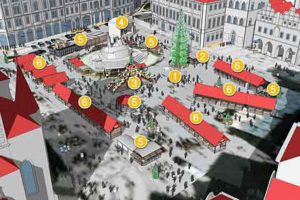 The layout of the Old Town Square Christmas Market is pictured.
1) The Christmas Tree
2) Bethlehem Stable i.e. live animals (not every year)
3) Viewing Bridge
4) Performance stage
5) Food stalls
6) Arts and crafts stalls
Remember that the "food stalls" are directly part of the market. There is another row of places selling food next to the Old Town Hall. The tree is usually around 22m high and will have a theme. Read about this year's Prague Christmas Tree.
---
WENCESLAS SQUARE (Vaclavske Namesti)
The main part of the Wenceslas Square Prague Christmas Market is located in the lower half of the square but they often have stalls at the top end and middle as well. It will have the same type of stalls but a smaller selection. The blacksmith is always popular (as it's the warmest place) as are the drink stalls. There is no real Christmas tree on Wenceslas square but there'll be a lot of building and street decoration which makes the area look very nice and makes for great pictures. Metro Mustek is the closest stop or the Vaclavske Namesti or Vodickova tram stop. Opens first Saturday before December 5th. Check the Wenceslas Square Christmas Market Video.
Get details on hotels that overlook the Prague Wenceslas Christmas Market like Hotel Ambassador (5 star), Hotel Adria (4 star), Hotel Prague Inn (4 star) or Hotel Jalta (5 star).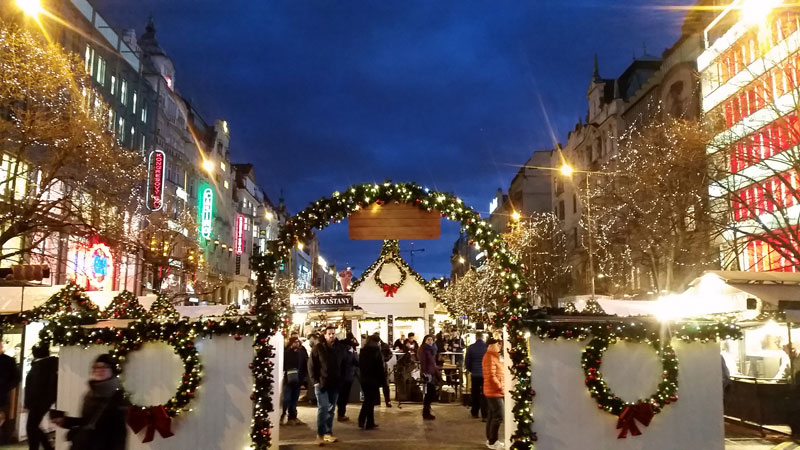 ---
REPUBLIC SQUARE (Namesti Republiky)
The Republic Square Prague Christmas Market is my favourite of the central markets. More space, cheaper and generally a better feeling. Located on the cobble stoned area in front of the Palladium shopping centre and to the left of the square opposite the "V Celnice" restaurant. This is the smallest of the markets. Probably less than 30 stalls but far more space to move around in and prices will be cheaper than the Old Town Square Christmas market which is only 200 metres away. As we normally drive into town we are more likely to park at the Palladium, get a drink at this market and look at the stalls before going to the Old Town market for the tree etc. Namesti Republiky is the nearest metro. You'll also find Carp fish getting knocked senseless here. Opens in the last week of November and closes on December 30th. Check the Republic Square Christmas Market Video.
Get details on hotels that overlook the Prague Republic Square Christmas Market like Hotel Kings Court (5 star) or Hotel City Centre (3 star).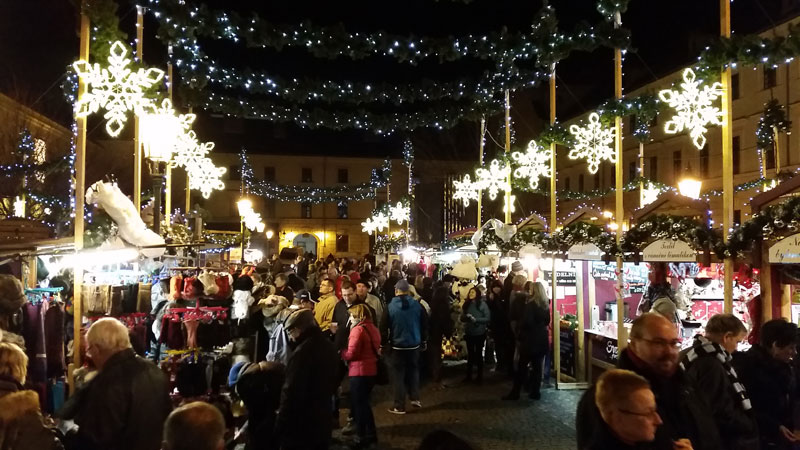 ---
PEACE SQUARE (Namesti Miru)
The Namesti Miru (Peace Square) Prague Christmas Market is my own personal favourite. Usually opens in the last week of November. Little bit further out i.e. 15 minute walk from the top of Wenceslas Square but much more of what a Christmas market is all about. Lots of independent stalls with a range of local produce. Not so much battery operated flashing bobbly headwear here. It will have a tree which will be decorated but not to the extent of the Old Town Square. If walking from the top of Wenceslas Square go one block to the right. This is the street called Anglicka. Cross the road into Anglicka and follow it to the end where you'll find the market. Metro Namesti Miru (one stop from Museum) is the closest stop. Opens around November 20th and closes December 24th.
---
What's the weather like?
If you're really lucky there'll be fresh snow. If you're not as lucky it will be cold around 1 to 5 degrees Celsius but sunny. If you're unlucky it'll be wet. Basically get a 5-day forecast and you'll see what it's going to be like. Bring layers of clothing that you can add and remove as you move in and out of shops and buildings etc. Boots and thick socks are recommended if you intend a lot of walking.
---
When do the Christmas markets start and finish?
Technically Christmas here starts on the Feast of Mikulas which is on December 5th but historically the market at Namesti Miru (Peace Square) opens first @20/11 and closes December 24th. Namesti Republiky opens in the last week of November and closes December 30th. The markets at the bottom part of Wenceslas Square, the Old Town Square and the new market at Republic Square open on the first Saturday before December 5th and normally stay open until Twelfth Night (3 kings on January 6th).
---
What's to eat and drink?
This is going to be your favourite part. Check the Prague Markets and Hot Street Food post for what to expect and tips. Take a look at the Pay by Weight post to understand how that works here. There's my Six Hot Alcoholic Drinks post to keep you warm and there's also my Why we don't eat Zebra post. Ducking in and out of stalls for quick snacks, beer and mulled wine etc whilst perusing the sights etc. I'll try to describe the main choices:
Svavrene Vino – This is mulled wine and may also be called "Gluwein" as many visitors here may recognise the German version. At this level the wine is very basic and most people would not waste good wine by boiling it anyway. The wine may be served in a glass if you intend drinking it at the place where you bought it or more likely in a plastic cup that you can take away. Try it from a few places as the wine used will vary from place to place.
Grog – My own favourite – This should be a one part alcohol (usually rum) to 4 parts hot water served with a piece of lemon and sweetened to your choice. Instant warmness, energising and leaves a pleasant aftertaste.
Medovina – You'll find at least one stall that serves this drink. In Czech "Med" is honey so you won't be surprised that Medovina is honey-wine and this is the alcoholic version. Beautiful golden appearance that you'll lose if it comes in a plastic cup so go for the glass on this one. Only for people with a sweet tooth otherwise cut it with regular hot wine.
Spit Roast – On all Christmas markets there will be at least one spit-roast going on. Always pork. They'll carve a portion direct onto your plate usually with a slice of bread and you can add your own mustard. Beware that the price is per/100g so double check the Pay By Weight post to avoid problems.
Sausages – The small sausage (Frankfurter style) is called "parek" and normally you get two. The larger dark-red version is "Klobasa" and the white one is "Bavorska" (slightly spiced). The Czech style is to have a sausage on a plate with an accompanying slice of bread and sauce/mustard but on the markets they try and sell you the "hot-dog" which may be served in the more American style. I wrote a post just about Prague Hot Dogs.
Bowl food – Some Christmas market food stalls will serve from a tray of food. The most popular of these is the Czech "Halusky". This is a very filling mix of tiny pieces of dumpling mixed with fried bacon. My advice is to take a small portion as they usually skimp on the amount of bacon used this can make it taste a bit bland. Some stalls will charge a bit extra for a portion or sour cream to go with it. Definitely have something to drink at the same time. Beware that the price is per/100g so double check the Pay By Weight post to avoid problems.
Trdelnik – This is your dessert or a snack. Its a sweet bread mix with different flavours. My favourite is the cinnamon trdlo. The mix is wrapped around a revolving cylinder and takes about 15 minutes to cook. There will be trdlo at various stages of cooking so you won't have to wait. When you first get it, it will be piping hot but, eat it as quickly as possible because it cools down rapidly. Best eaten with a coffee or hot chocolate. Regular weight is 120g for between CZK60 and CZK70 but you can get 180g at the Republic Square market for the same price.
---
All of this and more is covered in the Prague Christmas Markets Tour.
---
Avoid Scams
1) Calculate your money as close as possible to the price and use coins if possible. If you use a high value note you should know what to expect back.
2) Anything "flashing" will die within 24 hours of buying it.
3) If you choose anything from a display, inspect what they give you to make sure you are happy with it especially clothes sizes and items of a breakable nature.
4) Christmas Markets are pickpocket hot spots.
---