City Card Comparison
---
On this post I'll take a look at the two most popular City Tourist Cards which are the Cool Pass (formerly called Prague Card) and the Prague Visitor Pass (referred to as the Official City Pass). I'll try to help you decide which is best for you. There is time and money to be saved IF you plan your trip carefully and realistically.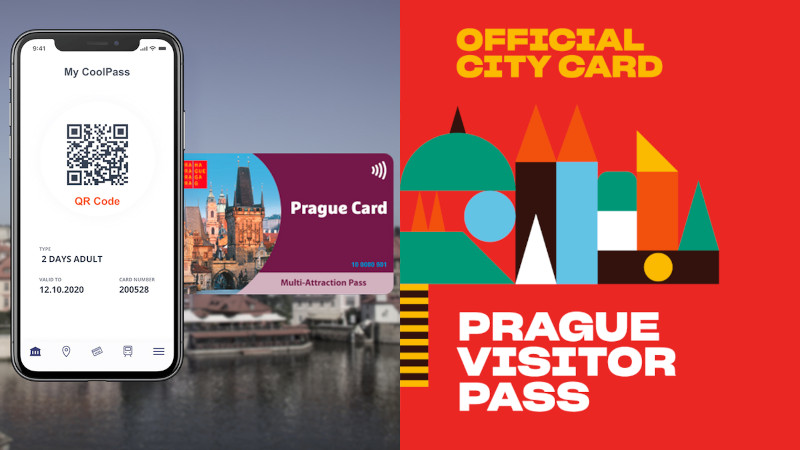 ---
5 Tips For Exploring and What to Consider
1) what time a venue opens and closes.
2) how long it takes to get to and/or between venues.
3) how long you want to spend in a venue.
4) if you want Public Transport included.
5) if you want only free attractions or including discounted activities.
---
What Do Both Prague City Cards Have in Common – at the time of writing
All accessible historic buildings at Prague Castle
Jewish Museum sites (5 Josefov synagogues, cemetery and Old Ceremonial Hall) plus Jerusalem Synagogue
House at the Stone Bell
House at the Golden Ring
Bilek Villa
Loreto
Marold Panorama
Kunsthalle Gallery
Municipal Library Gallery
Werich Villa
Kampa Museum
Karel Zeman Museum
Charles Bridge Museum
Little Venice Cruise
Planetarium
Stefanik Observatory
Troja Chateau
Prague Zoo
Vysehrad Gorlice
Museum of Decorative Arts
Vyšehrad Church of ST Peter and ST Paul
2-day and 3-day options
---
What's Unique to the Cool Pass
4-day option, activity discounts, National Gallery Permanent Exhibitions at Schwarzenberg Palace, Trade Fair Palace and ST Agnes Convent, National Museum (old and new buildings), choice of river cruise, Police Museum, Dvorak Museum, Vitkov Hill Army Memorial, Naprstek Museum, Bedrich Smetana Museum, Music Museum, Clam-Gallas Palace, Colloredo-Mansfeld Palace, Henry's Tower, Dancing House Gallery, Illusion Art Museum, Retro Museum, City of Prague Museum, Lego Museum.
---
What's Unique to the Prague Visitor Pass (Official City Pass)
5-day option, Public Transport, Airport Express, DOX gallery, Villa Pelle, Sparta Hockey Game, Klementinum, Railway Kingdom, Funicular, Charles Bridge Towers, Tram 42, National Technical Museum, National Agriculture Museum, Municipal House, Petrin Watchtower, Mirror Maze, New Mill Tower, New Town Hall Tower, TV Tower, Powder Gate Tower, Public Transport Museum, ST Nicholas Bell Tower, Old Town Hall Tower and Astronomical Clock.
---
The Breakdown
So once you exclude the common stuff you can see this breaks down into two fairly clear options:
The Prague Visitor Pass (Official City Pass) is clearly going for people wanting to use public transport as it includes the regular travel pass, Airport Express, the Funicular (plus tourist things like Tram 42 and Public Transport Museum). Secondly it targets free access to the majority of the scenic towers in the city. It's light on historic buildings and museums and has absolutely no discounted activities. I like the fact that it offers an Ice Hockey game in the regular season as that will extend the day. Just to give you a figure, you'll save on average CZK200 for each tower you climb and CZK300 at the TV Tower so if you did only the towers unique to the Prague Visitor Pass you would save @CZK1900. A 2-Day pass is currently CZK2100 so you can see how this can save a lot if you plan it well. So a Prague Visitor Pass user is somebody who will definitely use public transport, who wants a selection of free-entry galleries and museums but is focused on scenic options.
The Cool Pass is heavy on museums, historic buildings and activities. Specifically it includes 4 of the 5 buildings that house the permanent collection of the National Gallery. It offers a choice of river cruises but you can book only one of them for free. It has a fairly large number of discounted activities. So a Cool Pass user does not bother about public transport or will buy it separately if needed, somebody who wants a selection of free culture but leans towards activities.
---
Book a City Card in Advance
---
Local Tips
Be aware that some places here like the Municipal House and the Klementinum have limited places on official tours so turning up on the day with your city card you may find no spaces available so book these separately in advance.
If you are considering using the Airport Express then you either have to have the electronic version of the pass or be able to collect a card at the airport. Luggage is included on the Airport Express but on the regular public transport network you need to stamp a CZK20 ticket for each piece of large luggage.
If you are going up the scenic towers then the city card covers entry but in general if you are bringing a tripod with you then there's a charge for that.
You still have to queue at any venue because your card/app has to be scanned.
---