Prague New Year Celebrations
---
New Year in Prague has been popular since I've lived here. If you're lucky there will be a bit of snow on the ground, blue skies, sunny during the day and clear at night for the fun. Below you'll find tips on how to spend the evening, save a bit of money, travel after partying and generally enjoy yourself. I guarantee that if you are within sight of the Old Town Square, Wenceslas Square or Charles Bridge you will remember the night for the rest of your life. Also be sure to check the Christmas page which gives information about the markets. Otherwise read on to find out what to expect including a jewellery discount.
---
Prague New Year – Cruises and Fireworks
Prague New Year's Eve cruises have similar content in that they are generally 5 hours and will include all the scenic spots on the river. You get a welcome drink, buffet food, snacks and music entertainment. You'll be buying your own beers and there'll be lots of opportunities to meet people. Check the Prague Boats New Years Eve River Cruises. If there are any fireworks it's either from the boat or a local display. Not the official display which would be the next day.
---
Mozart Galas
The theme is the same i.e. stunning venue, welcome drink, a SIX course meal throughout the evening interspersed with in-costume entertainment of Mozart's most famous pieces. The Boccaccio Ballroom (pictured) just nicks it for me but you've also got the Municipal House event as well. When the companies update their schedule for the New Years Eve then I will update this section.
---
New Year's Eve Pub Crawl TOUR TIP: Guaranteed entry into 4 bars with unlimited drinks at the first and finishing at a nightclub. This is run by the same company that does the all-year "Prague Pub Crawl and International Party".
---
Prague New Year Accommodation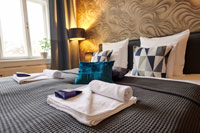 The earlier you book then the greater the chance you be able to stay centrally. All hotels have New Year in Prague as peak/high season with minimum stays of 3 nights usually enforced. Some years I've known some great last minute offers for hotels in the Old Town and Mala Strana but generally by the end of November only high-end central hotels and outer-city hotels will be available. As usual my advice is to use regular hotel search engines and then use my listings to see if its a hotel you might like to stay at. Prague areas 1, 2 and 3 are walking distance. Parts of Prague 4, 5, 6 and 8 can also be walked in less than 30 minutes. Pay particular attention to the location of the hotel and whether it is close to a stop on the night tram routes. This will give you options later on.
---
Eating and Drinking
Restaurants will be taking bookings for New Year in Prague from October onwards. Basically you have to wait until the "set menu" comes out and you can see how much it will cost. These are generally "whole evening" events including entertainment so if you are going to lock yourself into a restaurant check very carefully what type of entertainment will be on i.e. I don't mind a few hours of Jazz but inflict local Czech folk music on me at your peril. Most bars will be offering free entry or else will charge an entry fee with a free drink. Even this will only be @50Kc. Some restaurants (Mala Strana comes to mind) will be hiking service charges so be aware before you leave a tip that 20% of your bill may have been service. Many bars will be open for business and I normally pick a small bar that does food straight off a regular menu and eat earlier in the evening. If you are planning on spraying/drinking champagne etc then the shops sell something called "Sekt" which is sparkling wine but, buy it earlier in the day as it rockets off the shelf by early evening. For people looking to combine dining with dancing then look at Kogo on Wenceslas Square and the associated Duplex club.
---
Restaurants with a view
Restaurants with riverside settings like Kampa Park and Bricks (formerly Hergetova Cihelna) (my favourite for an inside seat) can expect to be bombarded with rockets but both clear the tables close to the windows later in the evening so people can watch in safety. The moored Ristorante Marina boat has a great location on the Old Town side of the river and Hanavsky Pavilon overlooks the whole area. Manu, on Childrens Island, is a bit further away and you'll have to go outside to see the fireworks but still it's a nice spot. My old haunt is now the "U Karlovu Mostu" hotel restaurant which has a garden gate that they open so people can go to the riverside on the Kampa side.
---
Some Random Things to See and Do in Prague
---
Prague New Year – Having fun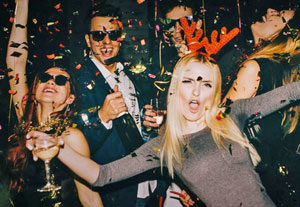 Two types of people here to celebrate New Year in Prague. First are the bar hoppers i.e. people happy to wander around catching a drink in different places largely to warm up. The second group are what I call the "campers" who pick one place and stay there until 2359 before venturing out. If you have gone to a club then you'll have received a coloured band or indelible ink stamp that will get you back into the club after you've had enough outside. Not many clubs admit new guests (especially drunk guys) after New Year has struck. Usual rules apply in that couples and single/groups of women will get in anywhere. Men can get in if accompanying a girl etc or smaller groups of men should get into the clubs earlier in the evening i.e. no later than 2230. All tabaks and even chemists sell something called "Unterberg" which comes in little bottles and is what we would call in England "the hair of the dog" i.e. intense alcohol to combat the hangover.
---
Prague New Year Fireworks – UNOFFICIAL
The unofficial Prague New Year firework display starts earlier in the evening depending on when people get drunk first and decide to let off fireworks. Most of it kicks off at 2359 and continues for 10 minutes or so. The most popular areas are the Charles Bridge and Wenceslas Square. Be warned that these are not safe places for the duration of the evening. Any tour boat crazy enough to come within range of Charles Bridge will receive incoming fire. The wall of the Kampa park (the grassed area) provides a great place to see the fireworks up close but not close enough to be a danger. Likewise, pick a spot on the Manesuv Most (Manes Bridge) which links the Old Town (Rudolfinum) with Mala Strana. Again great but, safe views.
---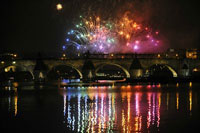 The Official Fireworks Display
NOTE: Last year they did not have a firework display, instead they had a building projection display at the top of Wenceslas Square.
The first day of the New Year in Prague is normally a quiet time. If it goes ahead, then at 6pm there will be the official Prague New Year firework display. Mostly they use Letna Park as the launching site so for me the best place to stand is 1) on Letna Park or 2) on the riverside adjacent to the Hotel Intercontinental either up on the road on on the riverside quay where you'll get uninterrupted views. Vitkov Hill has also been used as a launching area in the past (but only in 2015 then they went back to Letna). If you are driving in to see the Prague New Year official fireworks display then the closest two car parks are at the Rudolfinum and the Palladium shopping centre.
---
Prague New Year – Getting home
Yes the party has finished and it crosses your mind that you are tired and cold and want to sleep. Most legitimate taxis will be pre-booked. Anything available on the street should be avoided unless you are prepared to pay through the nose. Metro travel will be free between 0000 and 0100 when the system shuts down. After 0100 the night tram routes are the only public transport available in Prague. Depending on the line services range between every 15-30 minutes and even if it doesn't get you all the way home it'll get you most of the way if you picked your hotel carefully. Or if all else fails then make sure you have enough battery in your phone and the address of your hotel so Google Maps can show you the way.
---
Tax-Free Jewellery
Did you know that the birthstone for January is Garnet? I've known people give a present to their partner as the New Year arrives or save it for their birthday. On my Bohemian Garnet post you'll find a voucher. If you are lucky enough to make a tax-free purchase you'll get a whopping 21% off anything. Wouldn't that be a nice surprise for someone special. Details on the Bohemian Garnet post.
---
Some Random Things to See and Do in Prague