An Easy Guide to Prague Architecture – An Education in Style
---
When you are deciding on a visit to Prague there will be terms like "beautiful" and "stunning". So what actually makes it beautiful and stunning. Well in some shape or form it's the architecture.
In this series of posts I'm going to try and introduce you to the different types of Prague architecture that you'll be seeing as you walk around. Where there are interesting individual buildings then as well as the architecture and design I'll also point out some of the history. On any of my walking tours I'll explain exactly what to look for and specific buildings and a selection of architects are covered on the Prague Architecture Tour.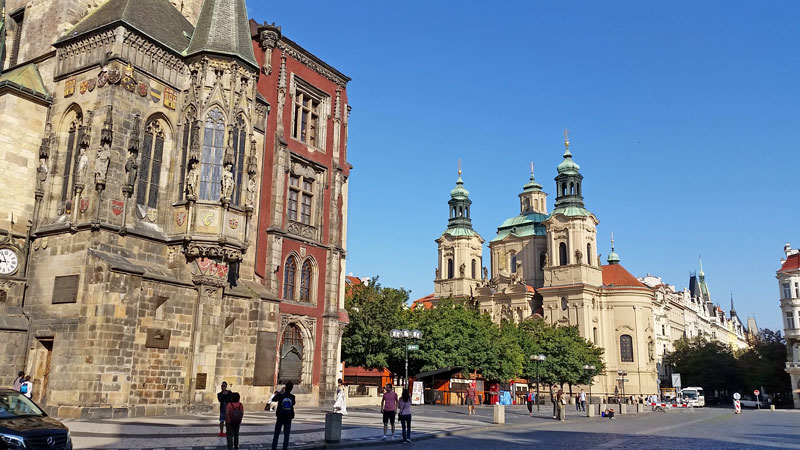 ---
Why is Prague Architecture So Beautiful?
For this we have to divide it into two distinct parts. Loosely described, you have the eras before and after the 1948 Communist Coup. The buildings most described as beautiful fall into the pre-1948 (with a couple of exceptions). Post-1948 Prague architecture has a certain style but is rarely called beautiful. Prague was largely unaffected by bombing in the second world war and the Communist era resulted in a lot of ugly stuff being added but nothing actually destroyed. So let's have a look at some of the terms and styles that I'll be mentioning. The picture above is a good example of what to expect. On the far left the Gothic Old Town Hall. Immediately next to it (red colour) is a Neo-Gothic extension. The Church of ST Nicholas (centre) is Baroque. Out of picture around to the right are Secession and Art Nouveau and opposite is the Kinsky Palace which is Late Baroque (Rokoko).
---
Prague Architecture Eras
Any map or guidebook will be stuffed with adjectives describing the appearance of buildings so to get more out of the experience you need to know the chronological order.
---
ROMANESQUE
People with any rudimentary knowledge of architecture tend to think that Gothic is the oldest style but Romanesque is older and was first used to replace important buildings that were made largely from wood. You are looking at a construction age at the very beginnings of the history of Prague so although it's not recorded when exactly the period began, in central Bohemia we treat this period as being between AD700 and 1200. The reason it's not so well known is that there are not so many examples still existing. Prague is one of many cities in Europe where it can be seen even though in England we call it "Norman".
---
GOTHIC
From a Prague architecture point of view the Gothic style is oldest most visible style in the Old Town, especially on the Old Town Square. Most of the buildings between the Old Town Square and Republic Square or the Old Town Square to Wenceslas Square will have Gothic structure but with newer facades. The Gothic period loosely covers the period 1200 to 1500. Don't just think that buildings with bare stone are Gothic. I'll show you that you are actually surrounded by it.
---
RENAISSANCE
If the preceding styles of Romanesque and Gothic were really plain, bare and "monumental" then the Renaissance period begins to explore different methods of construction and decoration. Think of Renaissance Prague architecture as being between 1540 and 1725. Renaissance is often directly related to the word "enlightening" because the period in general explores and creates new ways of doing things with Italian style. Much of the architecture in the vicinity of Prague Castle is Renaissance.
---
BAROQUE/ROCOCO
The Baroque style is visible in many parts of Prague 1 but there are few buildings which are wholly Baroque. The style was used to reconstruct the facade of buildings from the previous periods. In the Old Town you'll be walking past many buildings which are visibly Baroque but actually Gothic on the inside. Baroque Prague architecture and decoration exists largely between 1650 and 1850.
---
NEO and REVIVAL
As you'll see shortly. Design and architectural minds were about to throw history, religion, iconography and ornamentation out of the window in favour of a more modern and clean look. I don't write a special page for it but it's worth knowing how we bridge the gap between Baroque and Art Nouveau. The Neo-Baroque Rococo period from 1850 really starts the rot by moving the European architectural debate from historic to modern. From 1897 the Viennese drop all attempts at historic or religious art and go for an ultra-modern version with proponents leading the way with new interpretations, new techniques in new materials like metal, glass and ceramics. This is the movement of Secession. As part of Europe moved to modernisation, another part of Europe fought desperately to hang on to the past. As Rococo takes hold for the modern side then Neo-Gothic and Neo-Renaissance appear for the historians. As Secession and Art Nouveau break new ground in art and design we get Neo-Classic and Neo-Baroque trying to make a comeback. Eventually the second world war marks a watershed in architecture and we enter the modernist phase. But first let's pick up with those guys in Vienna.
---
SECESSION
Often called "Viennese secession". It's a clear deviation from the Baroque style when designers moved away from the highly decorative nature to a much "cleaner" style i.e. less religious, less high maintenance curly features, to making more use of coloured ceramics and glass. Secession is popular in the whole of Central Europe between 1880 and 1910.
---
ART NOUVEAU
After Baroque, it's the most widespread visible central Prague architecture. In the central areas it means large parts of Prague 1 (Old Town, Jewish Quarter, Mala Strana), Prague 2 Vinohrady and Prague 5 Smichov. The reason for Art Nouveau dominating these areas is either as a result of the construction of brand new parts of town (Smichov/Vinohrady) or the reconstruction of demolished parts (Old Town and Jewish Quarter). Art Nouveau builds on Secession and introduces a brand new element. The period is not long i.e. the entire scope can be captured between 1898 and 1918. Here I'll combine some Art Nouveau history with one of my favourite cafes.
---
CUBISM
New ideas are flooding the city and even with Art Nouveau barely six years old we have another major design influence, Cubism. It's a dramatic and eventually short-lived period between 1911 and 1924. It's a nice addition to the overall Prague architecture collection and it can be found dotted all over the city. Find out why I like Cubism buildings in the sunshine and the spiritualist nature of the design. I'll also combine some Cubist history with one of my favourite cafes.
---
ART DECO
With the almost simultaneous end of Art Nouveau and Cubism we clear the deck for the last of the main 20th Century styles. Art Deco is again a short period very similar to Art Nouveau in that it's all over with inside a period of 20 years (basically 1920 to 1940). But it was important to have in the context of exploring new design features and colours (or not in this case). Art Deco lost out to Art Nouveau in the centre of Prague purely because there was not much space and no new areas of the city were developed during this period so Art Deco examples are limited but again I'll combine some Art Deco history with one of my favourite cafes.
---
MODERNISM and BRUTALISM
You have to consider that there will have been no really dominant Prague architecture style for the previous 30 years so post-1950 we begin what could really be called a 50 year period of Functionalist, Modernist and Brutalist design. Modernist can cover some excellent examples such as the Dancing House. Brutalism is largely the "in your face and I don't care" style that pervaded during the Communist era.
---