Prague Cafes, Famous, Unique, Memorable
---
When I first came to Prague you struggled to find anybody selling anything but Turkish coffee and Nescafe. Well times have changed and this page leads you into some of my favourite cafes in the city. No Starbucks here, just small and independent businesses in different parts of town to try. My own favourite is a "Vienna coffee" which is usually a tall glass with strong coffee topped by an inch of thick cream. So around town let me tell you about a few places.
---
Old Town – Grand Cafe Orient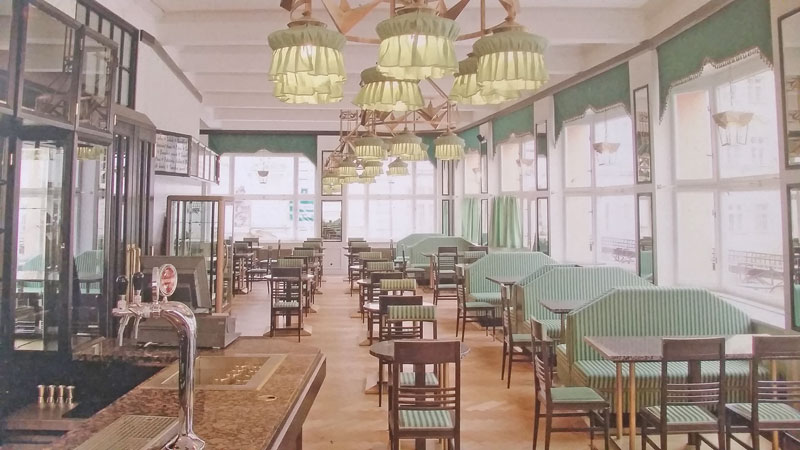 This is a Cubism Prague Cafe that was originally opened in 1912 in the building which now hosts the Czech Cubism Museum. It closed for 80 years and having reopened in 2004 it attracts people wanting a nice coffee in a Cubism design environment. The building has two cafes, this one is on the first floor. It has a summer outdoor seating section on the ground and limited seating on the first floor balcony.
More Details
---
Old Town – Bakeshop Praha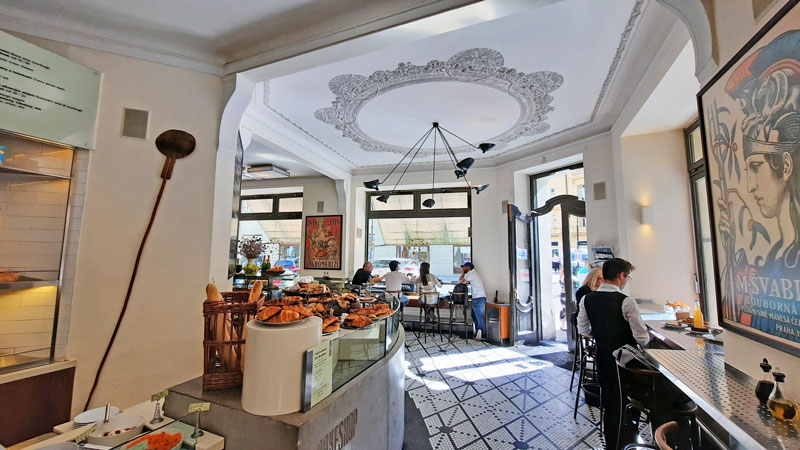 I'd be here early in the morning as it opens at seven in the morning. I recommend it for people who like a nice choice of pastries with your coffee and to sit at the window to watch the city going by. One of the Prague Cafes with a great atmosphere. Personally I don't recommend the cappuccino here unless you like a lot of frothy milk and not much coffee. Exit the Old Town Square next to Caffreys Irish Bar and it's on the corner of the second block ( V Kolkovne). No tables and chairs here, just internal stools and benches outside.
More Details
---
Old Town – Municipal House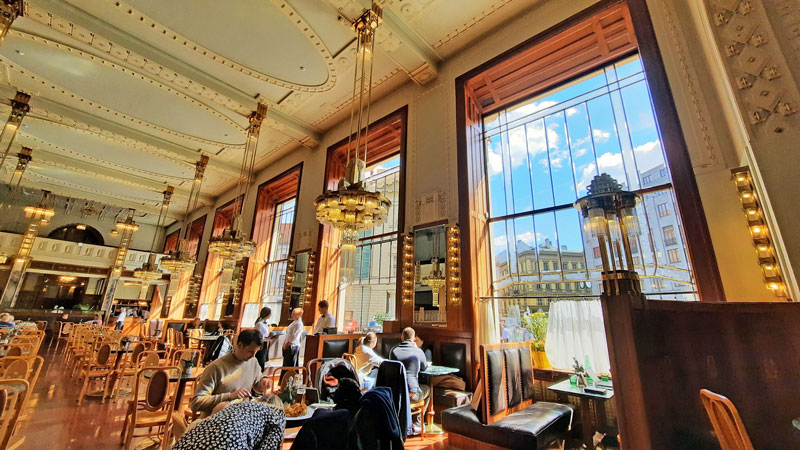 Another in the Art Nouveau style but much more decorative than the Cafe Louvre. Located in an historic building on Republic Square in the summer it has a fairly large open air section. Great for breakfast if you are staying in an apartment nearby, lots of choice for coffee and a quaint cake stand to choose your dessert. I frequently stop here with tour clients because it has a lot of places but as with all popular cafes with a tourist clientele, the service can be a little abrupt and they expect a tip.
---
Old Town – Cafe Au Gourmand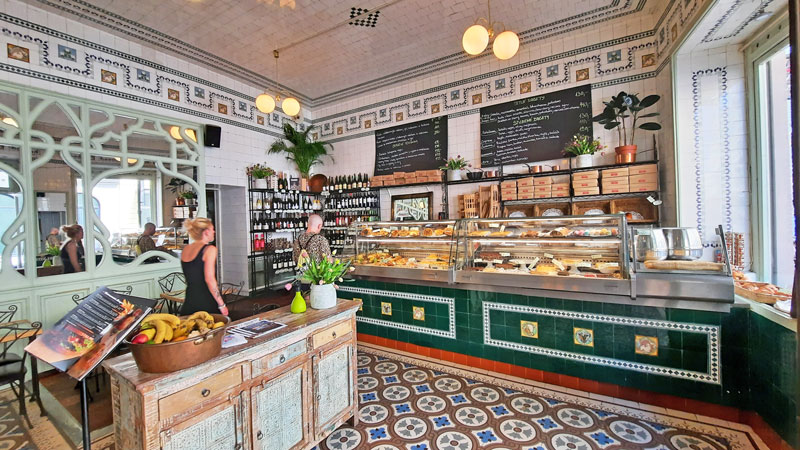 Here we find the style of a classic Parisienne patisserie with it's colourful tiling, smart decor and freshly prepared food. You'll find me inside in the winter enjoying a coffee and one of their delicious chocolate eclairs. In the summer you'll find me outside in the rear garden which doubles as a beer garden. If you are an Anastacia fan you may have seen this place in one of her videos. One minute walk from the Old Town Square. Additional interior seating in the rear.
---
New Town – Cafe Louvre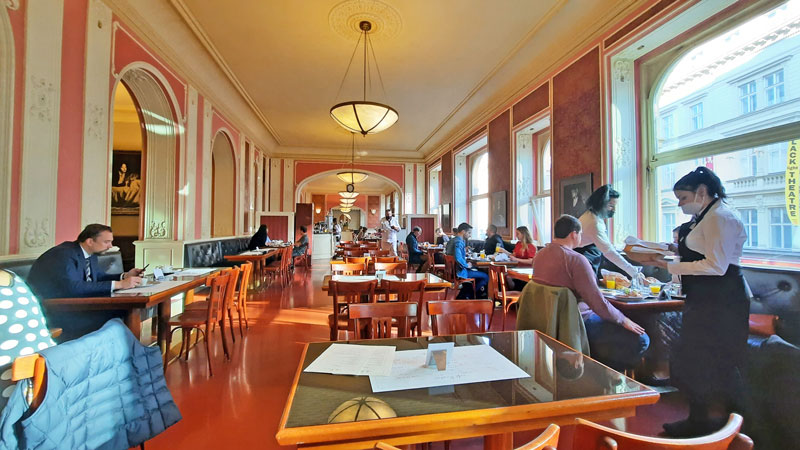 My number one choice of Prague Cafes in the city. It's also a restaurant but I prefer it here for breakfast. As well as my own "Vienna coffee" which they do very well, Cafe Louvre also serves what I consider is the best hot chocolate in the city (spoon standing up in the cup of hot chocolate). Located in the same street as the National Theatre, from here walk back towards Wenceslas Square and just before the tram line turns to the right you'll see a door on the right that takes you up to the first floor front-facing cafe.
More Details
---
New Town – Cafe Imperial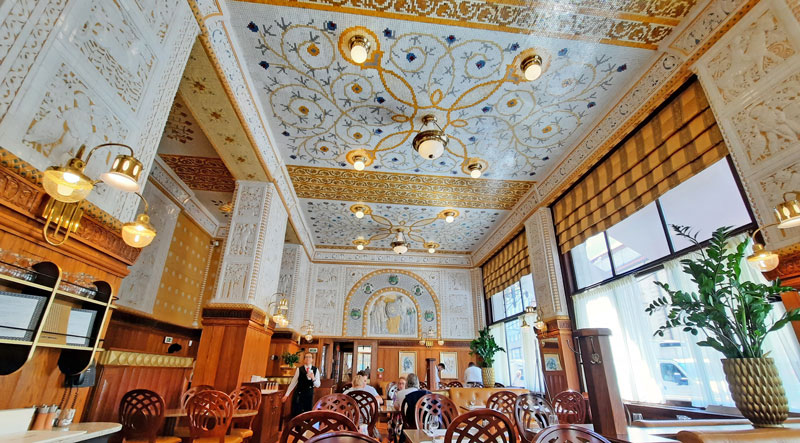 Caught between Cubism and early Art Deco this place acquired a style known as "Fashionable Oriental". Very popular in the period just before WW1. Now it has preserved the finest ceramic interior in the country. I tend to come here at breakfast time or at least between 9am and 11am because on the early side it doubles as a breakfast room for the associated hotel and on the later side they reduce the cafe seating when they serve lunch. Very professional service. Five minute walk from Republic Square.
---
Lesser Town (border with Prague 5) – Cafe Savoy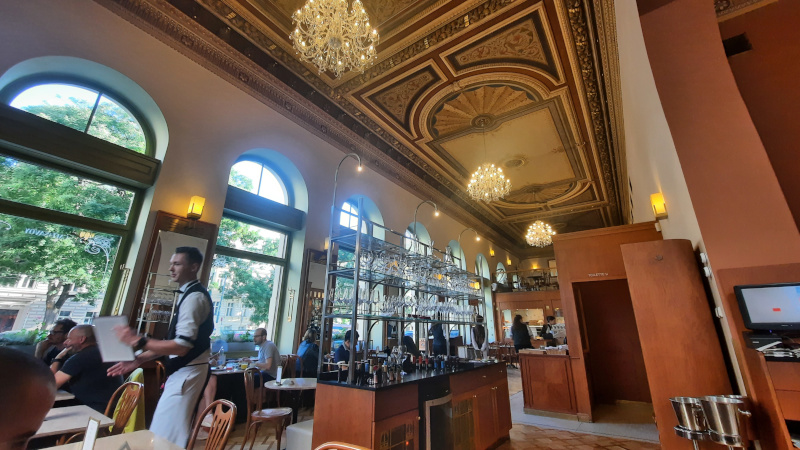 At the approach to the Legie Bridge (with the National Theatre on the far side) just set back a little from the main road you'll find one of my favourite Prague Cafes in the area, Cafe Savoy. It might come as a shock that it is not at the Hotel Savoy. Why do I like it here? Well apart from the stunning decor, you soon realise that professional service combined with high quality food and coffee makes it worth coming here and as a bonus they are happy for you to bring small kids here as well.
More Details
---
Prague 2 – Fantova Kavarna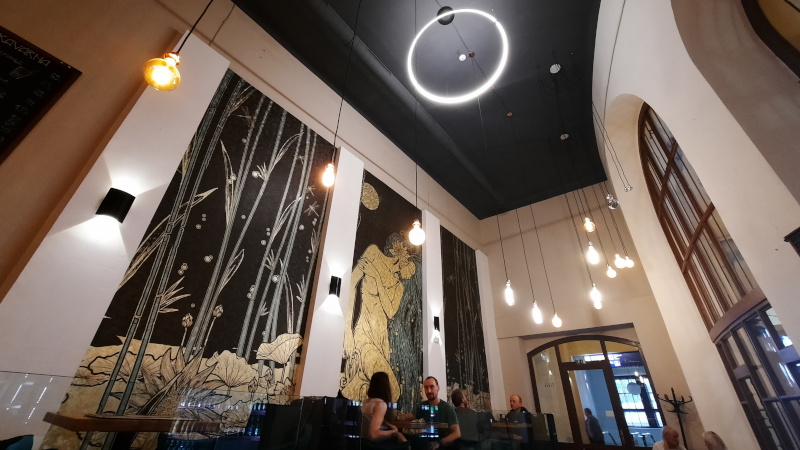 You'll find Fantova Kavarna at the Main Railway Station in the "Historic" area (same level as the 4-Lane road). It takes its style from the original train station here built in Art Nouveau style by the architect Josef Fanta. Fairly small but beautifully decorated with a classic high ceiling. If you are catching a train from the station then make time to stop here.
---
Prague 8 – Karlin Kasarna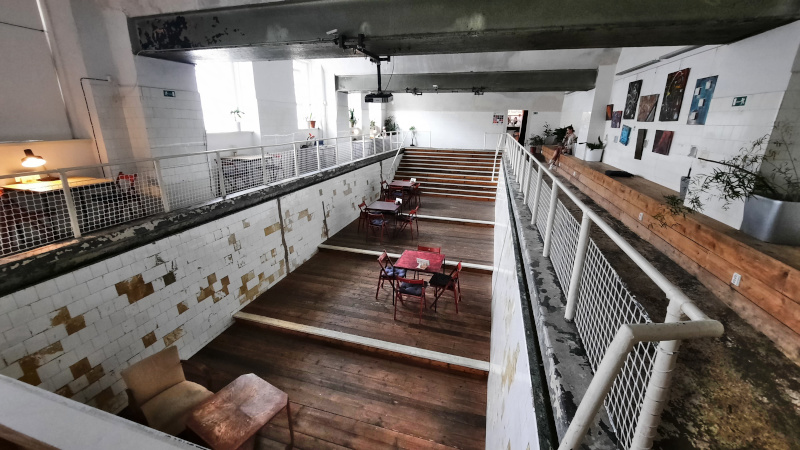 Possibly the most quirky cafe experience in the city is to drink your coffee in a swimming pool that used to be in an old army barracks in the 8th district of Karlin. The complex is mostly used for external summer entertainment and culture but the cafe/pub runs the whole year.
---
Old Town – Ebel Coffee
A Hungarian lady runs a small chain of really nice Prague Cafes which I personally believe serves some of the strongest coffee in the city. I use two branches, the Kaprova location close to the ST Nicholas Church in the Old Town is better for a take-away as it's a small place. If you are looking to sit down then it's better to go to the branch in Retezova.
Ebel Coffee Webpage http://www.ebelcoffee.cz/.
---
New Town – Leica Gallery Cafe
Not your usual coffee and cake place. I come here from time to time to take the opportunity to get a fresh coffee and browse the gallery photos at the same time. It's a very modern place and although not with a huge menu choice, it's very stylish and offers a very personal service. To get here, from Wenceslas Square walk into Vodickova and take the second left into Skolska. The cafe is then 75 metres on your left as you walk up the hill.
Leica Cafe Webpage http://www.lgp.cz/en/about-us/cafe.html.
---
Karlin (Prague 8) – Muj Salek Kavy
Not exactly one of the Prague Cafes in the centre of town but worth a stop if you are in the Karlin area. They are a direct-trade coffee company that set up this cafe. Hugely popular during the day for breakfast and lunch it calms down a bit in the evening. I come here when I want a coffee that really tastes like coffee, freshly ground, served hot. Easiest way to get here is to take tram 3 or tram 8, get off at Urxova, walk back to the traffic lights outside the Penta Hotel and turn left. The cafe is on the next corner. Or take the metro to Krizikova, exit the station and turn left. The cafe is at the end of the block.
Muj Salek Kavy Webpage http://www.mujsalekkavy.cz/en/.
---
Karlin (Prague 8) – Cafe Martin
A great idea. They have a Cafe Martin in Karlin, Zizkov and Dejvice at present. What's special is that not only do they do great coffee but their business plan is based on helping mentally and physically handicapped men and women gain experience as cooks and waiters in order that they can show potential employers that they can do the job. Truly inspirational place, try and support it if you can.
Cafe Martin Webpage https://www.cafemartin.cz/ in Czech but use Google Translate and you'll get the idea.
---
Tour Tips: Here are a few Food Tour options that have been around and established themselves as high quality food activities in Prague.
---
My Own Guided Tours – Cheaper Than You Think!