Prague Food Top Picks – It's Filling
---
Coming to Prague for a few days and want to know what Prague food is like? Want to know which you absolutely have to include as part of your trip? then my top 6 Prague food meat classics (and one dessert) are below. This is just a quick run-through. Eventually I'll go into all of these meals in greater detail but this is just to whet your appetite.
---
Goulash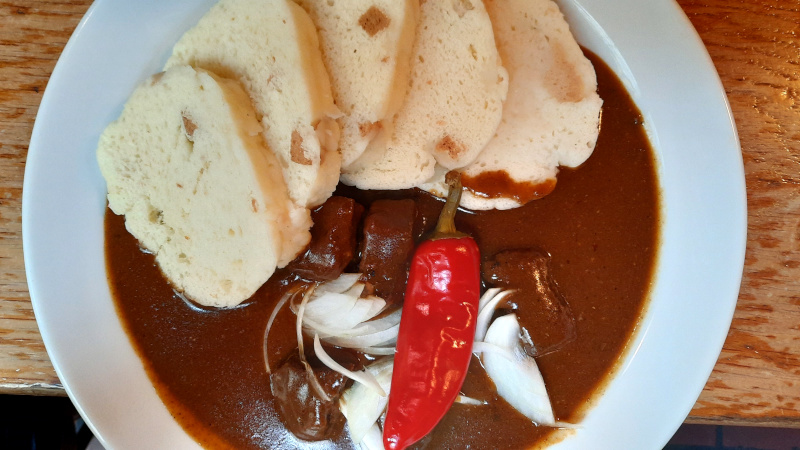 There will not be a Prague food menu in the city that does not have some reference to Goulash. Just note that we have several kinds but they can be broken down into Beef Goulash or Pork Goulash (Pork is more popular with Czechs). Goulash is usually served only with sliced bread dumplings but a restaurant can offer different types of dumplings including Karlovarsky (Herb dumplings) or Bramborovy (potato dumplings) or Bramboračky (potato pancakes). The goulash itself can be cooked and presented in different ways but personally I prefer the dark goulash served with raw onions. You can also find "goulash in bread" where a round loaf of bread is hollowed out to hold the goulash. Read more on the Prague Goulash post.
---
Beef Sirloin (in Czech – Svickova na Smetane)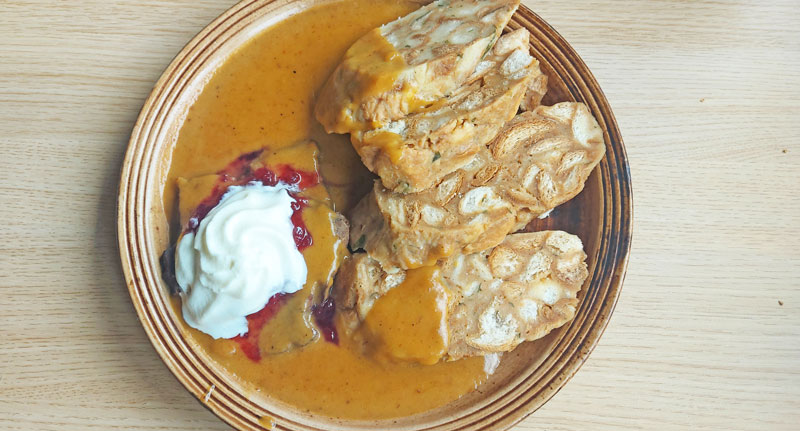 I'm not giving any secrets away by saying this will be a couple of slices of baked beef sirloin. No vegetables though. This Prague food will be served with sliced bread dumplings, the meat will be covered in a creamy thick sauce and on the meat will usually be a slice of lemon. On the lemon will be cream and on the cream will be Cranberry jam. If you want to say it in Czech it sounds like "Svitchkova na smettan-eay". There's is now a dedicated Svíčková post.
---
Moravian Sparrow (in Czech – Moravsky Vrabec)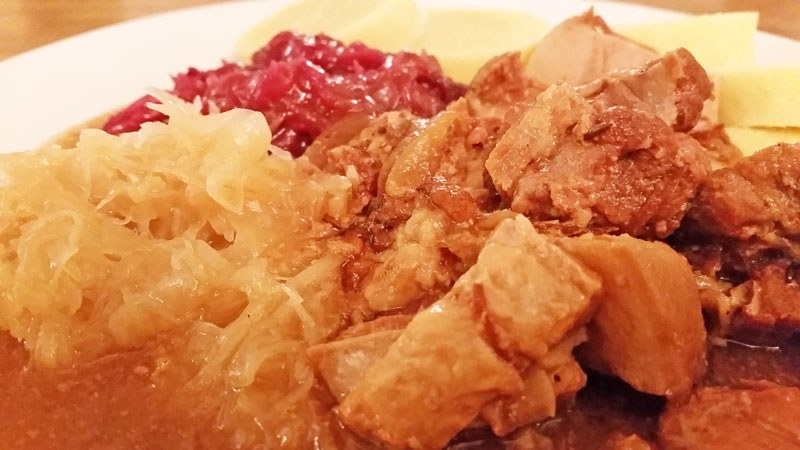 For this Prague food you must like Pork and you must like a bit of fat on the meat. It's my personal favourite and I expect it to be served in a certain way. Pork baked until it's falling to pieces served with sliced potato or bread dumplings, red or white sweet cabbage. Remember that there is no gravy or sauce with this meal so the cabbage (zeli) provides the moisture and it's ideally accompanied by a large beer. There's now a dedicated Moravsky Vrabec post.
---
Schnitzel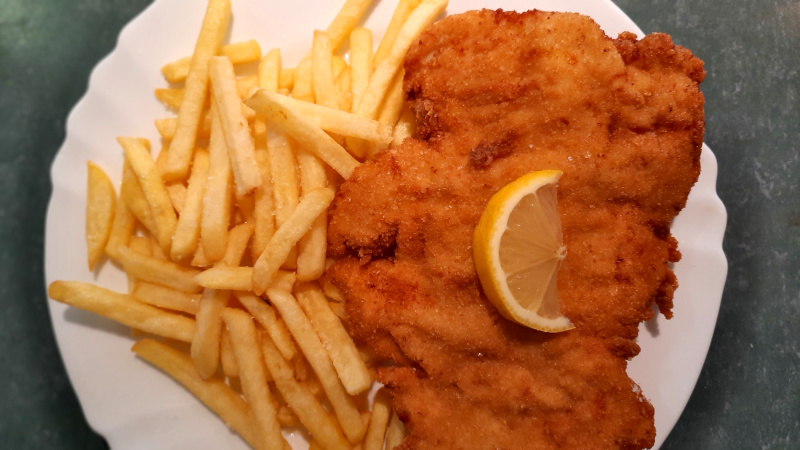 Schnitzel is a universal name for this dish but in Czech we call it Řízek. Whereas the original Wiener Schnitzel is made from veal, the Czech version is either pork or chicken. It's usually prepared pretty quickly so all you have to decide is which kind of potatoes you want on the side. On this post are a few examples of what I eat and what to expect. Read more on the Schnitzel post.
---
Pork Knuckle (in Czech – Veprove Koleno)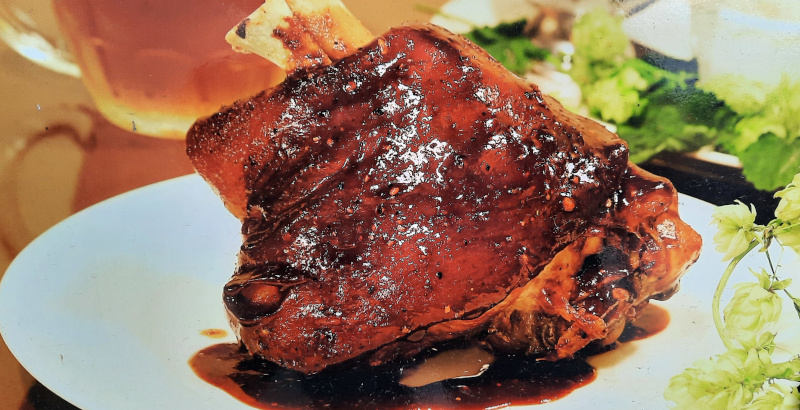 There's a bit of variety when it comes to Pork Knuckle and especially when it comes to price. In Czech the "koleno" is the knee joint but some places seem to think they can get away with the ankle. It's a question of the amount of meat because the true Czech Koleno will have at least 400g of meat on it. The other variant is how it is presented. The tourist "koleno" will be spiked at both ends above a board and you'll be expected to cut bits of meat off onto the board where they'll be condiments like ketchup, horseradish and mustard waiting. Czechs will go for the "pulled" version i.e. boneless on a plate. You'll need to order vegetables separately and in my experience with this kind of Prague food, roast potatoes/vegetables goes well with it. Read more on the Pork Knuckle post.
---
Ribs (in Czech – Žebrák)
If I had a pound for each time I've heard people say that there is "zebra" on the menu then I would have eaten for free these last 10 years. Czechs like Pork Ribs, usually marinated (smoked or with a pepper marinade) and cooked to the point that it's falling from the bone so it's not expected that you will eat it with your hands. There is no recognised side dish with this meal. You may have potatoes or possibly grilled vegetables or a salad. For a little bit more detail read the We Don't Eat Zebra post.
---
Uzená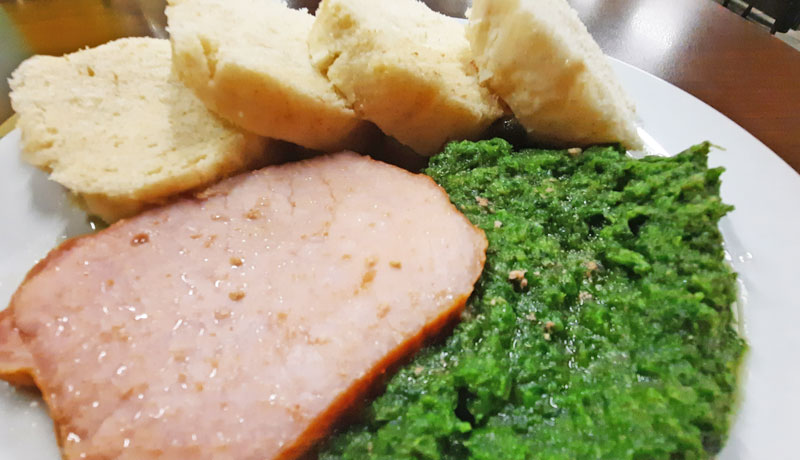 Again it's a pork dish but with a difference. Uzená is smoked pork that can be served in slices or pieces. The main side dish is Spinach which has been reduced to a mass of green on the plate and also some fried onions in most case. Czechs will also expect you will want potato dumplings. You won't have any problems with the meat but you need to understand the side dish options. Read more on the Uzena post.
---
Spanish Bird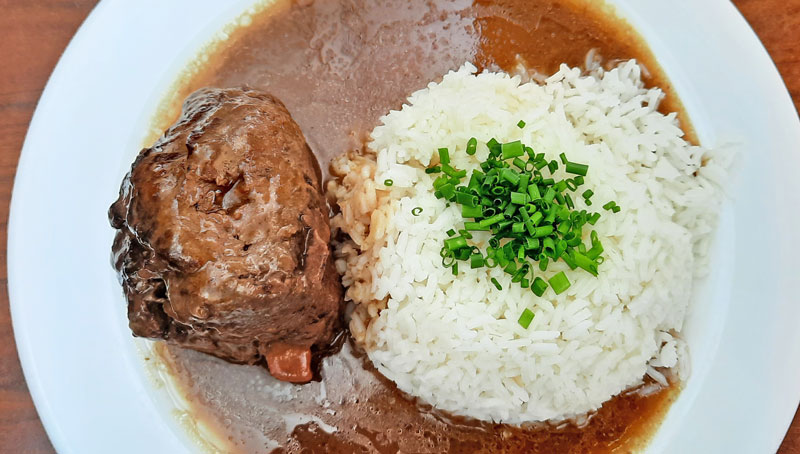 It's not Spanish and it's not a bird, but it is a popular meal that you find on lunch menu chalkboards. It's a beef roulade stuffed with a range of whole-year produce and served it two or three different ways. I've now written the Spanish Bird post so you can get more information there.
---
Sekana (Meatloaf)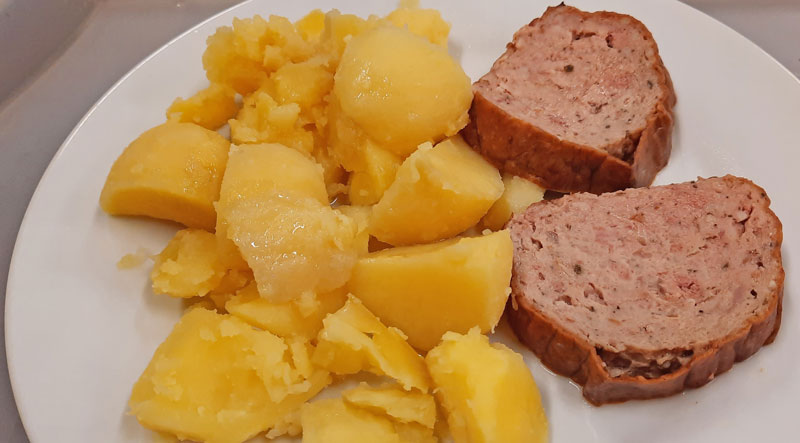 Sekana is usually a mix of beef and pork mixed with breadcrumbs so it should feel light when eating it. You can expect either pureed potato or more likely just boiled potatoes with melted butter as a side. It's a very popular lunch item served hot or as pub food served cold. Read more on the Sekana post.
---
For the pork knuckle on a skewer and a nice "beer hall experience" I recommend U Vejvodu in the Old Town. I could recommend separate places to try but to be honest, many of the others above can be found at many of the centrally located restaurants. If you are looking for a few other places to try Prague food then look at my Recommended Czech Restaurants page. And if you are intending to take a beer or two with your meal then take a look at the Czech Beer page.
---
Livanec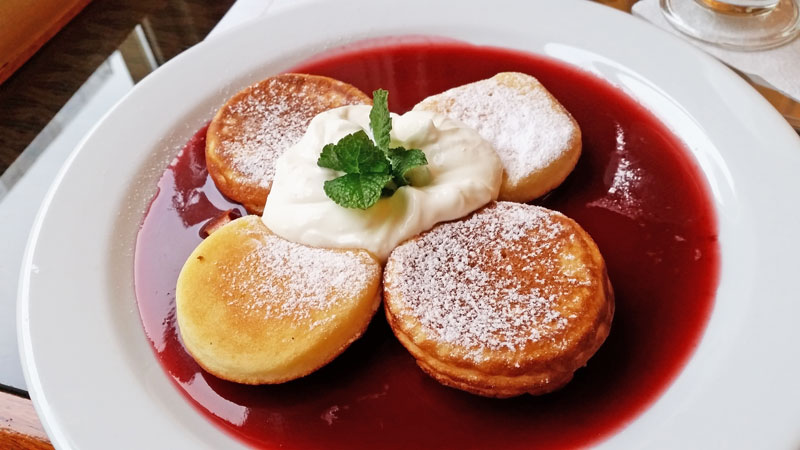 Let's not forget my dessert tip. My favourite Czech dessert is Livanec which are small thick pancakes (as opposed to regular pancakes called Palacinky). Livanec is always served in a portion of 3 or 4, surrounded by a sea of fruit sauce (usually raspberry) and a serious serving of double cream. It's a real diet buster but if you are walking around the city then you'll burn it off. More details on the Livanec post.
Look for this at the Cafe Louvre on my Favourite Cafes page.
---
Czech Food Cooking Classes
If the above list has got your appetite going and you fancy learning how to cook some of these meals then now you have a way. These guys offer an experience of preparing and cooking your own Czech lunch. I'll admit it's not the cheapest but with a professional chef looking after to you and all the ingredients included it's definitely worth it for people who want a great food-related memory of the city. Take a look at the Czech Food Cooking Classes post.
---
Tour Tips: You'll find both classic and modern interpretations of Czech food on these recommended food tours.