Prague River Cruise Review
---
Over the years I've given a lot of advice about Prague river cruise options, lunch, dinner, guided or not, types of food, best ways to book etc. It's great to get out on the river between April and October so now I've decided to review what I think are the best offers on the river so you can quickly see what might interest you. Book places and options online.
---
Common things to expect
1) Welcome Drink, usually a fizzy wine.
2) Expect a shared table unless you reserved a private table in the booking.
3) On-time departure. They don't wait i.e. if they say departure at 8pm then they are boarding from 7-30. No refund for a late arrival but they may reschedule as spaces allow.
4) Specific boat. Tours may use a specific tour boat used like the paddle boats Šumava and Vltava or the glass sliding roof Rhapsody and Grand Bohemia.
5) Where you see the meeting point "Cech Bridge" then head for the Hotel Intercontinental then cross the road and go down to the riverside. The piers are numbered. When you arrive back here after 11pm, go up onto the road, walk across to the Hotel Intercontinental reception and ask if they would call a taxi for you.
6) The "Upriver" route will include going under Charles Bridge, nice views of Prague Castle, going upstream past the canal locks, Shooters Island, National Theatre, Dancing House and Vyšehrad. Nice riversides to see during the day but fairly dark at night. The "Charles Bridge Area" does not go through the canal lock and stays within 200 metres of Charles Bridge at all times.
7) For the Upriver cruises aim to eat in the canal lock towards the beginning of the cruise when they are queueing the boats.
8) For higher value "dinner" Prague river cruises then they will often "Pick-up" but may only provide a bookable option to "drop-off". So if you do not book the return, follow the advice in point 5 above and ask a local hotel to call a taxi for you.
9) All dinner cruises have live music. Music on lunch cruises and smaller boats may be recorded or have no music.
10) Boats with no open upper deck are all Non-Smoking.
---
Tour Tip: There are several cruise offers on the river but to be honest if you can book either of the two below for lunch or dinner then you'll have a great experience. It's the same open-top boat, service to table and live music
---
My All-Time 4 Recommended River Evening Cruises
I make recommendations for all types of river cruises from 45 minutes during the day to specialist food cruises but these are my favourites. First is the "Glass Roof Dinner Cruise" and on this one as well as great buffet food and service you are guaranteed to be on the one of the most modern boats on the river. All tables have a view but you can book specifically a window table. Next is my favourite and it's called "Sweet Prague". It's an old wood panelled boat but it's proper waiter service and an a-la-carte menu to choose from (my choice if you want great food with a view). The "Prague by Night 3 Hour Dinner Cruise" has been here for years and has consistently good reviews. The boat may change but the buffet food quality and service is great. Finally, one that's been here for years, the "Jazzboat". You have the option of pre-ordering food or just doing cruise-only. Camp out at the bar or go out on deck on a warm evening with live contemporary jazz in the air.
---
Prague Glass Roof Cruise – 3 Hours (Unguided, Buffet Food Higher Standard, Modern Boat, Contemporary Music)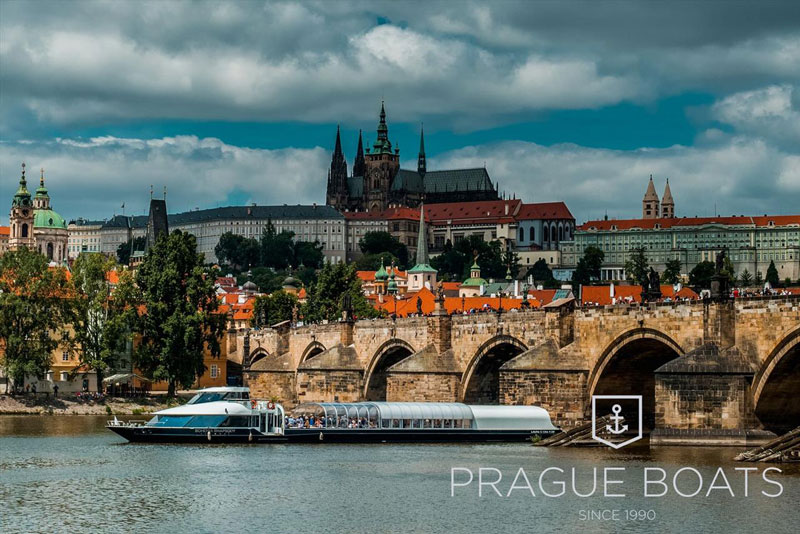 It's exactly the same route as above. Welcome drink, other drinks are extra and although its unguided they do give you a multi-language mini-guide but its no substitute for a proper guide book. This Prague river cruise has both a higher standard buffet and a higher spec boat. In this case they specifically they use the Bohemia Rhapsody, Crystal or the Agnes with it's sliding glass roof so it's a single floor boat. I've found that the live music is often a contemporary guitar based style. More expensive but worth it for the upgraded boat and food.
Check Tour Availability and Book Online
---
Sweet Prague – Dinner Cruise 3 Hours (Unguided, A la Carte Menu, Specific Boat, Live Piano) – CURRENTLY NOT RUNNING
This one is called "Sweet Prague" and it's without doubt the highest quality dinner cruise on the river. For a start it's tables for 4 (usually it's 6) and it's a pre-booked "a la Carte" menu (usually a cruise offers only a buffet) but if you want the vegetarian option you select that in the booking. Beer, wine and tea or coffee is included. Professional waiter service will impress you but this is a scenic river cruise so remember to look out of the window from time to time. They use an older boat called the Lužnice but it's been outfitted with a lovely wood panelled decor with the live music provided by a piano in the main salon. If you want the best views and least music then book places in the bow of the boat. You eat inside and after dinner you have the option of going onto the upper deck.
When Sweet Prague returns I'll update this link to Check Tour Availability and Book Online
---
Prague By Night – Dinner Cruise 3 Hours (Unguided, Buffet Food, Regular Boat, Czech Music)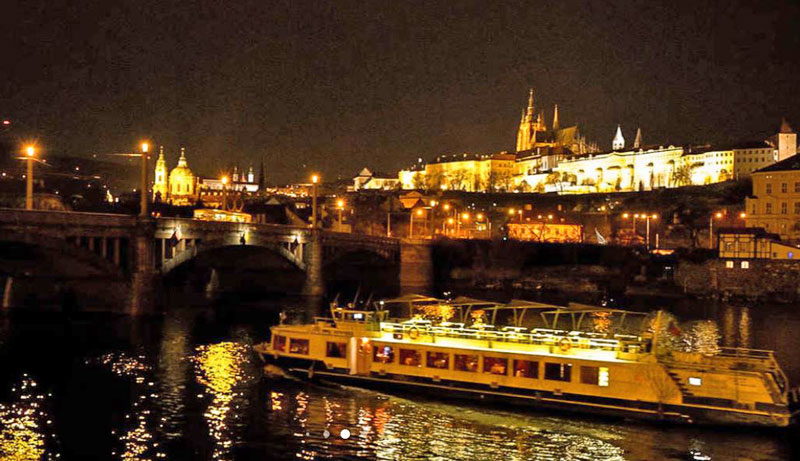 This is probably the best value option for people who want a night Prague river cruise. Music varies depending on the band but it's not obtrusive. You'll receive a welcome drink but any other alcoholic or non-alcoholic drinks you will pay extra. This is an unguided option so sit back and enjoy the sites but if you want to know more about them make sure you have a guide book handy. They use several different boats and it really depends on the schedule which one you are booked onto.
Check Tour Availability and Book Online
---
JAZZBOAT – Dinner Cruise 2.5 hours (Unguided, Set Menu Optional, Specific Boat, Live Jazz)
This is the Jazzboat cruise so needless to say the music is going to be contemporary jazz. The 3-course meal is optional and you select your choice at the time of booking. You can pay extra for a private table or expect to be sharing. You get a welcome drink as part of the booking but anything else is extra. If you have fine weather you might find it better to eat upstairs on the covered top deck as the inside tables are more for drinks and snacks. The band plays in the salon but the music is piped throughout the boat. You cannot pre-book specific tables in the salon.
Check Jazzboat Pricing and Availability
---
Lunch Cruise 2 Hours (Unguided, Buffet Food, Live Czech Music)
I think 2 hours is just right for a lunch cruise. It has to be to allow for getting through the canal lock both ways, allowing time to eat and seeing the views. It's unguided so take a guidebook with you or my tip, use google maps to get more info on the different buildings on the riverside. Standard offer welcome drink, buffet lunch and live music. The boats used are varied so you could get one with an open top deck but it's not guaranteed.
Check Tour Availability and Book Online
---
Tour Tip: Any cruise service 1 hour or less does not serve lunch or dinner but may include a drink and snack. Little Venice is also called "Historical River Cruise" below. If you want space to move around then choose one of the bigger boat options.
---
Basic Cruise 60 minutes (Guided, No Food/Drink)
This is the cruise that you get if you book a Hop-on-Hop-off 48 hour pass. When I say "Guided" it's via automated commentary in English with headphones available for other languages but you'll need to be seated to use those. It does not do the upriver part and instead stays close to the Charles Bridge. No food, no drink. If you want a short river trip on a larger boat, options for inside and out, scenic and guided (automated) then this is probably for you.
Check Tour Availability and Book Online
---
Basic Cruise 50 minutes (Guided, Optional coffee/cake)
This is also the "Coffee and Cake" cruise but during the booking process there may or may not be the option for actually getting the coffee and cake. If there is no specific box to tick during the booking then it's "ticket only" i.e. no coffee. Where I say "Guided" it's via headphones and only on the lower deck. The cruise itself stays close to the Charles Bridge area and does not go upstream. It's a no frills way of enjoying the riverside and uses a covered deck boat.
Check Tour Availability and Book Online
---
Basic Cruise 45 mins (Very Small Boat, Guided by the boat operator, No Toilet)
This is called the Devils Channel Cruise but it's basically the same route covered by the "Little Venice" guys so you get to see the water wheel and the mill but most of the trip is out on the river criss-crossing under Charles Bridge so you can enjoy the riversides seeing the Bridges, Prague Castle, Rudolfinum etc. No food, no drink. I like it because it's a small boat and when the weather is good they just have a top cover. No moving around on the boat though and no toilet.
Check Tour Availability and Book Online
---
Some Random Things to do and See in Prague