Prague Public Transport Ticket Machines With Touch Screen
---
The older Mechanical ticket machines are gradually being replaced by touch screen options which I'll describe below so this post will describe your main options for buying public transport tickets if you decide to use a machine. There's also a Video link below for using the big machines. Here's a picture of what the machines look like. The three big ones give you the regular ticket which you use whenever you want. The smaller one on the left is the "pre-validated" option.
---
FREE Travel
Before you go any further, Prague offers FREE personal travel on the Prague Integrated Transport system. This means that regardless of your citizenship, if you are aged 65 or over and happy to carry your passport with you then you can travel on the metro system, tram system and most buses for free. The exceptions are that you must pay for a ticket for any large luggage/pets and/or if you travel on a "regional" bus. Get other discounts and free-entry on the Exploring Prague Over 60 post.
---
Touch-Screen Pre-Validated Ticket
In a metro station this will be a small YELLOW box but if you are using this on a tram or bus then it's the ORANGE box. An example of this type of machine is shown here. It comes in different sizes but the screen is the same. You'll need a contactless bank/credit card. First touch the flag to change to the desired language. Then touch the screen for the desired ticket (Blue means regular adult price, Green is for kids who have had their 6th birthday but are not yet 15) i.e. 30 minute ticket, 90 minute ticket (actually in the centre of Prague it's valid for 60 minutes) or 24 Hour Pass. You pay using your contactless card. A plain text ticket is generated and it's already pre-validated so you don't need to stamp it in any other machine but your time starts now. This is the type of machine you also find on trams and some city buses. When using a contactless card, hold it to the machine until the ticket drops out beneath the machine otherwise if you take the card away too soon it will fail to issue a ticket and the box has to reset (this causes a red screen to be shown for the next few seconds).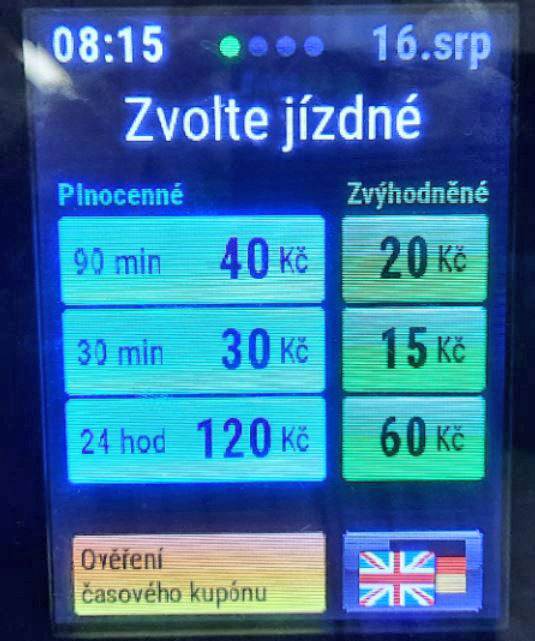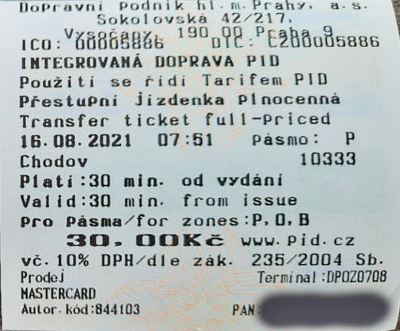 ---
Touch-Screen Non-Validated Ticket
This is almost always going to be found at Metro stations, Train Stations and other major transport hubs. You'll need a bank/credit card which is either contactless or has "Chip and PIN". Alternatively you can use coins but currently NOT notes. I'll walk you through the process.
VIDEO: Everything explained below you can now watch on the How To Use A Prague Public Transport Touch-Screen Ticket Machine Video which walks you through the process of buying tickets using cash.
If the terminal has not been used for a minute or so then it will appear blank. Touch the screen and the top-level menu appears. It's defaulted to Czech Language so touch the Union Jack top-right to switch to English and you'll have the screen below. In this guide we'll cover buying tickets so touch the "Buy Tickets" option.
NOTE: From August 2021 the ticket prices increased so where you see references to CZK24, this has increased to CZK30. Where you see references to CZK32, this has increased to CZK40.
---
Now you'll choose your ticket/pass (it defaults to full price, you only need "half" price if you are buying tickets for kids aged 14 or under). You should have already made the decision about how you want to use the public transport so let's assume that you are an adult and you just want to make a journey that will take less than 30 minutes which means a full priced CZK24 ticket. So press that option.
---
Now you decide how many you want. It defaults to 1 but if you want more i.e. 6 then press the + until you get the required amount.
---
When you're ready you decide how you want to pay. That's on the right side of the screen (green boxes) shown below. Press the option for how you want to pay.
---
The coin slot is at the top of the machine. If you pay by card then that's pictured below i.e. Contactless on the right or insert the card on the left and enter the PIN.
---
The machine may ask if you want a receipt. If not, there is a delay of a few seconds and the required tickets are then printed and dropped into the tray.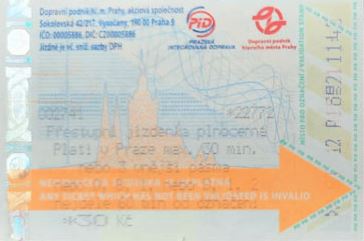 Apply the same procedure as above if you want passes instead of tickets.
You must then Validate this type of pass/ticket by stamping in the yellow box BEFORE entering the station/metro/tram.
---
My Own Guided Tours – Cheaper Than You Think!