Prague Old Town Square
---
Imagine yourself standing on a picturesque square in the centre of Prague. You are surrounded by more than a thousand years of history and the Old Town Square was here before many nation states were even formed. And it's not dull either as the square is often used for sporting events (often the finish of the Prague Marathon), political events plus festivals and the Christmas and Easter markets to name but a few.
---
Prague Old Town Square – What's to See?
Usually a square has a dominant feature but in the case of the Old Town Square there are several depending on how you enter the square.
The 13th Century Old Town Hall partly destroyed in world war two but the oldest parts are still here and as well as a great view from the gallery it hosts art and photo exhibitions. It's also the location of the Orloj (Astronomical Clock) and scene of many weddings as you'll see by the confetti and petals outside. Part of it's grisly history includes the execution in 1621 of the 27 Noblemen/Insurgents connected with the Protestant side of the thirty years war.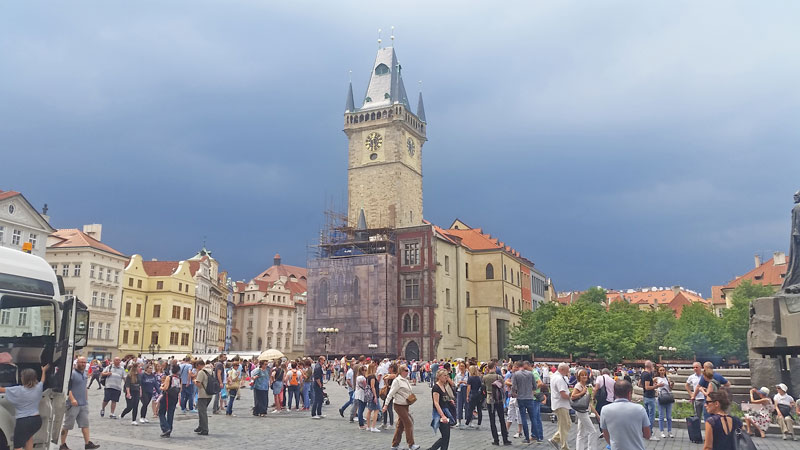 The Church of Our Lady Before Tyn is another dominant feature on the Old Town Square. Formerly a Czech Hussite (Protestant) church it changed sides following the Battle of White Mountain in 1620 and has been a Catholic Chram (Church of significance) ever since. It's one of the largest Gothic structures in Europe and stunningly beautiful inside.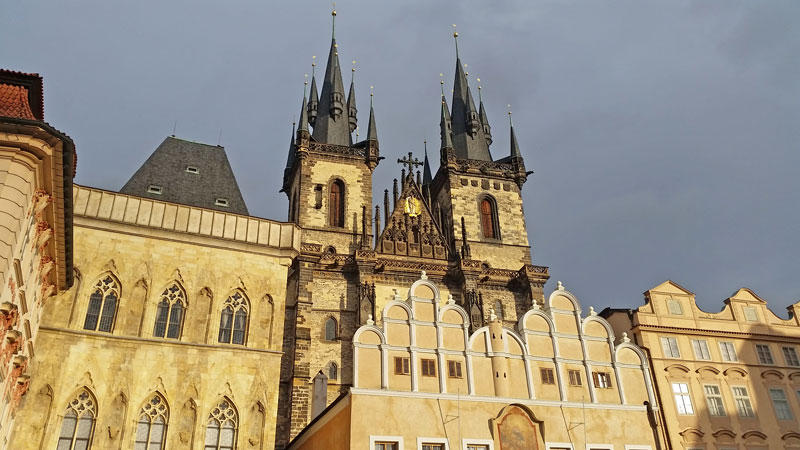 ---
The third dominant feature on the Old Town Square is the Church of ST Nicholas which is the tallest Baroque style structure on the Old Town Square dating back to the 1730's. Still a regular church that does weddings and services it was closed for 90 years in the past and has been three different religious denominations in it's time.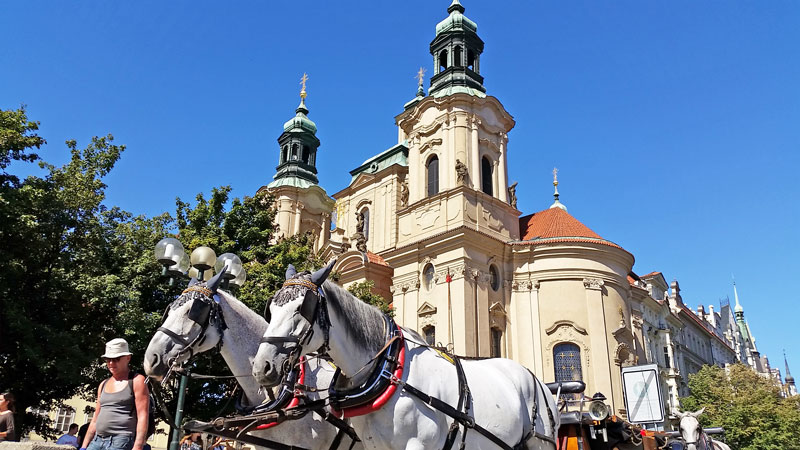 ---
Finally the Baroque-style Kinsky Palace dominates the north-east side of the square. A pale orange coloured building, formerly one of the seats of the Kinsky family, scene of famous speeches, the birthplace of a Noble Prize winner, the high school of Franz Kafka and many other stories.
The Jan Hus Monument dominates the inside of the square. A huge grey/green monument dedicated to the Catholic priest Jan Hus and dedicated to the 500th anniversary of his death.
There are other buildings on the Old Town Square with connections to the Kafka family, Albert Einstein and famous political figures. Kings, Queens and Emperors have passed through but never quite managed to leave their mark.
---
Of course you'll have questions about these buildings that I've just mentioned and others so just consider that I run my own GUIDED OLD TOWN AND JEWISH QUARTER WALKING TOUR and I'd enjoy answering your questions.
---