Prague Chalkboard Menus
---
If you want to get into the city then you are going to have to step out of your comfort zone and that means accepting that local places often do not have English language menus.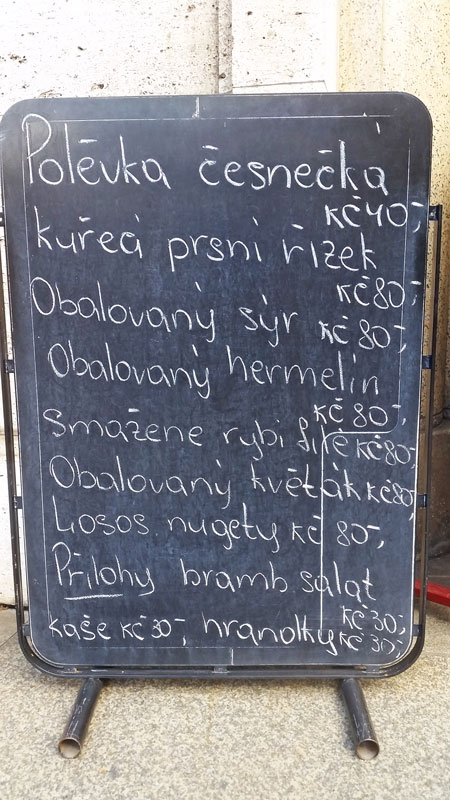 ---
I'm not going to do a whole load of menu translations, you can read more about meals and presentation on the Czech Food and Restaurant Etiquette post or the Top Czech Food Picks post. I'm not doing prices either but it's clear from the board that here a soup is CZK40, a main is CZK80 and a side dish of potatoes is CZK30. Here I'm just looking at an example of Prague chalkboard menus and what it means because the same phrases will appear all over the city.
1) Polevka – It's the soup of the day. In this case, Garlic.
2) Kureci Prsa rizek – Kureci (Chicken), Prsa (breast), rizek (fried in breadcrumbs). So it's chicken breast fried in breadcrumbs.
3) Obalovany syr – Obalovany (wrapped), syr (cheese). So this is a square block of fried cheese.
4) Obalovany Hermelin – Hermelin is a brand of cheese so it's the same as option 3 above but it will be a round cheese considered better quality.
5) Smazene Rybi File – Smazene (fried), Rybi (fish), File (fillet). So this is a fish fillet fried in breadcrumbs.
6) Obalovany kvetak – Obalovany (wrapped), kvetak (cauliflower). So it's pieces of cauliflower fried in breadcrumbs.
7) Losos nugety – Losos (salmon), Nugety (fried nuggets). So this is fried salmon nuggets in batter.
8) Prilohy – Side dishes. 3 different things here:
a) Bramb salat – Bramb (abbreviation of Brambory – Potato) so it's potato salad mixed with peas and mayonnaise.
b) Kase – Mashed potato puree.
c) Hranolky – French Fries.
---
What About This One
This is taking things a bit far because it's so heavily abbreviated but it's what you can expect when you go off the beaten path.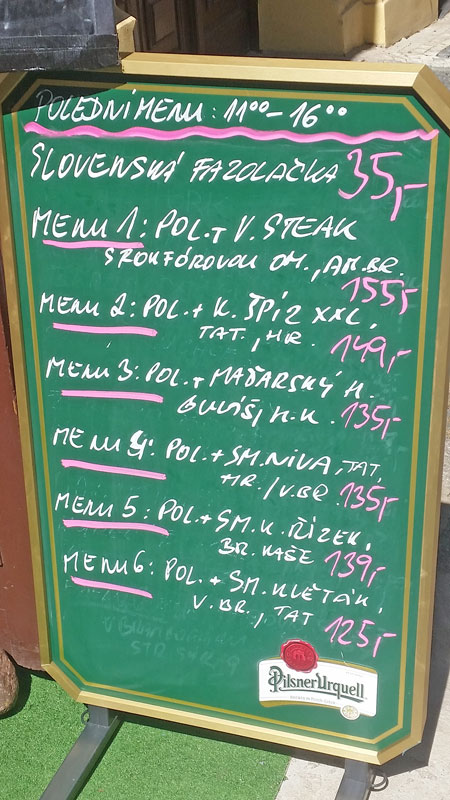 So right at the top it's telling you the time period for the lunch menu i.e. 11am to 4pm and the soup on it's own is Slovenska Fazolacka – Bean soup. This will be referred to as "Pol" (Polevka) in the menus.
Menu 1 – Pol + V.Steak s Rouforovou OM, AM.BR
Pol (soup) + V.Steak (Veprove Steak is pork) s Rouforovou OM (Rouforova is a type of cheese, OM is Omacku and means sauce), AM. BR is an abbreviation for American style potato wedges. So this is Soup to start and the main is a pork steak with cheese sauce and potato wedges.
Menu 2 – Pol + K. Spiz XXL, TAT, HR
Pol (soup) + K. Spiz (Spiz is a shish kebab and K is Kureci which is chicken), TAT (Tartar sauce) and HR (Hranolky – fries). So this is an oversized chicken shish kebab with tartar sauce and fries.
Menu 3 – Pol + Madarsky H Gulas. H.K
Pol (Soup) + Madarsky (Hungarian) H (Hovezi – beef) goulash with H.K (Houskove Knedliky – Bread dumplings). So this is Hungarian style beef goulash with bread dumplings.
Menu 4 – Pol + SM. Niva, TAT, HR/V.BR
Pol (Soup) + SM (Smazene – Fried) Niva (Strong Blue Cheese), TAT (Tartar Sauce), HR (Hranolky – Fries) / V.BR (Vavreny Brambor – Boiled potatoes). So this is fried blue cheese with tartar sauce and the option of either fries or boiled potatoes. A vegetarian option.
Menu 5 – Pol + SM K. Rizek, BR Kase
Pol (soup) + SM (Smazene – Fried) K. Rizek (Rizek – Schnitzel, K is Kureci – Chicken), BR Kase (BR – Brambor, Kase – Puree). So this one is Fried Chicken Schnitzel with potato puree.
Menu 6 – Pol + SM Kvetak, V.BR, TAT
Pol (soup), SM (Smazene – fried) Kevetak (cauliflower), V.BR (Vavreny Brambor – boiled potatoes), TAT (Tartar Sauce. So this is simply fried pieces of cauliflower with boiled potatoes and tartar sauce. A vegetarian option.
---
Remember Three Things
1) Even though the menu board is in Czech, in the cafe itself the people serving will have a working knowledge of English at least good enough for you to get your meal.
2) This style of place does not automatically include a side dish with a meal so they'll be expecting you to ask for a meal and a side.
3) Prague chalkboard menus are often used only at lunchtime so consider that by 1pm the choice may be limited and by 2-3pm it's finished. Take a look at the Czech Lunch Menu post.
What you should have seen by now is that there's a lot of fried food. "Obalovany" wrapped in breadcrumbs and fried. "Rizek" in this case meat wrapped in breadcrumbs and fried. "Nugety" fried nuggets. Basically if you want something grilled look for the word "Grilovany". Again, a full list of translations for Czech cooking is on the Czech Food and Restaurant Etiquette post. So here in this example (Quido at the city library), I could walk in off the street and get a soup, main course with side for CZK150 (£5 or U$7). TIP: take a picture of the board before you go in and use it to point at when ordering if required. Note: If you try Quido at the library then keep the receipt as you then get free use of the library downstairs WC.
---