Prague Czech Restaurants
---
Prague Czech Restaurants – U Modre Kachnicky II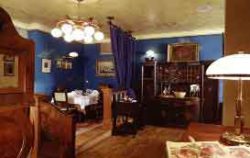 The U Modre Kachnicky II name translated probably gives it away. The Little Blue Duck II is a Czech restaurant but specialises in game. Apart from having the biggest choice of duck dishes in central Prague you'll also find venison, wild boar, fallow deer, lamb shank, rabbit, pork and veal served in a variety of ways. This is rich food to be eaten slowly and personally I would struggle with a 3-course menu here. I prefer to take a main course on its own or with a dessert but if you are set for the evening then take a look at the tasting menu which is a 9-course selection of the chefs specialities.
Read more and/or reserve a table at The Little Blue Duck II.
---
Prague Czech Restaurants – U Modre Ruze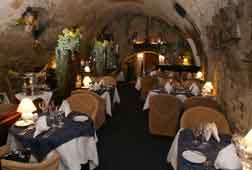 Housed in a 600 year old Gothic ground floor cellar, U Modre Ruze has separate menus depending on your taste. The main one is the "a la carte" where you choose from the entire menu. The Bohemian and Gourmet menus are fixed course for a fixed price with the Bohemian leaning towards the Czech style food whereas the Gourmet goes for what the Chef considers to be the best of the international offer. Both menus are in a "mini-degustation" style of 4 courses. Its one of the Prague Czech restaurants with a well balanced menu with good fish options and they have three or four good variations on roast duck. Note the strange twist on the Caesar Salad where they use Tandoori chicken.
Read more and/or reserve a table at U Modre Ruze
---
Prague Czech Restaurants – Deminka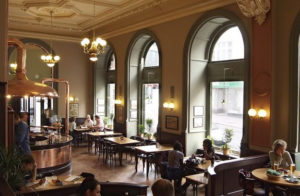 I've chosen the Deminka restaurant because you'll be eating great Czech food in a building full of 20th Century history. The building itself is technically a Palace with its large doors and windows, high vaulted ceilings, huge copper vats and parket flooring that has seen the most famous people in the country walking on it since 1886. As it's just outside the recognised tourist area you'll pay about half of what you would in the vicinity of one of the big squares. Basically its a great place to try modern Czech food in an air-conditioned space and there's a separate non-smoking salon if you need it. Its great value.
Read more and/or reserve a table at Deminka.
---
Prague Czech Restaurants – Plzenska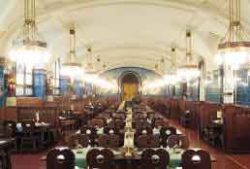 You won't normally just walk in off the street as you can't see this place from the street. The Plzenska restaurant is chosen because of the excellent Czech menu served in a large, airy and unusually bright basement location that was painstakingly restored to its original Art Nouveau decor in the mid 90s. It really is one of the most beautiful Czech restaurants with its mosaic tiled wall decorations, hand-carved chairs, azure blue tile surround and chandeliers. Although aimed at tourists it is surprisingly good value. You can go here for lunch but I recommend going for dinner and leaving it as late as possible (hence making a reservation) as it livens up considerably after 8pm with live folk music and performances. Nice to get a booth if there's 4-6 of you.
Read more and/or reserve a table at Plzenska.
---
Back to All Restaurant Categories
---