Czech Food – Prague Goulash
---
It's a Czech staple. For tourists it's number one on the list of Czech food to try and it's never the same in any two restaurants so welcome to Prague Goulash. Once upon a time they made the goulash and you waited for three days before eating it. Since we joined the EU in 2004 we are allowed to serve marinated meat only on the day it was prepared.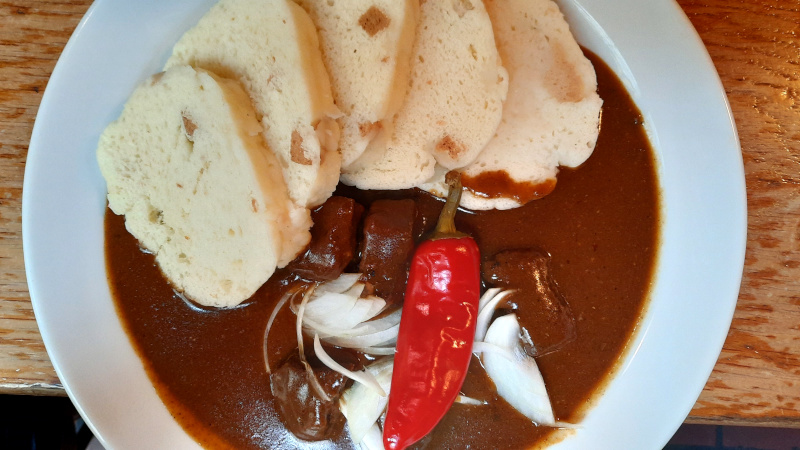 Although the ingredients are largely the same i.e. dumplings, meat, onions, pepper and a thick sauce, what I'll describe here are the three most popular styles of Prague Goulash plus some of the different ways of presentation so you know what to expect.
---
The Prague Goulash Basics
If you are browsing menu boards outside restaurants then in Czech look for the word Guláš (when you say it in Czech it sounds like goulash). In front of it will be one of three abbreviations:
1) Hov. Short for Hovězi it means Beef Goulash
2) Vep. Short for Vepřové it means Pork Goulash
3) Seg. Short for Segedinsky. It's a Pork Goulash but presented in a specific way.
---
Beef Prague Goulash
The picture above shows the basic version of a beef Prague Goulash i.e. meat in a thick sauce with bread dumplings. This particular place is the Svetozor Jidelna just off Wenceslas Square. You won't find many tourist places that give you a portion of this size. Note that there are no extras like raw onion rings etc but there will be onion in the sauce.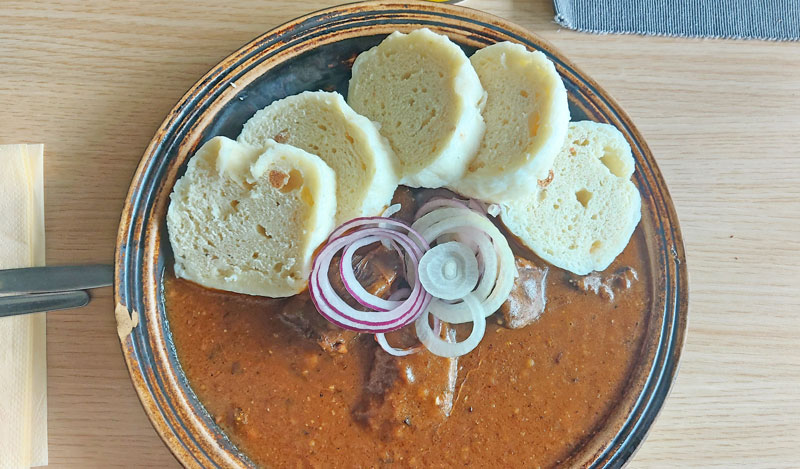 Here is another variant. Again it's beef Prague Goulash with bread dumplings but this time with the addition of raw onions both white and red.
In this one they have used potato dumplings and the onions are chopped spring onions. This combination is not usual. In my own opinion unless you know you are going to get nice potato dumplings I would avoid them and go for bread dumplings or a mix of the two.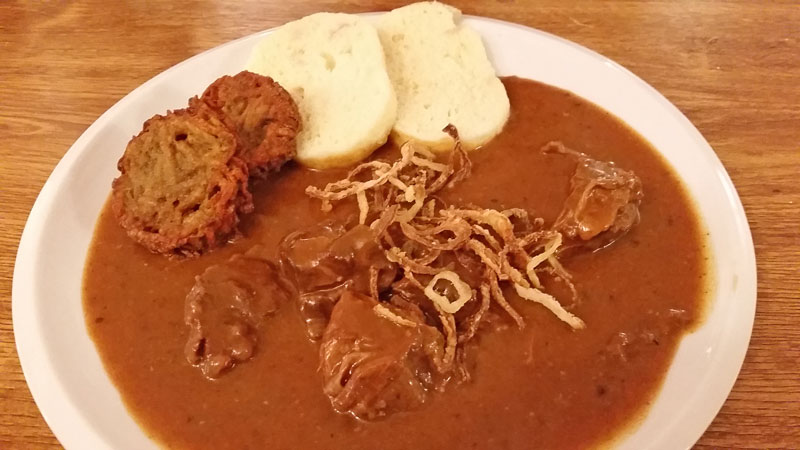 Another variant of beef Prague Goulash where again you have the basic bread dumplings with the addition of Bramboračky which is a fried potato pancake but in this variant the onions are fried which is not usual.
The picture at the top of this post is another variant of beef Prague Goulash and introduced a new item. As well as the bread dumplings and onions you also have a hot pepper. Generally the Czechs do not go for spicy food so often a bell/long pepper is on the plate for you to add extra heat if you want it.
---
Pork Goulash or Segedinsky Goulash
In many ways Pork Goulash will look a lot like how a beef goulash is served but with pieces of pork. The exception is Segedinsky. They mix sweet white cabbage, sour cream and sweet red paprika into the meal and that's going to give it a very tangy flavour maybe with a slight taste of vinegar. Great for me but some people would be shocked to receive this when they thought they were going to get a regular goulash. You can normally spot Segedinsky Goulash because of it's bright orange colour.
---
Side Dishes
As mentioned already, you would expect bread dumplings as standard with the addition of either the Bramboracky (potato pancakes) or potato dumplings. It would be rare to get all three so if you want that you'll have to order a separate side. Likewise if you want rice you will have to see if they will swap the dumplings etc. Also popular as a side dish are good old fashioned boiled potatoes. And the most popular side dish of all – a 0.5L Czech beer.
---
Something Related or a Few Minutes Away
Beef – Svickova (Beef Sirloin)
Pork – Moravsky Vrabec (Moravian Sparrow)
---
Tour Tips: Here are some food tour operators who have been here long enough to earn a good reputation.