Top Prague Attraction – Municipal House
---
The Municipal House was originally built to be an administrative and cultural centre. Located just inside one of the original Old Town entry gates, the Powder Gate, it was built on the area once occupied by the former Royal Court before it moved to Prague Castle. Formerly an army barracks it was demolished as part of the Czech National Revival celebrations at the turn of the 20th Century. Commissioned by the city and allocated a budget of CZK3 Million, building began in 1906 and the Municipal House opened in 1911 for many years stood as both a functioning building and national landmark. It eventually cost CZK6 Million or double the original estimate. The first plan for the building was part of a competition but with no satisfactory winner the project was given to two Czech architects Osvald Polivka and Antonin Balsanek who invited around 30 of the best designers, artists, sculptors to make the decorations. This building is covered in the Prague Architecture walking tour
---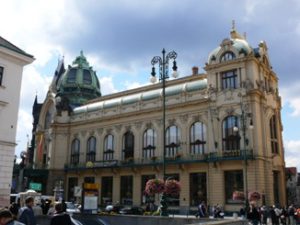 The building is divided into many "salons" or open areas the biggest of which is the Smetana concert Hall which is still the largest indoor classical music venue in the city. It's home to the Czech Philharmonic Orchestra and on October 28 1918, Smetana Hall was the scene of the proclamation of the independent state of Czechoslovakia. The annual Prague Spring (Prazske jaro) music festival opens on May 12th each year as this is the anniversary of Smetana's death. After a procession from Vysehrad to the Municipal House there is a gala performance of his Ma Vlast (My Country).
The main external features are the large ceramic half-dome mosaic above the entry called Homage to Prague and created by Karel Spillar. Either side of the dome are sculptures representing The Repression of the People and The Resurrection of the People both by Ladislav Saloun (who was also commissioned for the Jan Hus Monument). Inside you'll find nationalist murals by Alfons Mucha, Jan Preisler, Max Svabinsky and others.
---
The Municipal house Reconstruction
Between 1990 and 1996 the building underwent an extensive 10 million pound renovation. Guided tours of the Municipal House concentrate on the Smetana Hall and the Lord Mayors Hall with their detailed Art Nouveau features. There are also a Czech-style Kavarna called the Municipal House Cafe and an Art Nouveau Czech restaurant serving a modern take on Czech food on the ground floor of the building.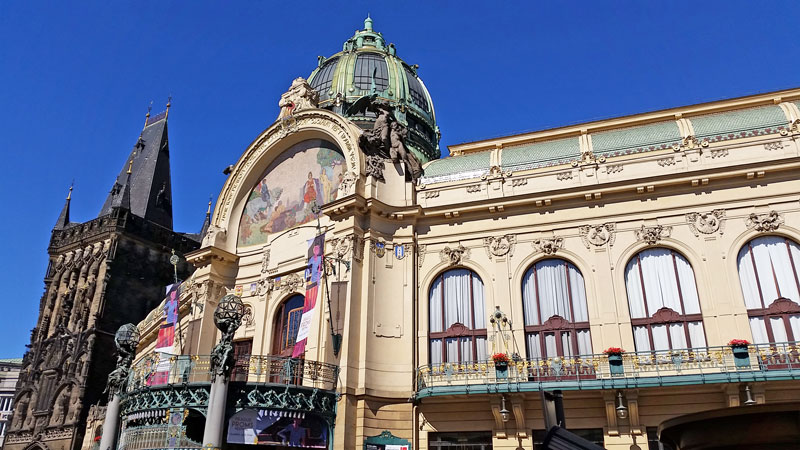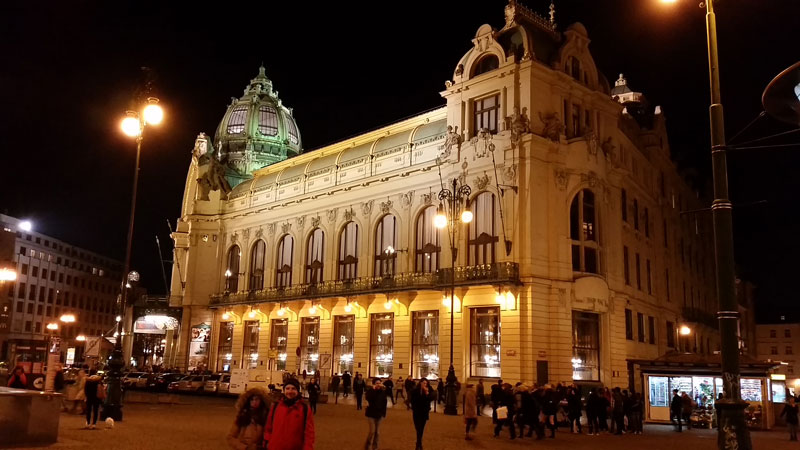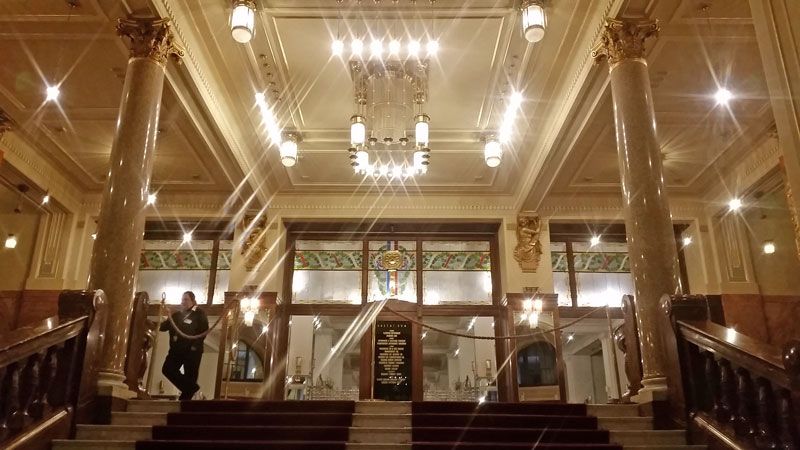 ---
The Municipal House is opposite the exit of the Namesti Republiky (Republic Square) metro station and 1 minute walk from the tram stop. You can also walk here from both Wenceslas Square and the Old Town Square in 5 minutes. Many people take a look in the Municipal House and then go into the Powder Gate located next door. It's a memorable stop for a cup of coffee in the ground floor cafe. You might also be interested to know that the pop group INXS Filmed two Videos here.
Their homepage is at http://www.obecnidum.cz/en/. Note that the Municipal House official tour is included in the Prague Visitor Pass but I recommend you book this tour in advance as there are rarely places available on the day.
---
My Own Guided Tours – Cheaper Than You Think!