Plzenska
---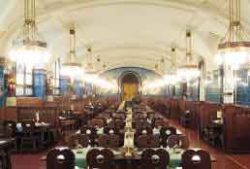 You won't normally just walk in off the street as you can't see this place from the street. Plzenska is chosen because of the excellent Czech menu served in a large airy basement location that was painstakingly restored to its original Art Nouveau decor in the mid 90s. It really is one of the most beautiful Czech restaurants with its mosaic tiled wall decorations, hand-carved chairs, azure blue tile surround and chandeliers. Although aimed at tourists it is surprisingly good value.
You can go here for lunch but I recommend going for dinner and leaving it as late as possible (reservation recommended) as it livens up considerably after 8pm with live folk music and performances. Nice to get a booth if there's 4-6 of you and spread your choice around the menu so you can all try something different. I recommend this place because of the overall atmosphere and memorable nature of the restaurant.
---
Plzenska – The Food
Plzenska has Czech dishes at the core of its menu with a surrounding of international options. The most popular dishes like beef steak, goulash, schnitzel and pork knuckle are all on the menu but they also do a delicious pork tenderloin, lamb shank and grilled salmon. Take your pick, with other places to try you'll probably only visit once.
My favourite: Prague ham with horseradish to start and the Pork Tenderloin as a main course (served with a jacket potato) with sour cream and wild mushrooms.
---
The Location
Plzenska is located in the basement of the Municipal House on Republic Square just a 5 minute walk from either Wenceslas Square or the Old Town Square. Just head in the main door and go downstairs. Nearest metro station is Namesti Republiky (take the exit for Na Prikope).
Municipal House
Namesti Republiky 5
Prague 1, Old Town
www.plzenskarestaurace.cz/en
---
Back to Czech Restaurants
Back to All Restaurant Categories
---