Hybernska – The Irish Connection
---
Clients on my walking tours will learn that when you see "ska" at the end of a street name you can take that to mean "on the way to" or "in the direction of". Hybernska is a road close to Republic Square which links the square to the highway. But what does in the direction of Hybern mean? On this post I'll give you a little history.
---
Romans
Unbelieveably we have to begin this post after 43AD when the Romans are battling their way through England, Ireland, Scotland and Wales. But of course they weren't the names back then. The Roman name for Ireland was Hibernia or Hybernia.
---
Oliver Cromwell
For my English readers we know Oliver Cromwell as being victorious in the English Civil War that finished in 1652 in favour of the Protestants. What happened next is less well known. You see there had been an Irish Catholic uprising in 1641 which had killed many English Protestants in Ireland so after settling the English Civil War, Oliver Cromwell sailed over to Ireland and crushed the Irish Catholics. This culminated in the 1652 Act of Settlement which confiscated all lands from the Irish and gave it to the English. Not surprisingly some of the Irish chose to leave and find a safe home elsewhere.
---
The Irish in Prague
One group that decided to settle in Czech was the Order of Little Brothers or their more recognisable name, Franciscans. It was an astute time to be arriving in Prague in the 1650s as the Thirty Years War had just been won by Catholic forces in Europe. Other Irish Franciscans had begun settling here after 1629 and had been rebuilding the old 14th Century Benedictine Convent and Church of ST Ambrose opposite the Powder Gate. That location became known as the place of the Irish Franciscans or as the locals referred to them, the Hyberns hence as the New Town developed, people entering the city from the east had a fair chance of being directed to the Powder Gate via Hybernska, in the direction of the Hyberns.
---
King Josef II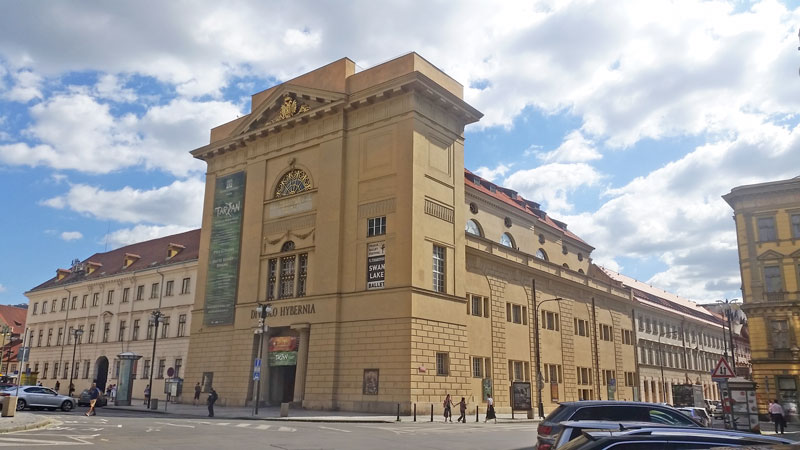 On my Old Town and Jewish Quarter Walking Tour you'll learn that King Josef II shut a lot of churches and monasteries including this one. After 1786 it was rebuilt as a Customs House and today it is the site of the Hybernia Theatre, an apt name. On my Prague Architecture Walking Tour I'll tell you about some of the features on the building which help you understand which era provided the inspiration for the design.
---
Staying in the Area
Hybernska has the beautiful Grand Mark Hotel and the Art Nouveau Hotel Central. Both are a 7 minute walk from either the Old Town Square or Wenceslas Square.
---
You Also Might Like To Read
---