Famous Czechs – Alfons Mucha
---
Alfons Mucha is one of the most famous Czechs but in a strange twist of fate if you look him up in Wikipedia you'll find that although he was born just south-west of Brno in 1860 he was technically not born in Czech. When he died in Prague in 1939 he was technically not in Czech either. Just to clear things up, both his birth and death were in the current territory of the Czech Republic. It's just that in 1860 it was still the Austro-Hungarian Empire and in 1939 it was the Protectorate of Bohemia and Moravia during WW2.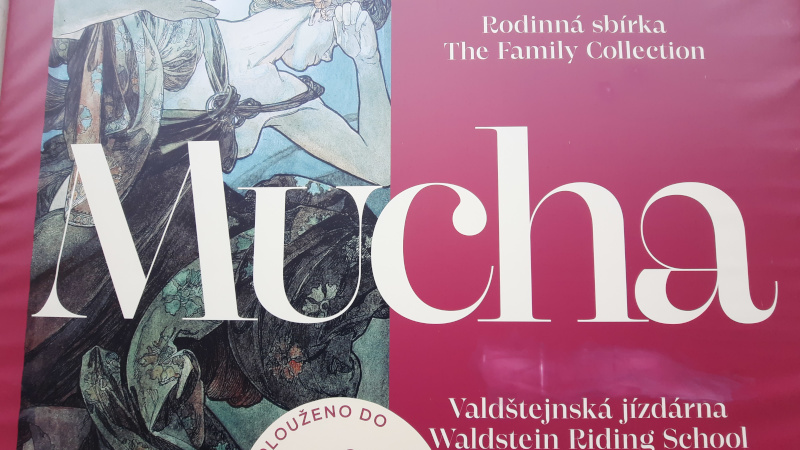 ---
Young Alfons Mucha
Fourth child of six (fun fact: all children of the Mucha family had a name beginning with the letter A) it seems as though he had more than his fair share of "talents" preferring music and singing over his drawing and painting skills.
At the age of 12 he went to the Brno Slavic Grammar School and the big thing about that was that lessons were taught in Czech rather than the usual German within the Austro-Hungarian Empire but we'll come back to this later. In any case by 1877 his education was "terminated". Whether it was down to poor grades, misbehaviour or failure to pay is not clear. It is the following year 1878 that Alfons Mucha had his application to the Prague Academy of Fine Arts rejected (oops!). He decides that his future will be in painting and sets off to find his fortune creating theatre scenery in Vienna which didn't work out either. Finally he drifts to the Moravian town of Mikulov where he makes some money illustrating. This would set him on the road to some significant opportunities.
---
1883 – The Little Break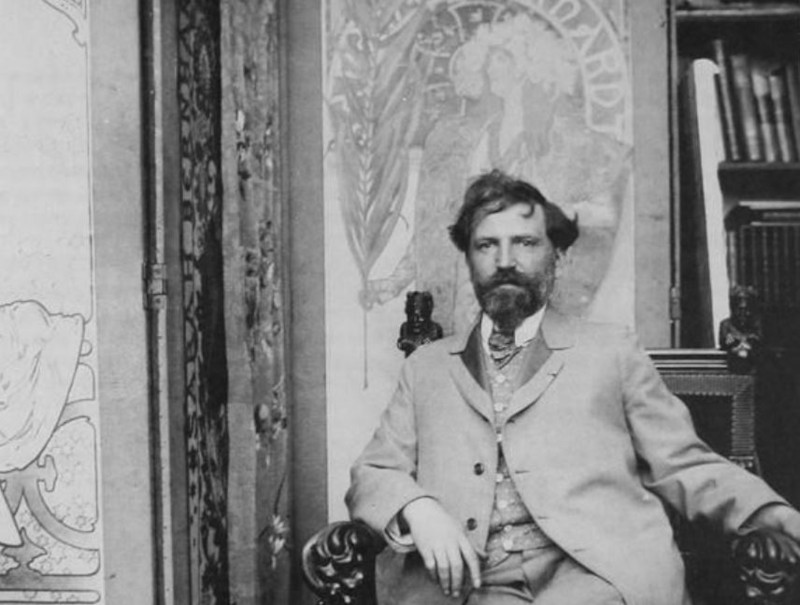 He'd made a name for himself as a portrait painter and illustrator in Mikulov and had come to the attention of Count Eduard Khuen-Balasi who would commission work from Alfons Mucha. But more importantly he would sponsor Mucha through the fine arts colleges in Munich and later in Paris for the next 6 years. So it's important to understand that its because of Count Eduard Khuen-Balasi that Alfons Mucha has the link with Paris. Then in February 1889 the now 29 year old Alfons Mucha finds that his education is no longer being paid for and his allowance has finished. He stayed friends with his benefactor but the message was clear, make a life of your own. Despite his apparent loss of fortune he was still based in Paris and the young Mucha was able to establish his artistic skills even being published in Czech as well as French magazines. He was becoming known as an illustrator and one of the books he had illustrated was the "Scenes and Episodes from the History of Germany", considered by most to be the original seed of the idea for the Slav Epic. It didn't all go his way though as a bout of Typhus in 1893 nearly killed him. He didn't know it at the time but his style was later going to be strongly associated with Art Nouveau.
---
1893 – The Big Break

It's not often a person can name a day that changed their life forever. For Alfons Mucha it was December 26th 1893. He took a call that evening from a printing house director who told him that a poster was required to promote a new play called Gismonda starring the successful actress Sarah Bernhardt. The problem was that he had only 36 hours to design, colour and print it. Alfons Mucha accepted the commission and designed the poster. Despite the fact that the design obliterated most of her first name, Sarah Bernhardt loved it and by signing a 6 year contract for more posters Alfons Mucha was launched into international recognition practically overnight. He worked with Sarah Bernhardt for the following 10 years. In 1898 he began work on another historical episodes book about Spanish history. By the time we get to the Paris Exposition in 1900 Alfons Mucha is already starting to push an idea of Slavic history in art but the Austro-Hungarian government of the time were not keen on the idea.
---
Alfons Mucha in the USA 1904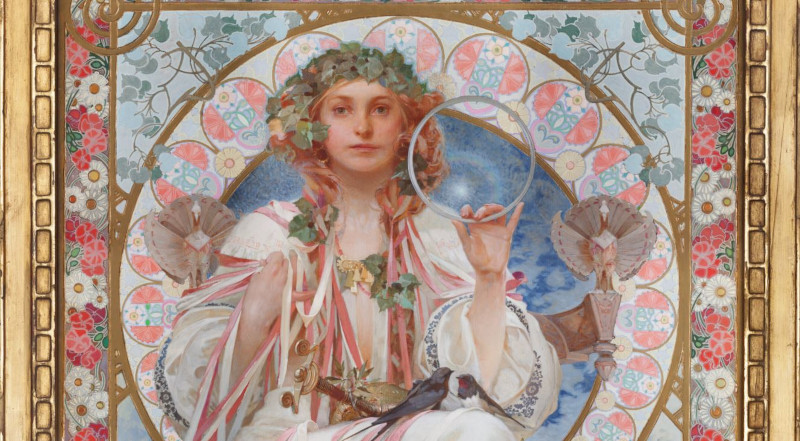 Towards the end of his time with Sarah Bernhardt, Alfons Mucha makes his first trip to the USA and this was for two main reasons. Firstly, Mucha was expanding his teaching and portrait painting business and secondly he was looking for a sponsor for his big idea, the Slav Epic. In 1906 he had gone back to Czech to be married but almost immediately he and his wife returned to the USA. The teaching part spreads his name and he gets a commission to paint a portrait of a daughter of a man named Charles Crane. Alfons Mucha would go on to paint a portrait of her sister and became somewhat friendly with the family.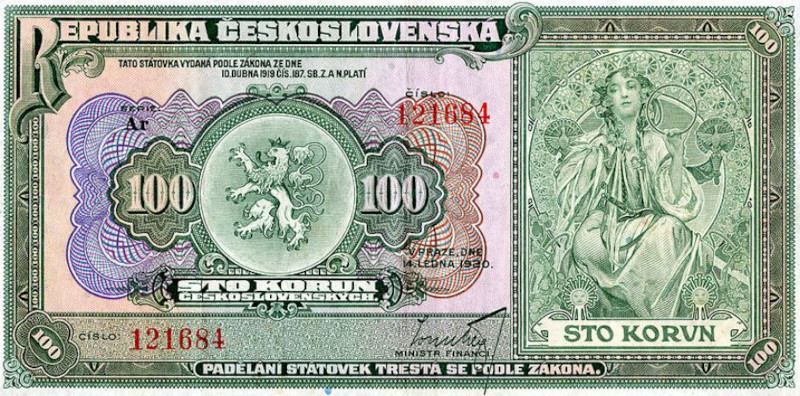 Friendly enough that in 1908 he pitched his idea of the Slav Epic to Charles Crane. Within a year the deal was made and the funding began. So maybe it was not an accident that a version of the portrait of Charles Crane's daughter Josephine was later used as the graphic on the first Czechoslovak CZK100 banknote.
---
Alfons Mucha Back in Bohemia 1910
I cover the entire process of the Slav Epic and interpretations of the 20 pictures in the series beginning on the Slav Epic Introduction post as it took up almost 18 years of his life. If you want to visit the place where the Slav Epic was created then read the Zbiroh Castle post.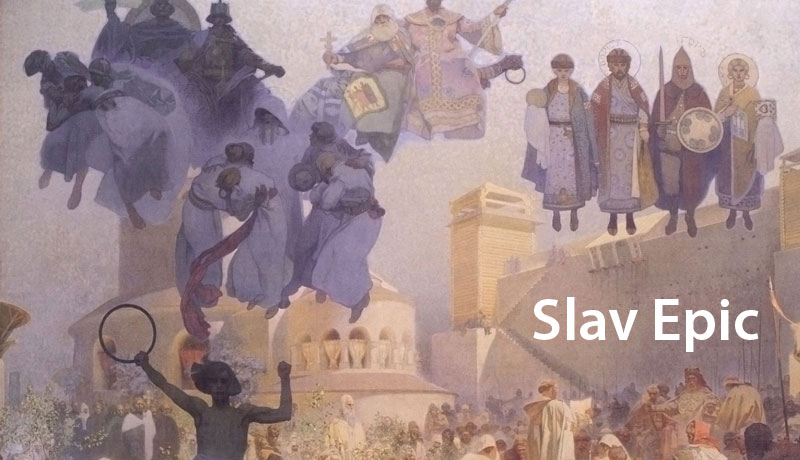 As Czech Nationalism drives forward Alfons Mucha was invited to contribute some of his work in the decoration of the Municipal House due to open in 1912. It seems as if he had to be restricted to one part of the building and would happily have done the whole job according to other artists of the era.
---
The Final Years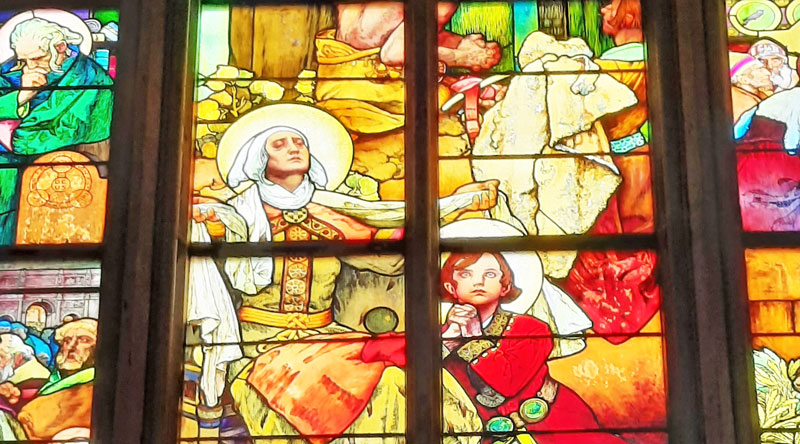 The Slav Epic was donated to the City of Prague in 1928 and it's clear that this was the peak of his career. Despite a few more large-scale pictures and my own favourite, the 1931 stained glass window at ST Vitus Cathedral, his health was fading. Two years of living by the seaside in the south of France (Nice) seemed to help and he returned to Czechoslovakia to start a new project, a three picture series for the "Ages", the "Age of Reason", the "Age of Wisdom" and the "Age of Love". He never finished and when the Nazis invaded in 1939 Alfons Mucha was arrested, caught pneumonia and died on July 14th aged 78.
---
Something Related or a Few Minutes Away
Art/Culture – Slav Epic Introduction
Art/Culture – Zbiroh Castle (day trip)
Attraction – ST Vitus Cathedral
Activities – Prague Architecture Walking Tour
---
Some Random Things to Do and See in Prague