Municipal House Cafe
---
You'll find lots of tips for eating and drinking on this site. If you're like me then you appreciate a nice cup of coffee and believe me there are many places that you can try. But if you're only here for a couple of days there really are 5 or 6 cafes that you should make an effort to include during your trip. The Municipal House Cafe is one of them. On the website they'll list themselves as "Kavarna" which is the Czech word for cafe. You'll come here for it's stunning Art Nouveau interior decoration, professional service and light food options.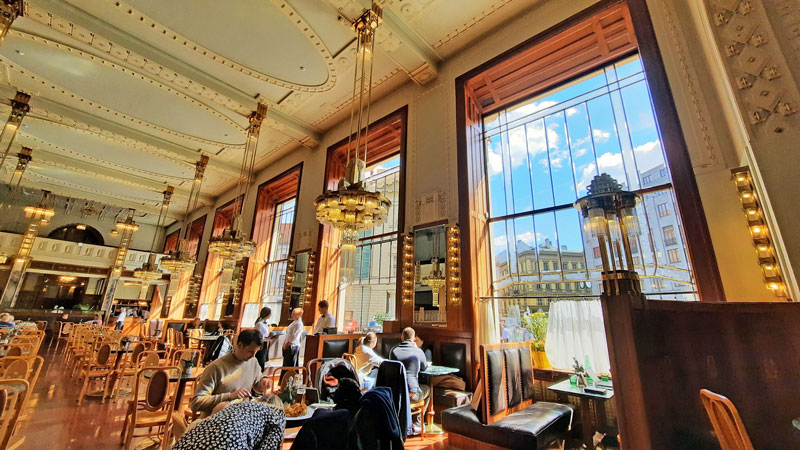 ---
Breakfast
Breakfast at the Municipal House Cafe is served between 8am and 11am everyday. It's actually one of the places that I recommend for people staying in apartments in the area who want a full English breakfast in truly memorable historic settings. But if you don't want the fried stuff then they also do a French breakfast and a version of Eggs Benedict. Omelettes are served all day. In the morning you usually seat yourself but towards lunch and dinner you may find a "wait to be seated" sign being used.
---
Tour Tip: Visit 4 of Prague's most historic cafes for food/drink tasting combined with a morning walk.
---
Coffee and Cakes
If you are here just for coffee etc then you'll choose from the regular drinks menu where you'll find all tastes are catered for from a simple Espresso to a tall Vienna coffee. I especially like their alcoholic coffee options which offers the addition of Irish Whisky, Cointreau, Rum or Egg-nog depending on your choice. Ordering cakes is a little more complicated because they have a special cake stand which you have to walk over to view. This has large cakes cut into portions and individual cakes which you choose separately. Once you've made your selection you return to your table and the waiter will bring over your choice. There's also a Gluten Free option.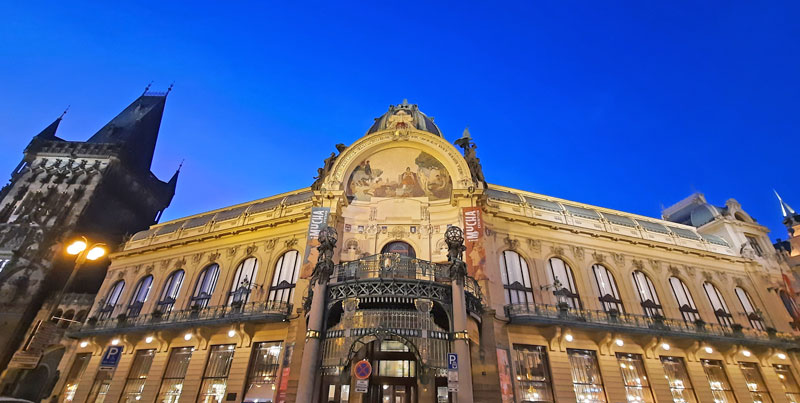 ---
Lunch and Dinner
Remember that this is the Municipal House Cafe, the restaurant is on the other side of the building so expect a smaller menu here. Having said that, the international all-day menu should have something for everyone from salads (the Caesar salad has a choice of chicken or prawns), pasta, panini/sandwiches, cheese and sausages. They only have Apple Strudel as their regular dessert and anything else is visible in the cake stand mentioned earlier.
---
Something Related or a Few Minutes Away
---
Tour Tips: Here are some food tour operators that have been here long enough to have earned a good reputation.