Prague Cafes – Cafe Louvre
---
I often tell the story that in the early days with my wife when we stopped at Cafe Louvre she would say "that's the former foreign minister" or "that was the chief of police". By the time I looked around I would just see the back of somebody's head. But that's Cafe Louvre even to this day, if you know the local scene you'll recognise faces here. From the day it opened in 1902 it was advertised as the only example of it's kind in the Austro-Hungarian Empire.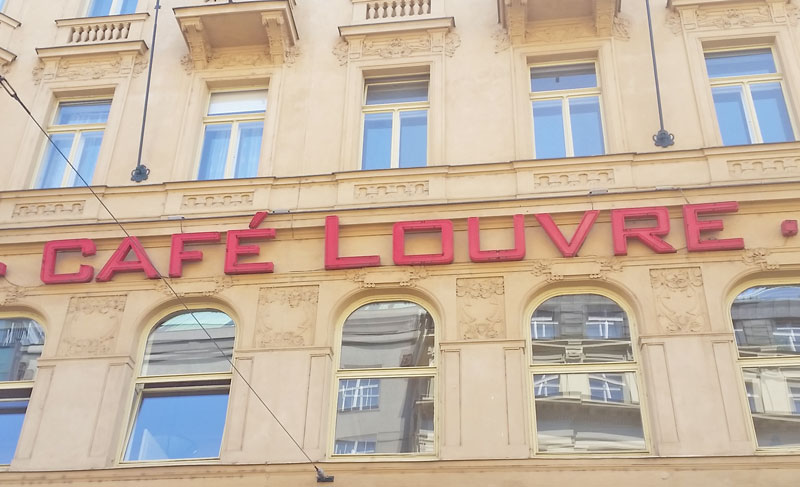 When I came here I wasn't bothered about local politics. I came to Cafe Louvre because it's got 1) a stunning Art Nouveau style interior, 2) really professional service and 3) great breakfast options. It's the kind of place where you are shown to your table and asked if you want a newspaper. Twenty years ago most of the cafe was for smokers and only one separated room was for non-smokers (when you go into the cafe that salon on the left used to be the non-smoking bit and I'll tell you what it used to be later in this post) but since 2017 there has been a smoking ban inside buildings so now it's all non-smoking. How times change.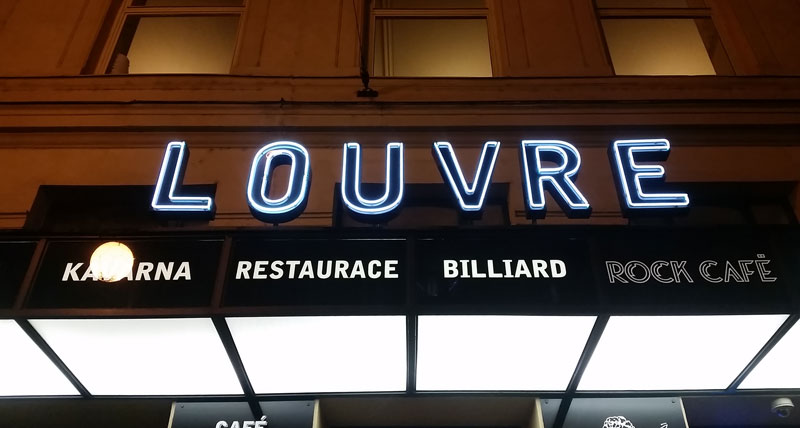 You could come here for breakfast, lunch and dinner but it would start to become expensive. Anyway, as it became more popular with tourists I stopped coming for lunch because you'd have to queue. Now for me it's a pleasant place for breakfast and I'll either be going for scrambled eggs with bread rolls as a savoury option or the homemade pancakes (Czechs call it Livanec) with raspberry sauce for the super-sweet option. Either way allow a budget of CZK150 per person if you are looking for a good breakfast or a high quality coffee and cake.
Originally opened in 1902 by a famous Czech cook called Adolf Pelc, it was decorated in the Art Nouveau style and had built into it a billiard hall which is still there today. Regular visitors of the time included many famous Czechs from the Literary and Artistic circles (Karel Capek, Franz Kafka), one or two from scientific circles (Albert Einstein, Vladimir Heinrich) and politics (President Tomas Garrigue Masaryk).
---
Tour Tip: Visit 4 of Prague's most historic cafes for some food/drink tasting combined with a morning walk.
---
The First Reconstruction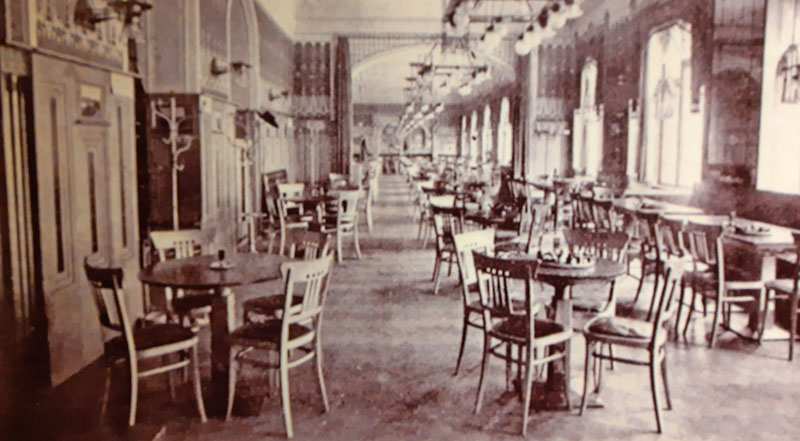 The picture above shows you what Cafe Louvre would have looked like in 1948 so the first reconstruction of Cafe Louvre was more of a demolition. After the 1948 communist takeover it was nationalised, the area partitioned and turned into a variety of businesses including a plumbing supply shop. If you walked into the present day cafe and turned right then that whole open area had been divided into offices with a string of flourescent lights down a narrow corridor. Over the years anything of value had been taken including the furniture, mirrors, lighting and even the floor (the tables and chairs actually went out of the windows to be smashed on the ground).
---
The Second Reconstruction
In 1990 following the Velvet Revolution, regular Czech people were being offered the chance to rent space in the centre of town to develop their own businesses. A 25 year old man called Sylvio Sphor put his name on a list for a 1000sqm space on the second floor of a building in National Street (Narodni 22) and he got the space. The interior was a wreck and such a huge space could not be reconstructed all at once so the initial reconstruction was to take what was there and reopen as a cafe called Ganys in 1992 (I'm still trying to find out if there is any significance to that name). Although running at a loss for the next three years people began to return and something wonderful began to happen. To this day anybody over 50 will know this place as Ganys.
---
The Third Reconstruction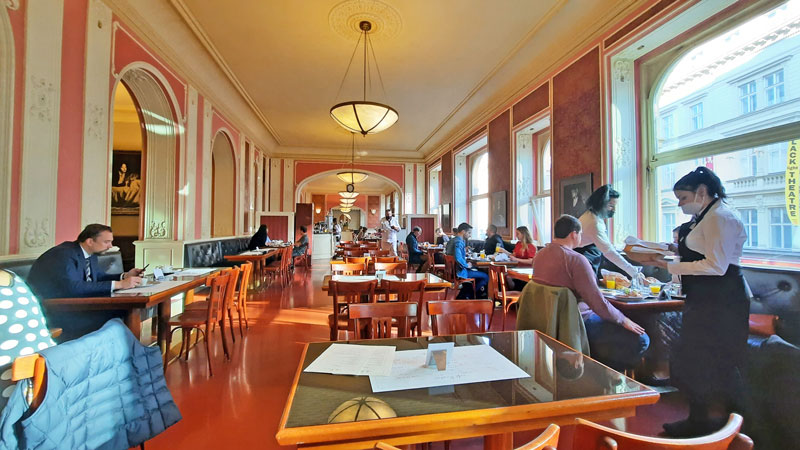 As people returned to Ganys they brought with them photos, newspaper adverts and postcards showing what the old Cafe Louvre had looked like at the height of it's glory (someone even brought in a picture of Franz Kafka playing chess with a friend). Sylvio Sphor must have been inspired because he invited his cafe visitors to vote and the question was simple "do you want the cafe to be known under it's original name Cafe Louvre". The answer was yes. So almost immediately another reconstruction began but this time a restoral as well using the newly acquired documents. Done in parts to keep money coming in, it opened in 1995 as the restored Cafe Louvre, billiard hall and cafe extension next to the billiard hall which used to be for chess and playing cards. It also restored the separated non-smoking salon which in the original Cafe Louvre in 1902 was the "Ladies Salon" (area on the left as you enter the cafe) for ladies who wanted to visit on their own (shocking!) or as a place for them to go if their husband was playing billiards (not so shocking!).
---
Opening Times and Location
Weekdays 0800-2330
Sat-Sun 0900-2330
---
Something Related or a Few Minutes Away
Food and Drink – Prague Gluten Free
Churches – ST Martin in the Wall
---
Tour Tips: Here are some food tour operators that have been here long enough to earn a good reputation.