Czech Desserts Apple Strudel
---
Many will associate this with the Cafes in Vienna but Apple Strudel has been a staple dessert in Slavic lands for centuries and like many desserts it was largely designed to use up leftover ingredients. In this post I'll show you what to expect from a cafe/restaurant and how we make it at home.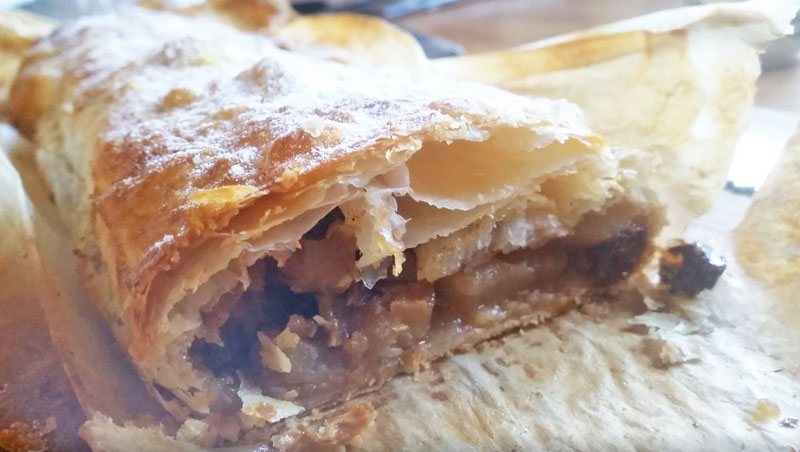 Apple Strudel or JableČnÝ ZÁvin?
It's the same thing. In Czech "Jablečný" means "from apple" and "Závin" historically meant a line of something which was wrapped. You'll find menus that will show either option.
---
Ingredients
This was always an autumnal dessert so it won't surprise you that the main ingredients are the flaky pastry base, apples, walnuts, raisins and cinnamon. Apple Strudel is a fairly quick dessert to make if you have everything ready and further down the post I'll describe a couple of short cuts.
---
Serving Options
Apple Strudel is always served as a slice so really the serving options revolve around the type of cream and the temperature. For the cream, the more expensive places will use double-cream poured over it. More popular (and cheaper) is spray cream on or beside it. A cafe or restaurant would generally ask if you want it warm but this can mean microwaving so in general I prefer it either freshly warm or else, cold. You'll be given a fork but to be honest, if it's cold I just eat it with my fingers. You'd look to be paying about CZK70 in a cafe.
---
Making Apple Strudel at Home
It's funny that we never have any plan to make Apple Strudel but there is a trigger. I'll look at the fruit bowl and if I can see three apples that are a little past their best then that's when we make it. We usually have a roll of ready-made flaky pastry (in Czech they call it Listové Těsto) in the fridge. We've always got raisins soaking in rum, a bag of mixed nuts and cinnamon powder. So above is what an unwrapped Apple Strudel looks like on a sheet of baking paper and because we used a mixed bag of nuts we have almonds, pecans and hazelnuts as well as walnuts.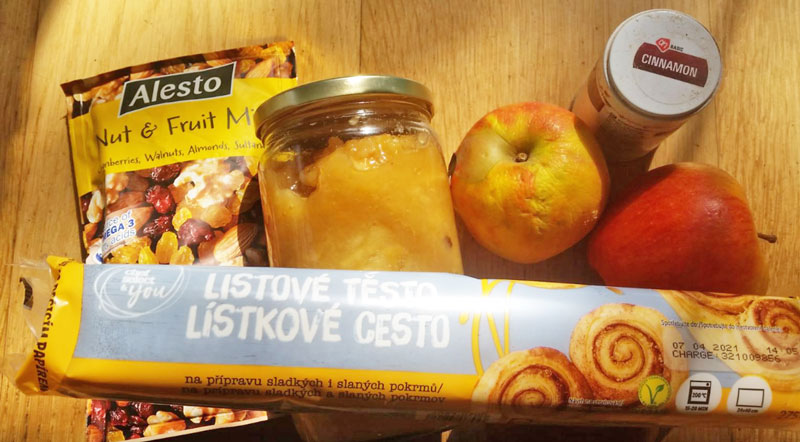 If you overfill the pastry you'll need to use string or rubber ties to hold it together. Just add an egg for basting the top and we're good to go. Of course the apples had to be cored and peeled but there is a faster way. During the apple season we do the coring, peeling and preparation to store the cooked apples in jars. So even if we don't have apples to hand we can always substitute them for a 1 litre jar of already prepared stuff. Pre-heat the oven to 200 degrees celsius and cook for 20 minutes or until the top goes golden. After cooking we aim for something which is just under the width of a baking tray so @50cm and divide that roughly into 8 or 9 pieces.
---
You Also Might Like to Read
---