Famous Czechs – Franz Kafka
---
As Franz Kafka lay on his death bed at the age of 40 on June 3rd 1924 he would scarcely have believed that less than half a Century later his name would be known around the world, his literary work appearing in more than 30 languages, his private letters and diaries published for all to see. It was never supposed to be like that. The story of Franz Kafka is part of my Old Town and Jewish Quarter Walking Tour.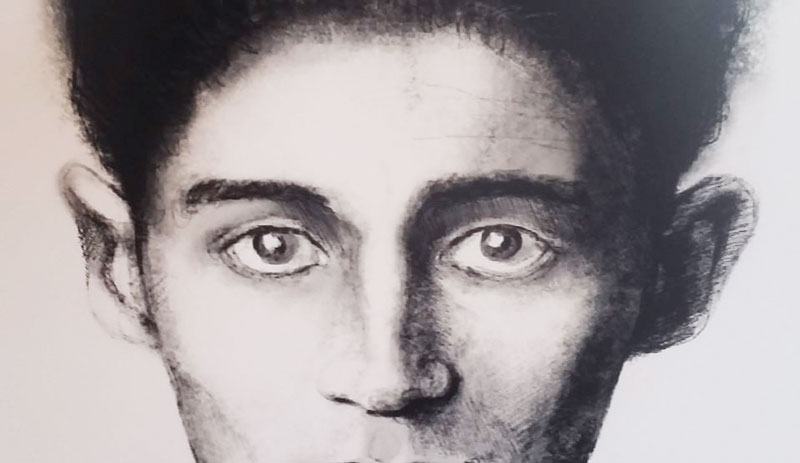 ---
Family Life
Franz Kafka was born on July 3rd 1883 in the apartment of his parents adjacent to the ST Nicholas Church Old Town and the plaque in the picture below can be found on the corner. He would be the oldest child. He was followed by two more boys who died in infancy and three girls. 1883 was also the year that Herman Kafka opened a retail shop on the Old Town Square in the present day Kinsky Palace. Both parents spent long hours developing the business and Franz was looked after by a series of governesses.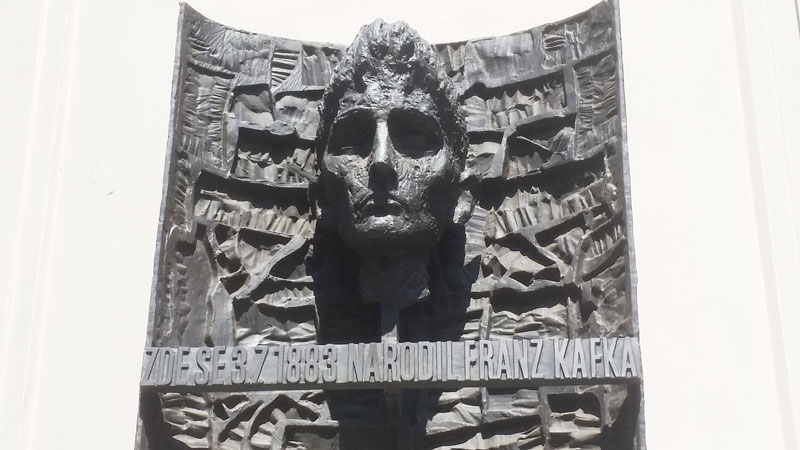 A specific set of circumstances combined to influence Franz Kafka. From a family point of view the father Herman Kafka was from the working-class and the dominant controlling influence. The mother was from the middle-class and compliant to her husband's wishes. Although both were from the Jewish Ashkenazi community, only the mother was Orthodox. Herman Kafka was not a practicing Jew and he placed no importance on Franz Kafka being educated in the Jewish faith hence what Jewish education he received ended at the time of his Barmitzvah in the Ziegenuer Synagogue aged 13. From a language point of view his parents spoke Czech and German mixed with Yiddish but Franz was taught standard German.
---
The Cultural Revolution
Franz Kafka would not have known it at the time but he was growing up in the midst of the Czech National Revival. Czech culture was being promoted and the language actively being used but when he started school it was at the German Boys Elementary School (the location at Masna 13 is still used as a school) so his education was clearly in German but he was speaking Czech as well. The middle classes that had relied on speaking German for generations to get advancement in the city were having to learn a new language. Although it was still part of the Austro-Hungarian Empire, it's clear that things would never be the same again.
---
The Educated Man
It was a well trodden path to go from the German Elementary school to the German Old Town Gymnazium (in England that would be a Grammar School or in the US a High School) located in the Kinsky Palace. In any case he spent eight years there, passed his graduation exams and enrolled at the Charles University although in 1901 this was pre-Czechoslovakia and it was called the German Charles-Ferdinand University. Then we arrive at the first real conflict as Kafka first enrolled on a Chemistry course but two weeks later switched to the Law Faculty. This was almost certainly pressure from his father. He graduated his law degree in July 1906 and as was required at that time, worked free for the city civil and criminal courts for one year.
Apart from the qualification the other event which would dominate his life would be meeting a fellow student called Max Brod who we'll hear more about later.
---
Employment
In October 1907 he applied for a job at the Assicurazioni Generali insurance company and strangely in the application he had to state his height (it was 1.81m). He began working for them in November 1907 but resigned only eight months later in July 1908 looking for better options. For Franz Kafka, "better options" meant not such a long working day (Generali wanted a 10 hour day) and he found what he wanted at the Workers Accident Insurance Institute a few weeks later. This was not a demanding job and Franz Kafka frequently described it to his friends as "dull" but the average day was 6 hours and as a reliable employee he was promoted. In fact this would turn out to be the last salaried job that Franz Kafka had.
Whilst keeping his insurance job Franz Kafka then became partners with one of his brothers-in-law in an Asbestos business but again, he felt that he needed to commit more time than he wanted and gradually dropped out.
---
1912
Herman Kafka considered his son's job not to be a career and he referred to it as "brotberuf" or working for bread money. He'd given up on Franz Kafka becoming a successful lawyer and was now expecting that he would use some of his free time to help out his parents at their shop. Franz Kafka had other ideas and after a period of immersing himself in Yiddish literature he again turned to his own writing. It's important to note at this point that Kafka, educated in German, chose to write in German and explained to people that he felt he did not have enough control over the Czech language to write with it.
---
Metamorphosis
It's possibly the most famous title in the Franz Kafka collection but at the time it was written between spring and summer of 1912 it was no more than another short story in a list of other short stories that Kafka was often editing. In August 1912 his friend Max Brod invited Franz Kafka to a party at his parents house. It would change his life.
---
The Judgment
At that party he met a girl called Felice Bauer. You could say that there was a chemical reaction because a month after meeting her, Kafka was consumed by his feelings and on the evening of September 22nd 1912 he wrote "The Judgment".
---
The Published Author
From 1907 you could find excerpts of Franz Kafka short stories being published in a local literary magazine called "Hyperion" which was for little money but began to cement his position in Prague's literary society. In June 1912 his friend from university Max Brod (age 28) had convinced Kafka (age 29) to have a meeting with a man called Kurt Wolff (age 25) who a few months from now would buy out his partner and create the German language KWV publishing house. Kurt Wolff later recalled this meeting and described Max Brod as "the impresario was presenting the star he had found" and had the impression that Kafka wasn't bothered if his stories were published or not. In 1913 Max Brod again convinced Franz Kafka to meet with Kurt Wolff and they agreed to publish "The Judgment".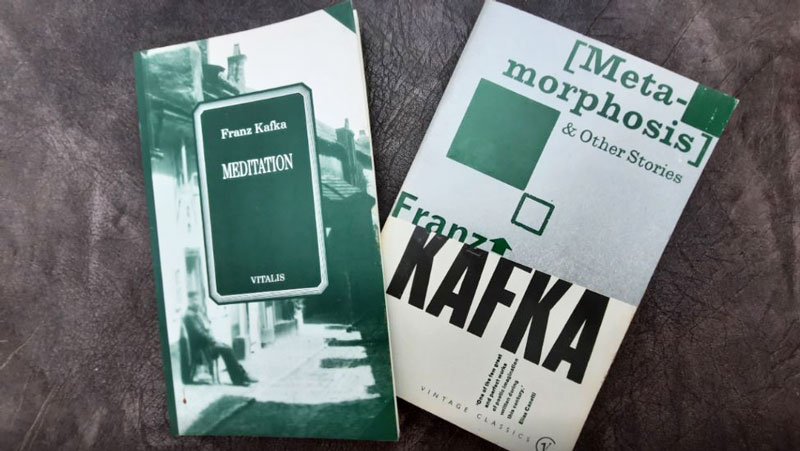 An astounding success? Not quite. The Judgment was just one of 31,000 titles published in German language in 1913 although it was very well received in Prague. It was not translated into Czech until 1919. It was also around this time that one of Franz Kafka's most famous statements was made in that when he referred to Prague he said "this mother has claws". The "mother" part of this comes from the new Prague Coat of Arms that would have been revealed following the defeat of the Austro-Hungarian Empire in World War One. The previous city motto had been "Prague, Capital of the Kingdom" but this was changed to "Prague, Mother of All Cities".
---
Opening of the Soul
Franz Kafka described writing The Judgment as an "Opening of the Soul" in his writing experience. Little did he know that he would be dead within 12 years. He gave 100% effort into writing and seemed to care little for commercial publishing. In the year of his death in 1924 in a letter to Max Brod he wrote:
Of all my writings the only books that can stand are these: The Judgment, The Stoker, Metamorphosis, Penal Colony, Country Doctor and the short story: Hunger Artist….. When I say that those five books and the short story can stand, I do not mean that I wish them to be reprinted and handed down to posterity. On the contrary, should they disappear altogether that would please me best. Only, since they do exist, I do not wish to hinder anyone who may want to, from keeping them.

Letter from Franz Kafka to Max Brod
It seems strange then, that for him what he felt was his most important work was completed largely before 1916 and there is not one novel in that list. In any case he'd given instructions to his friend and literary editor Max Brod to destroy his unpublished work after his death. Franz Kafka died on June 3rd 1924, a month short of his 41st birthday.
---
Max Brod
Many people view Max Brod as someone "hanging on the coat tails of Kafka". In fact although a year younger than Franz Kafka, Max Brod was already a published author in 1908 and was quite famous in the German literary communities of Berlin and Leipzig. It was this fame that put him in contact with Kurt Wolff and later inspired him to introduce Franz Kafka into this circle. He published 83 of his own titles between 1908 and his death in 1968.
Had Max Brod carried out the instructions of Franz Kafka then we would never have known about any of the novels, 75% of the short stories and novellas and none of the letters and diaries. So what happened?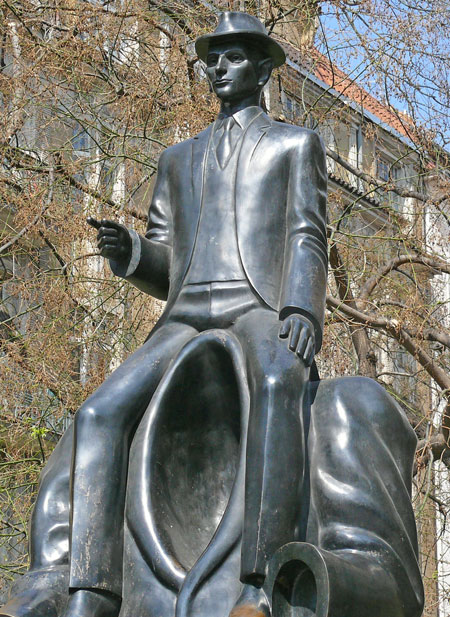 By 1921 Franz Kafka, already diagnosed with Tuberculosis and in fading health, had agreed that Max Brod should become his literary executor and had described his instructions for destroying his works (he states that the works should be burned). At one of their meetings in 1921 Max Brod says that he implored Kafka not to have to destroy them and further more he stated that Kafka's works were like his own and that he would not be able to carry out Franz Kafka's wishes. This was Max Brod's defence later i.e. the fact that Kafka never chose another literary executor despite Brod's protest. So after the death of Franz Kafka he simply collated the notes and manuscripts and continued to publish. He maintained his relationship with Kurt Wolff but he also used other Berlin publishing houses. Over the next 12 years he would publish in German every novel, novella and short story that Kafka wrote. The last published in 1936 was Description of a Struggle that Kafka had originally written when at university with Max Brod back in 1904 and this book was the inspiration for the Franz Kafka Monument in Prague (pictured above).
---
1939
With Nazi Germany knocking on the door, the Jewish Max Brod loaded as much original Kafka material as possible into suitcases and made his way via Switzerland to Palestine. The big change as far as the business is concerned were the translations. Pre-war attempts at translations to English had not worked well but in the mid 1950s translations to French and the appearance of better English translations in the USA paved the way for Kafka's fame.
---
The Remains of the Family
All three of Franz Kafka's sisters died in the Holocaust but, four of their daughters survived. The daughters of Valli and Elli, had emigrated before the war with their husbands. The daughters of Otilia the youngest sister stayed in Czech throughout the war. Now you may ask why they were not transported to Terezin etc. That seems to be because Otilia divorced her husband in 1939 and although they remained close, their children probably never appeared on the transport lists because the father was not Jewish.
---
Max Brod's Gift
By the early 1950s Max Brod had begun publishing some of the more personal documents like the letters and diaries but he was also aware that there were survivors of the Kafka family (Max Brod maintained his friendship with the Kafka family for the rest of his life). In 1956 with trouble boiling in the Middle-east he arranged that the bulk of the published texts, manuscripts, letters and diaries be sent to Switzerland for safekeeping and that the rightful ownership was split equally between the 4 surviving nieces of Franz Kafka. He kept one major work, the original manuscript of "The Trial".
---
Where Are Franz Kafka's Documents Now
In 1961 Franz Kafka's nieces began a process whereby everything that was in Switzerland would be under the control of the Oxford University Bodleian Library in England and so was transported there. Over the next 40 years, this control became ownership as the girls bequeathed them. Why the Bodleian Library? A twist of fate. In 1939 one of Kafka's nieces called Marianne (daughter of Valli) and her husband emigrated to England. They had a son called Michael and he eventually went to Oxford University where he met Sir Malcolm Pasley, expert in German studies and the works of Franz Kafka. He was introduced to Marianne and the rest is history.
After Max Brod's death in 1968, any remaining papers passed to his secretary Ester Hoffe. Although there was an argument about who actually owned the papers which were mostly correspondence between Brod and Kafka, it did not stop Ester Hoffe selling several papers including in 1988 the original manuscript for "The Trial" to the Deutsche Literary Archive in Marbach, Germany for U$2 Million. After the death of Ester Hoffe her own daughters fought a long legal battle with the Israeli State for ownership of the papers. They lost and have since died. So the Bodleian Library has the largest collection. Israel owns most of the German language Brod-Kafka correspondence including letters and sketches plus the "blue book" for his Hebrew notes which you can view online at the National Library of Israel and if anything else is out there then it's part of a private collection. The story of Franz Kafka is part of my Old Town and Jewish Quarter Walking Tour.
---
Something Related or a Few Minutes Away
Attraction – Spanish Synagogue
Art and Culture – Jaroslav Rona Sculptures
Art and Culture – City Franz Kafka Monument
Art and Culture – David Cerny Franz Kafka's Head
Activity – Old Town and Jewish Quarter Walking Tour
---
Some Random Things to Do and See in Prague