Prague Cafes – Au Gourmand
---
Many cafes in Prague have a signature architectural style and I've written about several of them but if you want to get as close to an original beautifully tiled Parisienne patisserie in Prague then it's time to visit Cafe Au Gourmand.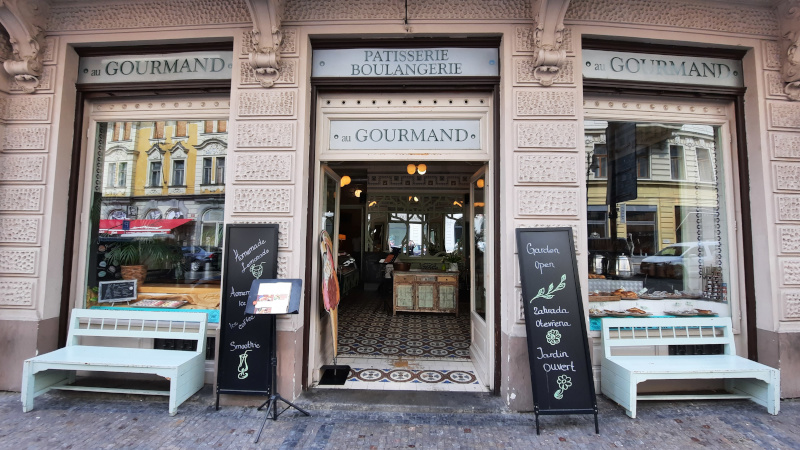 Let's not beat about the bush. You will be paying top prices here but you are getting top quality. Au Gourmand made it's reputation by selling some of the best pastries in the city but has also expanded into more savoury options and it has a small Czech food section on the menu as well.
---
Why Do I Come to Cafe Au Gourmand?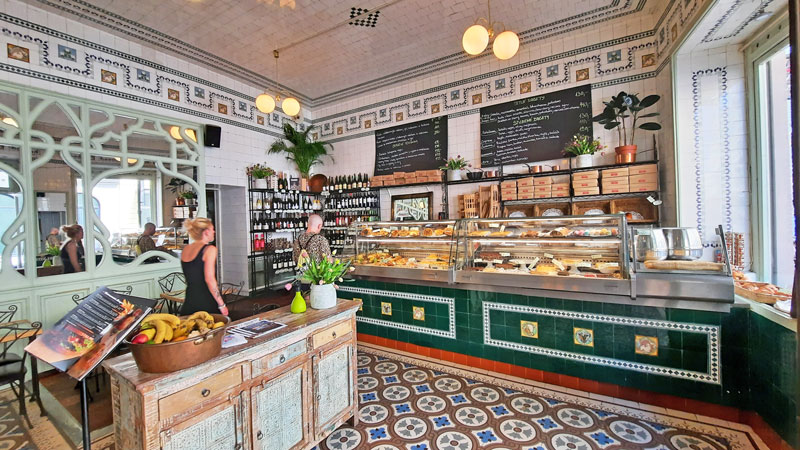 In winter months I come here because they have seating at the rear of the restaurant so although I'm mainly coming here for coffee/cake there is usually space if I am here with walking tour clients looking to warm up but I am drawn to their homemade chocolate eclair with an espresso. For the rest of the year you'll find me in the garden at the back where they have extended seating for about 50 people. Au Gourmand also has a drinks licence so it's a great place for a local beer from breweries like Bernard, Vinohradska and it also does the classic Pilsner Urquell. It's especially nice out in the garden courtyard on a hot day.
---
Tips and Tricks for Cafe Au Gourmand
Usually you walk past the front of Au Gourmand and many will not be aware that it has the garden. My advice is to first look at the offer in the shop and then go find a place to sit. A waitress will be with you shortly and English is no problem. You pay in the shop or in the courtyard building (both have toilets).
---
Weird Trivia
The Au Gourmand Patisserie was one of the filming locations in 2012 for Anastacia's "Pride (deeper love)" video.
---
Something Related or a Few Minutes Away
Jewish Prague – Spanish Synagogue
Monuments – Franz Kafka Monument
Films and Videos – Prague and Anastacia
---
Tour Tips: Here are some food tour operators who have been here long enough to earn a good reputation.