Fantova Kavarna at Prague Main Train Station
---
Prague very much has a cafe and artistic culture to go along with an impressive history so what better place to combine all three than at the Fantova Kavarna (Fanta's Cafe) in the historic part of the main train station.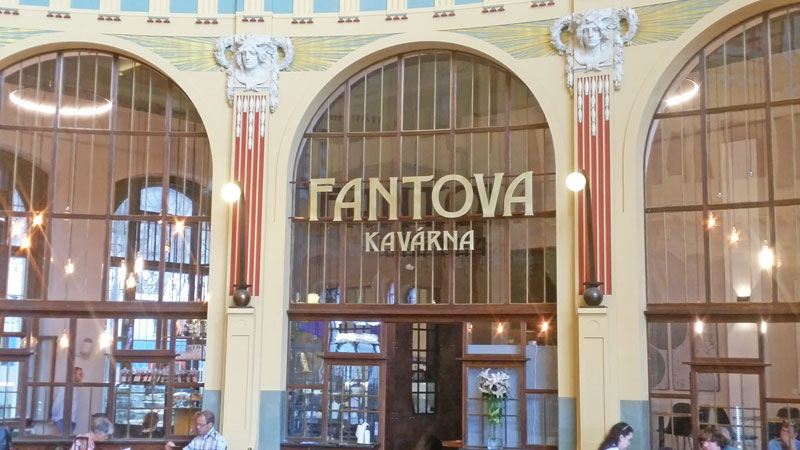 ---
A Potted History
The original Prague main train station opened in 1871 and was OUTSIDE of the New Town Fortified wall. By 1901 the building and associated tracks/facilities was going out of date so the station was expanded, the platform underground access way added and a new entry building constructed. The architect of the building was Josef Fanta and in fact the whole building is still named after him (Czechs call it the Fanta Budova). This new building was the station entry until 1977 when the current station facilities opened.
By 1991 the building had been listed as a cultural monument and remains as the largest example of Art Nouveau architecture in the country (it was based on the Paris Gare du Nord train station). As part of a reconstruction of the building it was decided to use half of the space of the old entry hall which had been the ticket offices and turned it into a cafe. It was given the name Fantova Kavarna in honour of the architect.
---
Why Stop at the Fantova Kavarna?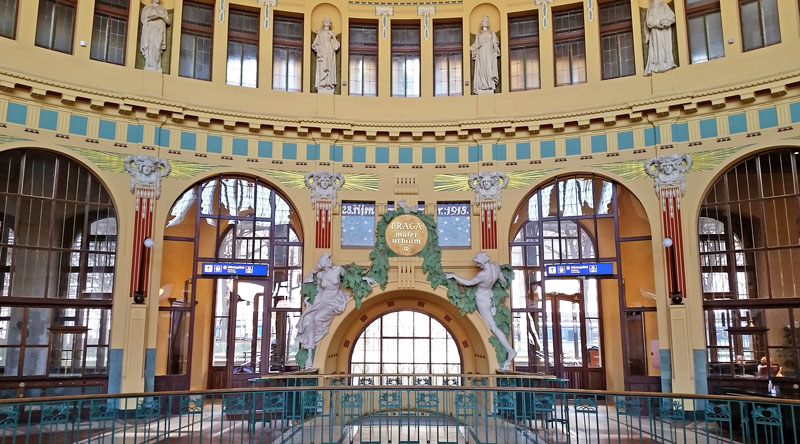 It's a great place to stop for a break if you are transferring to or from the airport using the Airport Express (AE) service. I've spent long hours downstairs in the 1970s part watching people sitting with paper cups on uncomfortable benches with fluorescent lighting and low ceilings when less than a 60 second walk away is one of the finest Art Nouveau atriums in the world with the historic Fantova Kavarna right underneath it. So if you are at the main train station then take some time to stop in the historic part and enjoy a break at Fantova Kavarna. It's also a great place to try Apple Strudel with your coffee.
---
How to Find It
When you enter the station from the park level or via public transport metro/tram you are on the main concourse. In the centre of the concourse are travelators so go up one floor. This is the Arrivals/Departure area and the underground access to the platforms will be right in front of you. Look to the left and you'll see a small escalator with a sign saying "Historic Area". Go up the escalator and turn right.
---