Prague Cafes – Bakeshop Praha
---
It's about time that I got around to writing about Bakeshop Praha as I seem to visit their Old Town location almost on a weekly basis. It was probably one of the first places that broke into the established Czech Cafe scene and it has a great location. Let me tell you why I use it.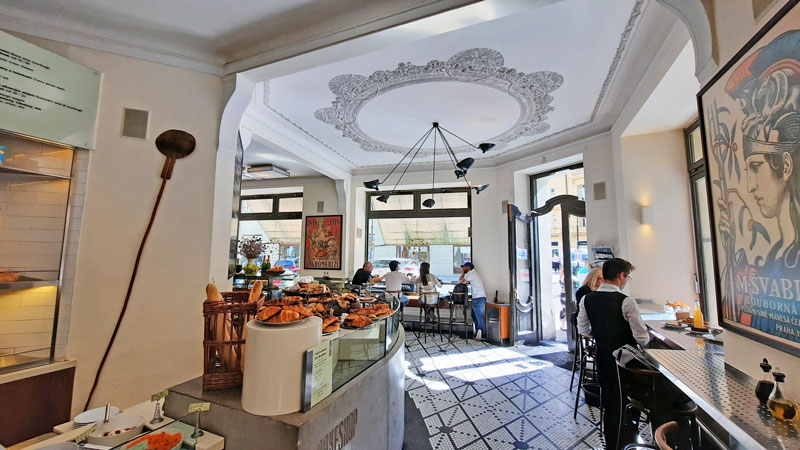 Bakeshop Praha caught on very quickly with it's take-out option and American Deli-style friendly service (if you'd been into a Czech Cafe in the 1990s you'll know that "friendly service" was not a requirement). There are no tables and chairs inside like you would expect. Instead there is a stainless-steel worktop which you can climb under if you want to sit on the window-side (mind your back!) or there are stools. There is also popular external bench seating. It's not waiter-service so you need to browse for a few minutes to decide what you want.
---
How Bakeshop Praha Works
Internally it divides it's business into 4 parts. Coffee/cakes, sandwiches/drinks, pastries and hot/cold savouries.
If you are here either for coffee or for pre-made sandwiches and/or bottled drinks then when you go into Bakeshop Praha you'll turn to the right and you'll order/pay for your coffee/pastries from this side. The sandwiches/drinks section is the only self-service part of the shop so anything else has to be ordered behind the counter.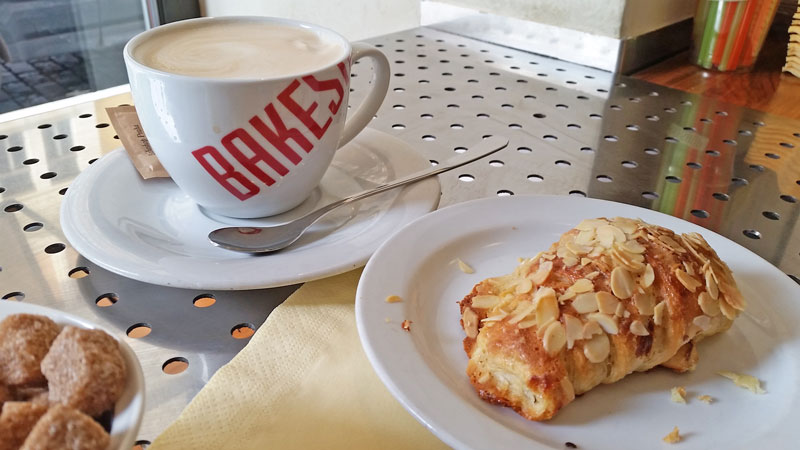 If you are not here for the coffee then go to the left into the hot/cold savouries section because it's generally faster to get served and to pay on this side. Note that in the pastries section they have large and small options for some things so be ready for that question. In an area not short of cafes you'll find Bakeshop Praha is professional and friendly with an offer for everybody but the limited seating would not be suitable for a group of more than four if you want to sit together.
---
Where Is Bakeshop Praha?
---
What Do I Have?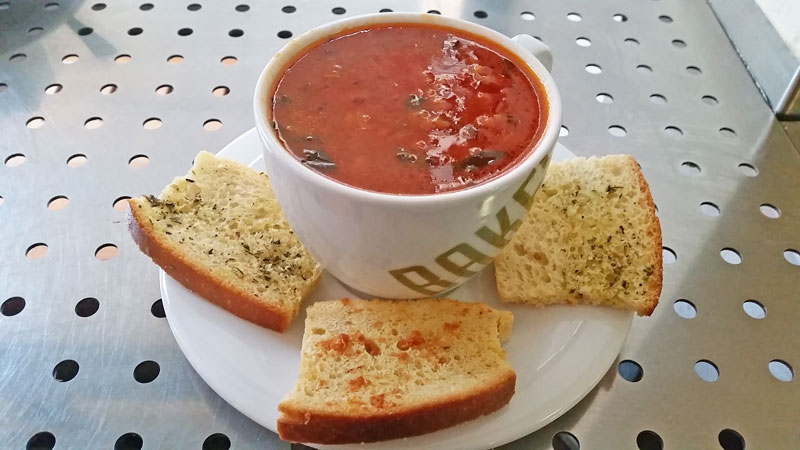 I'll normally be found in the savouries section and mainly I'll be here on my own in the winter if I want a proper warm-up and a really nice bowl of soup. Historically they've offered a Mediterranean tomato soup (pictured) or a corn chowder soup. Both with what look like slices of toast but they are really giant croutons (tip: dip the croutons in the soup before eating otherwise bits fly all over the place). Otherwise I'll be here with my walking tour clients who want a break with a light snack. They also do a nice mini-quiche (@czk100) and a large filled ham/cheese croissant (@czk75) so not the cheapest but very good consistent quality.
---
Something Related or a Few Minutes Away
Monuments – Franz Kafka City Monument
---