Prague Kinsky Palace
---
The Kinsky Palace is the largest single building on the Old Town Square. Before you say "that's not true, what about the churches and the Old Town Hall?". Well the Old Town Hall is 4 buildings joined together, the Church of Our Lady Before Tyn is set back from the square and the ST Nicholas Church is smaller by area. TIP: watch how you write this if you have text auto-correct on your mobile because it might rename it to the Kinky Palace!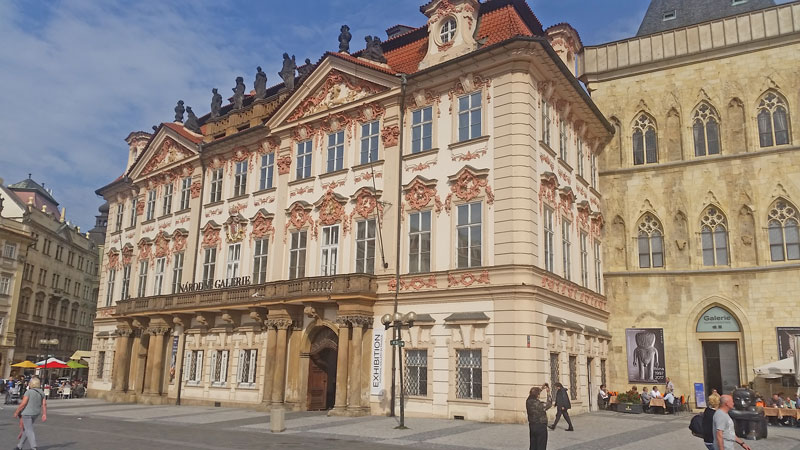 It's now a location which shows temporary exhibitions of the National Gallery. You can buy tickets here either just for the exhibition or for entry into all Prague National Gallery locations in the city. Note that if you go in to visit here you have to put any day-pack in a locker and collect it when you leave.
---
Some Interesting Facts about the Kinsky Palace
The fact that the Kinsky Palace is here at all bears witness that the Kinsky family fought the Thirty Years War on the Catholic side.
---
It was completed in 1756 at the very end of the Baroque period and as such the style can also be called Rococo.
---
There is a plaque on the inside pictured above. At first glance, no problem. Then you might think "wait a minute, Marie Curie was the first female Nobel Prize winner!" and you would be right in thinking that. The Czech text above the head is correct, it's the English translation that missed one word, the name of the prize. So do a quick Google search for Bertha Von Suttner to find out she was the first female recipient of the Nobel ….. Prize (fun fact – although born in the Kinsky Palace in Prague you'll find her picture in an unusual place, the back of an Austrian 2 Euro coin – it's an Austro-Hungarian Empire thing).
---
The architect of the Kinsky Palace was Kilian Dientzenhofer who was the same architect of the ST Nicholas Church on the other side of the Old Town Square and the interior of the ST Nicholas Church in the Lesser Town.
---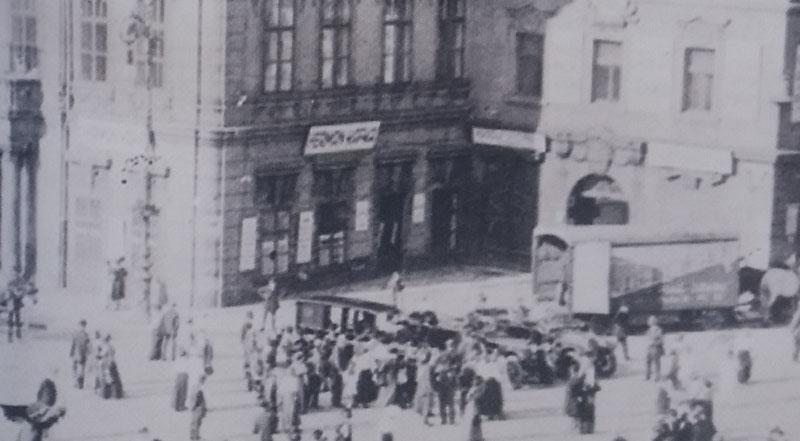 Franz Kafka's father opened a Haberdashery retail business here in 1883. You can see his sign centre-left in the picture above what is now the door to the Kinsky Palace ticket office but strangely the plaque that marked where the shop was located was taken down.
---
Franz Kafka went to a private German speaking Gymnazium (Grammar or High-School) at the Kinsky Palace.
---
The General Strike that preceded the Communist "Victorious February" (the successful 1948 Communist Coup d'etat) was officially announced from the balcony on 21st February 1948 by the then prime minister Klement Gottwald.
---
Something Related or a Few Minutes Away
Activities – Old Town and Jewish Quarter Walking Tour
Activities – Prague Architecture Walking Tour
Art and Culture – National Gallery Prague
Attraction – House at the Stone Bell
Attraction – How to Tell Time on the Astronomical Clock
Churches – Our Lady Before Tyn
Churches – ST Nicholas Old Town
---