Boccaccio Ballroom
---
Prague is well known for being one of the centres for classical music in Europe and it has some stunning venues to enjoy. Mostly these venues are in churches or palaces but there are other options and the Boccaccio Ballroom is one of them.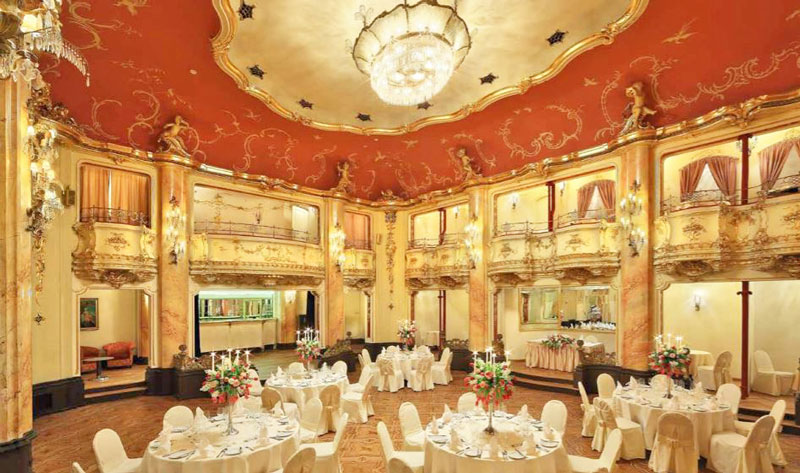 ---
What's Special About It?
This area was redeveloped in the 1920s and whereas in modern building developments when you see that big hole in the ground it's usually for parking, back in the 1920s it meant a cultural space like a cinema, theatre or ballroom. The Boccaccio Ballroom is one of the finest examples of neo-Baroque architectural decoration in the city. Historically it opened in 1927 and soon became a hub for the Prague political and social elite i.e. anybody who was anybody will have socialised here so you really are walking in the footsteps of history. After some harsh treatment during the communist era it received a full renovation in 1993. During the 2002 Flood it was underwater for 3 days and although the walls needed repair, the in-laid wood in the floor is so hard that it was not damaged.
---
How Can You See It?
Unless you are lucky enough to have your company hire the venue for an event then the more expensive "whole evening" option where you see the Boccaccio Ballroom in its full Baroque glory complete with music by Mozart plus characters in costume accompanied by food/drink can be booked as a Mozart Dinner Evening event.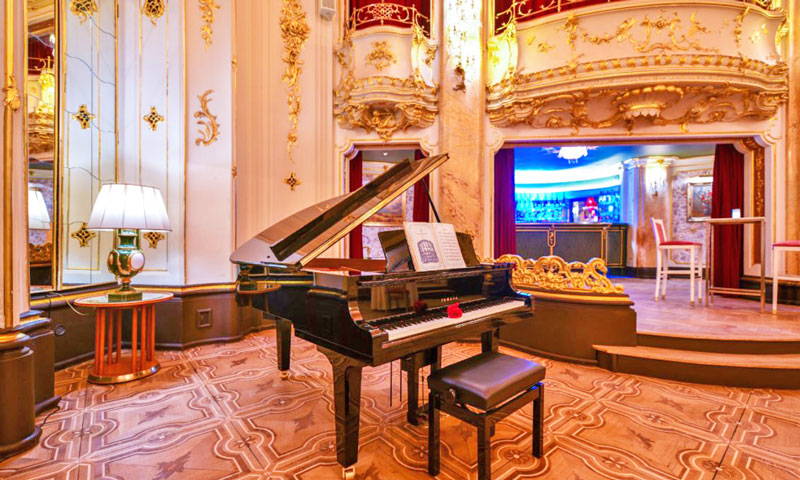 If you don't like the classical stuff but you'd still like to take a peek then the Hotel Grand Bohemia's Boccaccio Bar is open to the public when there is no performance scheduled and the entry to the ballroom area should be open because they put the grand piano there which provides the background music for the bar.
---
Where is the Boccaccio Ballroom?
You'll find the Boccaccio Ballroom underneath the Hotel Grand Bohemia in the Old Town.
---
I find the naming after 14th Century writer Giovanni Boccaccio a little odd considering he was not a composer and had no connection to the Baroque era. I can only think that it was his decadent writing (his main work called Decameron was banned by the Catholic Church for 550 years) that was fashionable in the 1920s.
---