Hergetova Cihelna
---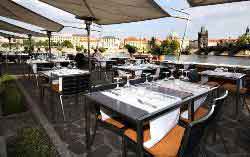 If you are coming from the Old Town across Charles Bridge you'll see Hergetova Cihelna on the far side on the right behind the anti-flood wall. Its a large restaurant with more than 300 places of which 170 are outside plus another external called the "boathouse" which has comfortable seating for 50 plus a upstairs lounge/cafe for another 90. Inside is fine with both elegant and more casual areas but its the outside terrace that I direct you to. An absolute must to reserve outside in the summer whether for lunch or dinner. They'll have the space heaters out if its a bit chilly but it's such a great position right on the riverside with spectacular views of the Charles Bridge and the river Vltava.
---
The Food
Have to consign this to "International Cuisine" because of the sheer coverage of cuisines from around the world. Part Italian, part Asian, part Mediterranean so no specialities to recommend but a wide-ranging menu will see that everybody will find something at Hergetova Cihelna. There is also a degustation menu, a kids menu and a lounge menu (pizza and pasta). The business plan is "location first, nice menu second" so on my list for a nice place to go for the scenic aspect but there is better food to be had in the city.
My Favourite: Risotto Nero (grilled octopus with chilli-tomato) and the chocolate cake.
---
Location
2b Cihelná
Prague 1, Lesser Town
www.kampagroup.com/en/restaurants/hergetova-cihelna/
---
Back to Scenic Restaurants
Back to All Restaurant Categories
---