Trafika or Tabak for Buying Tobacco in Prague
---
A Trafika or Tabak is a newsagent that also specialises in the sale of tobacco and tobacco related products. If you are a smoker in Prague then you'll have your favourite Trafika. Like Herna Bars, trafika shops took a big hit in 2017 when a nationwide internal smoking ban came into force but the shops battled back to keep their old trade and develop new business.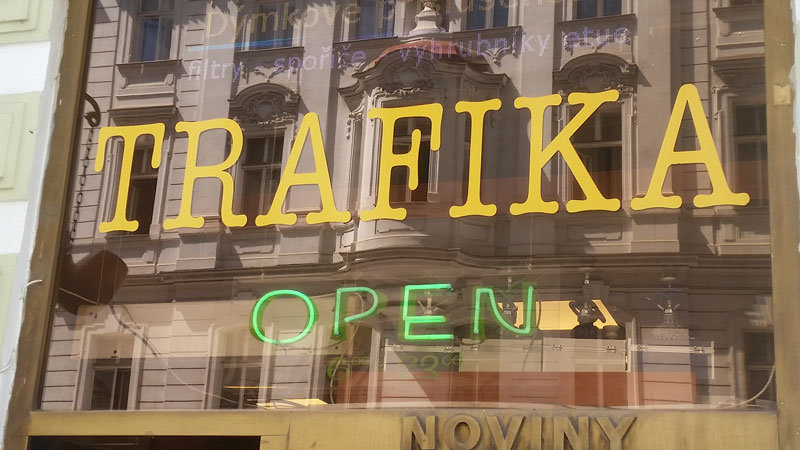 For a start, despite a ban on smoking in pubs and restaurants etc, smoking is still a national pastime when done outside or privately so the demand is still there.
Czech smokers who might stop by for a packet were supplemented by tourists looking to buy cartons. Local cigarette and rolling tobacco brands that ruled the roost for decades have now been joined by UK and US brands that you'll recognise from your local newsagent but they're cheaper here.
---
Should You Use a Trafika or Tabak?
Historically these words were combined i.e. Tabak-trafika which meant a trader in tobacco. Both can be considered to be newsagents that also sell tobacco, lottery tickets and public transport tickets so if that's all you want then either will do. Now if you are looking for greater volume like cartons of cigarettes or you want Czech-style tobacco accessories then you should find a trafika because in general they have a larger capacity than a standard tabak.
Likewise, smoking accessories became tourist souvenirs including Zippo lighters with Prague Castle motif, cigarette cases with a view of the Old Town Square, cigarette dispensers, hookahs and large collections of bong-pipes battle for space in the shop window.
---
Is a Trafika or Tabak Cheaper Than the Airport for Tobacco?
Comparing a city-centre trafika or tabak with the airport in general it's the same price per carton with UK branded cigarettes in the range of £30-£35 i.e. something between CZK850-CZK1000 but the advantage of buying cigarettes at a Trafika is that you are paying the local tax. Yes that's right, that £30-£35 for the carton includes tax so as it's not "Duty Free" you'll be able to buy whatever you want. The only question you need to answer is how many cigarettes you can legally import into your country for "personal use". Note that there is no money off a carton, it's exactly the same price as paying for 10 packets.
A word about VOLUME. As explained above, a Trafika or Tabak has the advantage of already having paid the tax but now you're thinking "my mate came back from Prague with 10 cartons last year". Well that maybe right but then we had BREXIT. One of those small changes at the airport is that the price label for people flying to the UK changed from Blue (EU) to Green (Non-EU) so the airport will normally impose a restriction of 2 cartons for Non-EU travel.
---
Using Relay
You won't spend long in the city before you realise that there is a chain of newsagents called Relay and because they limit themselves to news/tobacco/drinks/snacks they are considered to be a tabak. You'll find them at all the transport hubs, metro stations, tram junctions, airport, train stations etc. If you can find the brand of tobacco that you want then great but the problem here is that there will be a limited option as Relay typically goes for small locations with high footfall. They will sell cartons because it reduces space in the shop but on the downside, they won't be keeping as much stock in the shop as a trafika would.
---
Does a Trafika Have the Same Choice as the Airport?
No, a Trafika can have MORE choice. Remember at the airport the Duty Free shop is also selling alcohol, perfume, sweets and souvenirs. Tobacco makes up more than 50% of Trafika or Tabak business but not all Trafika shops stock the same brands so you might need to hunt around. By now you should be understanding that a Trafika gives you more choice, to buy more tobacco for the same price or less than Airport Duty Free.
---
Some Random Things to Do and See in Prague