Prague Karlin Hotels
---
Karlin is not the most recognised place to stay in the city but, like Holesovice if you are prepared for a 30 minute walk or you are happy to use Prague public transport then you'll find bargains here. Wenceslas Square is three metro stops or 7 minutes by tram and there's a night tram service for this area. At the near end you have Botanique, the Hotel Mucha and the BB Inn. Further along you have the Alwyn and the Hotel Karlin and at the furthest point the Penta, Royale Galerie and the 3 Domy. All great places to stay and I describe my favourites below:
---
4 Star Prague Karlin Hotels – Hotel Botanique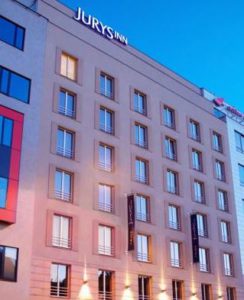 In the 2002 flood the building that was here collapsed. So this place was purpose built as a 4 star hotel with 200+ rooms. All the rooms are big enough to take a full-size double bed, a writing desk and a separate table and still give room for cases. The Florenc metro/tram is right opposite the hotel and it's two metro stops or 4 tram stops to Wenceslas Square (or a 20 minute walk). There's a little passage next door with a supermarket and Costa coffee shop but if you want a short walk turn left out of the hotel and go under the railway bridge. The Restaurant/Cafe "Gate" is on the corner. Up until 2019 this was Jurys Inn.
Find Prices and Availability for the Hotel Botanique
---
4 Star – Hotel Alwyn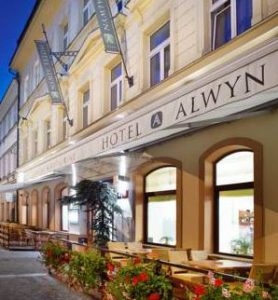 One of the many independent Prague Karlin hotels located in a quiet side road between the Florenc metro and the Karlin Square tram stop. Only 24 rooms but generously proportioned and a nice restaurant as well. It is very popular on weekdays with business clientele attending the nearby commercial zone and it will be tourists at the weekend. It's a 3 minute walk to Florenc where you have the choice of tram or metro or realistically it's a 25 minute walk along the main road to the Old Town Square.
Find Prices and Availability for the Hotel Alwyn
---
4 Star – Hotel Mucha
You'll have seen by now that given a chance I'll recommend the independent hotels over the chains. Mucha is an example of Prague Karlin hotels that come with big rooms, parquet flooring and not a piece of IKEA furniture in sight. It has style and it has bags of character so if you like that kind of place then book it. It also has a separate Spanish restaurant on-site called Mamacita Catalina. Florenc metro is 100 metres up the road and it's two stops to Mustek (Wenceslas Square). If you want the more modern hotel then Botanique above is almost opposite.
Find Prices and Availability for the Hotel Mucha
---
4 Star – Aparthotel 3Domy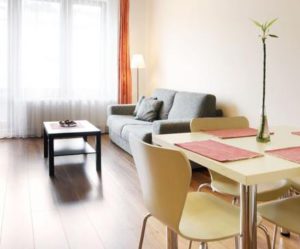 Recommended for the apartment/wellness combination and they have recently rebranded as "3D". This is an apartment hotel so you are expected to do your own food. That said, they can arrange for breakfast to be available. During the week there are lots of cafes and restaurants in the area but they may not open until 10am at weekends. The apartments are either one bedroom or two bedroom and all have a sofa bed in the living room. For more info on a stay here check my 3Domy Review. Great place if you want to combine a night or two in Prague with the wellness facilities. It's a 2 minute walk from either the local tram stop or Krizikova metro station.
Find Prices and Availability for the Aparthotel 3Domy
---
4 Star – Hotel Galerie Royale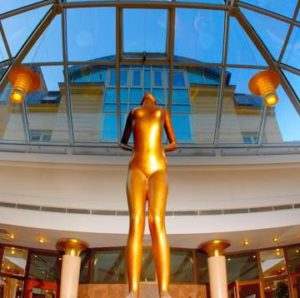 One of the newer hotels in the area and refurbished as a 4 star as opposed to it's sister hotel around the corner (Charles Central) which is the 3 star option. Rooms are nicely turned out but space does vary as it is a re-partitioned old-style apartment block. Nice public area with the conservatory roof. Many small restaurants and bars in the area. You have a 30 second walk to the Krizikova metro station and it's three stops to Wenceslas Square (Mustek) or its a 25 minute walk. Galerie Royale also has a discount to the Holmes Place fitness/wellness opposite.
Find Prices and Availability for the Hotel Galerie Royale
---
3 Star – Hotel BB Prague City
Recommended as the "no frills" 3 star of choice. Everything is clean, modern, smart and functional right down to the vending machines and help-yourself continental breakfast bar. This is an exact copy of the Austrian "ETAP" chain for people who want a cheap, secure place with as little overhead as possible. You are 100 metres from the nearest metro/tram which will get you into the centre in 5 mins. Note that one side faces the railway tracks and although soundproofed windows cut out most of the noise, you can still feel it.
Find Prices and Availability for the Hotel BB Prague City
---
3 Star – Hotel Karlin
Looking for Prague Karlin hotels that are cheap, well connected and off the beaten track then try this place. I'll let you into a little secret here, when I worked at the Ericsson HQ in Karlin, anybody who came to my office who had to expense their own trip would stay here. The rooms are very basic and mostly twins or marriage beds but it's all neat and clean. The hotel reconfigured itself and turned the ground floor and basement into one of the most popular restaurants in the area. Two very good pubs within 10 seconds walk. You have a tram stop 100 metres away or the metro is less than a 5 minute walk.
Find Prices and Availability for the Hotel Karlin
---
MY TIP: Using public transport in Karlin? The Number 8 tram takes you to/from Republic Square. The Number 3 tram takes you to/from Wenceslas Square. If taking the metro you get off at Mustek (Wenceslas Square). Buying tickets? then check the guide for How to Use a Touch-Screen Ticket Machine.
---