Prague Flood 2002 – A Local's Account
---
Below you will find an account of the events which took place here in Prague and other places during August 2002. Note that the featured image above is from the flood of 2013. The photographs were taken by various photographers and all effort has been made to give credit to the photographer if the name is known. Most are by David Smrkovsky or Jan Schejbal
---
August 10th
The morning of August 10th was indeed a fine one. The storms of the previous week were gone and the sky was clear and bright. We shopped in Prague and people ate their lunch outside in the sun.
---
August 11th
On the morning of August 11th we celebrated a birthday but state television and radio were broadcasting warnings to known flood areas to prepare. A rumour that the flood was imminent and of proportions not seen in Prague for over 150 years was circulating in Prague, although not officially.
---
August 12th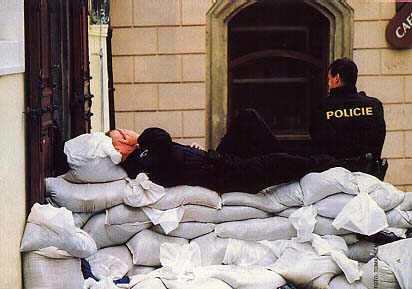 On the morning of August 12th we celebrated another birthday. Prague flood warnings were announced. Television showed public buildings and hospitals along the river Vltava being sand-bagged and towns north of Melnik were already becoming islands as the historic flood plains became saturated.
The area around Karlin was full of buses and vans evacuating to safer areas all who wanted to go. Many news outlets were showing interviews with residents refusing to move saying that in all their lives they had never seen a flood that was being predicted.
---
August 13th
On the morning of August 13th the flood water breached the defences at the low lying areas of Karlin and Liben. With no other serious protection, the water dispersed itself along the length of Sokolovska and Krizikova overcoming each hastily built sandbag defence in it's path. Photographers recorded the relentless creeping of the Prague flood water, now deep enough to support a row boat in the centre of Karlin, as it moved towards the Florenc area.
Police were now moving from block to block forcibly removing people from their apartments while it was still possible to walk in and out. A fleet of ambulances stood outside hospitals at Klimentska and Dvorakovo Nabrezi ferrying patients to safer locations. Basement generators were being flooded and electricity was being cut to prevent other problems. Around Palmovka, people well into their 80's were arguing with Police that "the water had never got this far before" and they were not moving. At the Zoo, keepers were moving the contents of the reptile house and farm animals to higher ground.
Apartments on Klimentska were now being evacuated as the Prague flood water converged from two sides. Two metres of flood protection above the river sides was installed between the Charles Bridge and Legie Bridge. Only Barrandov bridge was now open for traffic with all other bridges closed to all but pedestrians. The army was blowing up any boats or barges that broke free from moorings to prevent damage to bridges. One bystander lost his life after being struck by shrapnel from one such explosion.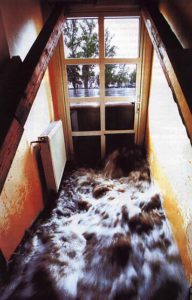 Kampa and lower Mala Strana were now being evacuated. Official buildings, libraries, museums were sites of frantic activity as all documents were being cleared from basement and ground floor storage to be taken to safety. Police were diverted from prague flood defences to protect millions of pounds worth of art and sculpture as it was loaded into lifts and being carried away from it's protected areas to stand in Prague attics and hallways.
On the evening of August 13th the decision was made to evacuate the Old Town. 50,000 people were to be moved to friends or family in safer places, if they had any, or to nominated schools and colleges that were in Summer recess. One suitcase per person and I can only guess at what some people had put into that suitcase wondering if they would be able to return to an undamaged home considering the devastation being shown on TV news programmes. Due to the ongoing Prague flood, people still arriving at the airport were given a stark choice, find your own accommodation anywhere you can or go back home. Many tourists spent that week on a camp bed in a school dormitory.
---
August 14th
On the morning of August 14th Prague was a ghost town. Only buses ferrying people away from the flood threatened areas could be seen. The metro anti-flood system had failed and 29 stations were now under water. Kampa Island was now flooded up to the first floor. Karlin was flooded up to the second floor. President Vaclav Havel was photographed, Canute like, at the waters' edge in Krizikova. All bridges were now closed to everyone except emergency services. The water was over the historic defences and only 50cm below the extra protection which, if it failed, would cause flooding of the Old Town. The lower part of the Prague Zoo was completely submerged. Graphic pictures of a drowning elephant and keepers shooting animals in distress were transmitted across the globe.
The railway stations at Holesovice and Masarykovo were under water. Both road and rail links from Prague to the west were now cut. Television pictures were showing towns and villages to the south of the Czech Republic that had witnessed not the slow almost imperceptible rising of the Prague flood water but, a huge torrent when dams further up river had to let water go or risk being breached.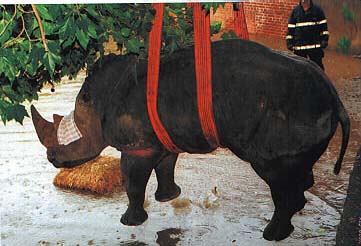 In the historic centre of Cesky Krumlov, the raging water ripped footbridges from their moorings and hundreds of small pleasure boats were thrown around like small toys. Tourists videoed from the castle, oblivious to the fact that many hotels containing their possessions were already submerged.
Terezin was by now submerged and the village of Karlstejn, home of the famous castle, was also underwater. In Prague they waited. The water had peaked, the Prague flood damage would now be seen over the coming days.
---
August 15th
On the morning of August 15th the flood waters started to recede and the Prague flood damage was clear. Some buildings in Karlin and Florenc had collapsed. Kilometres of cobblestoned roads had been stripped of all foundations, piles of stones lay where the water left them. The full enormity of the flood damage to the metro system was now apparent and placing immense strain on the bus and tram infrastructure. Structural engineers began inspecting all of the bridges and apartment blocks.
People were issued plastic bags and rubber gloves to return, escorted by police, to their homes to empty fridges and freezers of all meat and dairy items which were now decaying after 3 or 4 days with no electricity. Sewage treatment facilities were not working and the contents of both residential and commercial waste were unleashed on the capital. Residents of Karlin, Palmovka and Holesovice would not be allowed back to their homes for the rest of that week.
---
The Aftermath
Over the next weeks people put their minds and bodies into the cleaning up of the Prague flood affected areas of Prague. Piles of damaged furniture appeared mountainous on the streets. Basement doors and windows were left open. All the ground floor apartments in some streets were empty and abandoned. Police erected checkpoints to monitor who was entering and if they had permission. A trip to Prague for the unfamiliar would have revealed little but, for the regular visitor, you could see how many shops, bars and restaurants had closed, victims of the widespread basement flooding which went unnoticeable to many tourists.
Politicians briefly put differences aside to put in place emergency measures. The recriminations and blame would follow. For the ground floor apartment dwellers in the flooded areas it really is a case of starting from scratch. All contents destroyed but, the majority have at least a shell to renovate and build back up to a comfortable level. Many people outside of Prague have been victims of the "black" economy whereby a house has had a room added here and there. Outbuildings and garages have appeared over the years but, none have had planning permission and as such were not insured. Overnight many people lost family homes built up by themselves over many years. Spare a thought for the elderly who after a lifetime of toil, now have nothing.
---
My Own Guided Tours – Cheaper Than You Think!