3Domy – Wellness Aparthotel
---
To give you some background as you might be wondering why a person who lives in Prague would want to pay to stay in Prague. With the kids in various stages of viruses and sickness from the usual set of winter/spring school bugs our "babicka" (Czech grandmother) offered to babysit while we had a night off. What would usually be an evening at a restaurant and then home took a little twist.
---
As part of the website research I had visited Residence 3Domy in early 2013 and it has since rebranded as "3D Apartments". It shares the building with a gym, a university and a couple of other companies. 3Domy has 4 different configurations depending on square metres and number of bedrooms etc. Having seen the possibilities of combining a stay in a 4 star rated residence with a bit of wellness, when the opportunity came up we booked it. I booked just by walking in off the street as it was no more expensive than booking online. I reserved a parking space and a wellness session for two people.
Arrival at 3Domy is a bit daunting not least because its not immediately apparent how you get in. Arriving before 10pm you head up the stairs into the Holmes Place (gym) reception which it shares with the residence. After registering and paying you get a pass card and a key (people driving here should read the note at the base of the page) and Holmes Place passes if you are going to use their facilities.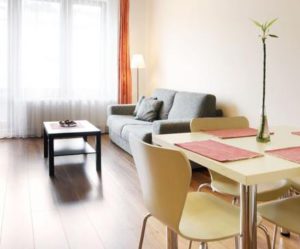 Very nice room on the 6th floor of the B block. It was a "suite double" which means it has a combined living room and kitchenette and a separate bedroom. Furnishing was pretty minimalist with a main dining table, a coffee table, TV unit and comfortable sofa-bed. The kitchenette was fine for us but did not have a microwave or toaster if that is important for you. Bathroom was quite big and had a shower but no bath. The bed was king size and had two big-single quilts.
After our dinner at the Lemon Leaf Thai restaurant we returned to the 3Domy for the wellness part of the evening. As mentioned previously, the building is shared with Holmes Place gym and 3Domy guests have free access (must be booked in advance) to the wellness part which includes pool, steam room, jacuzzi and sauna. If you want to use the gym facilities you can buy a day pass from Holmes Place. You use the towels from your room and collect a sheet and a combination lock (for the locker) from the Holmes Place reception. As usual you exit the changing rooms via showers into the pool area. There are about 30 loungers inside and another 10 outside which are first-come first-served. We spent the next two hours moving between the various facilities interspersing cool-down sessions in the pool with trips to the steam room and sauna. NOTE: the sauna can be used only if you remove your bathing costume first hence, why you have the sheet. There are part-private showers right outside the sauna for changing. We saw a few people going outside onto the terrace to cool down but I didn't fancy that.
3Domy offers breakfast if you book it a day in advance. We preferred to walk 3 minutes down the road to a great little cafe called Muj Šalek Kavy for a full english breakfast, slice of cake and two coffees for total of 280Kc or just under 10 pounds (their website is http://www.mujsalekkavy.cz click the "snidane" link to see the breakfast menu in English).
NOTE: Parking. On arrival you can park in the entry lane to the car park and go up to the reception where they'll give you a car pass. Go back to your car, press the button at the gate and take the regular ticket as well. Go down to level -1 and park anywhere that is not "reserved". Leave the car pass visible in the car so security can see you are a guest. Take the lift up to Level 1 (reception) and complete your booking in which will include the charge for parking which was 15 Euros at the time of writing. When you leave the car park, drive up to the gate and a security guy will come and open it for you. Just show him your parking pass which means that you have paid for parking.
My opinion: We paid 65 euros for the room and 15 Euros for the secure parking making a Czech equivalent of 2000Kc for one night which for what we were getting I thought was pretty good. Add 300Kc for breakfast for two. There are places that do "wellness weekends" which usually include some massages or treatments etc and usually a sauna. I liked Residence 3Domy because you got the large pool, large sauna and the steam room basically for free by staying in the apartment. It's not a 24 hour reception and if there's nobody there you will have to call a number etc. After 10pm your entry is via a locked door for which you have a key (separate keys depending which block you are staying in). I know the area around Križíkova pretty well (Prague 8, Karlin), it has quite a few bars to try in the evening that stay open until the early hours but in the morning most cafes don't open until 9am. If desperate the "Jecminek" cafe at the metro station opens early. We used Residence 3Domy as a base and came into the centre via the number 3 tram which was 6 stops to Wenceslas Square. Excellent choice for a business trip combined with a bit of wellness or a couple looking for something a bit different on a city-break.
Check Prices and Availability for the 3Domy Apartments
---