Riegrovy Sady Beer Garden and Park
---
If you look at a map of Prague and you find the main train station located roughly at the top and to one side of Wenceslas Square then you'll notice that behind the station is a large green area that takes up approximately eleven hectares of land. This is a park called Riegrovy Sady.
---
Riegrovy Sady as a Park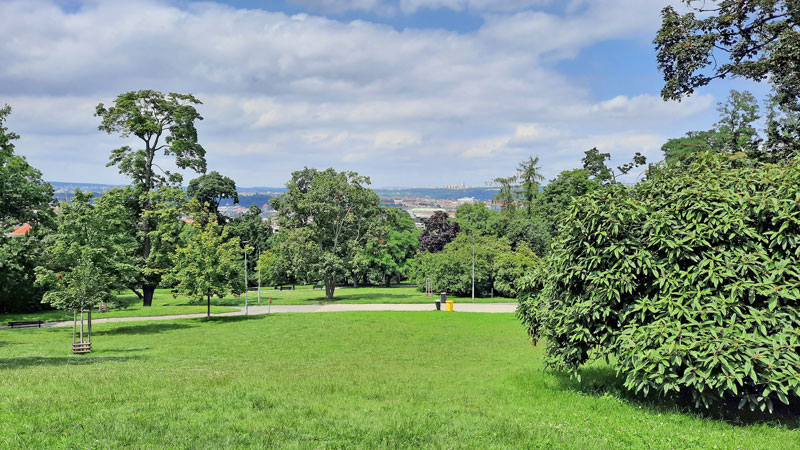 We can thank a guy called Josef Emanuel Canal for buying all the vineyard land between what is now the Main Railway Station and the square at Jiriho z Podebrad from 1787 and converting it into a series of parks and botanical gardens because the bulk of that land is the present day Riegrovy Sady. The park land was referred to by locals as "Kanalka" and there's still a local street called "U Kanalky" which would have led you to the park before 1895 but parts of the park were redeveloped and the rest was renamed to Riegrovy Sady in 1902.
It takes its name from a man called Frantisek Ladislav Rieger for whom I will eventually write a dedicated post but who basically fought for Czech independence from the Austrian Empire. What may have affected the city's decision to name it after him could have been that 20 years earlier he had donated some of his land in this area to the city for the current National Museum to be built. He lived to see the park named after him and died the following year 1903 aged 84.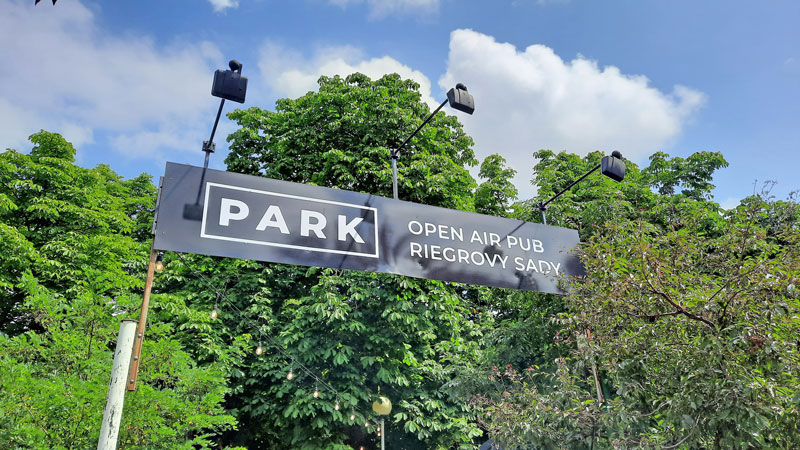 It's not fenced so you can wander in and out of it 24 hours a day plus it's a popular place for dog walkers and runners doing hill climbs. For most of the year you'll find people using the various sports facilities in the area. In the summertime you'll have people coming here to laze in the sun on the grassy banks and in general it's just a nice place to come with a book and relax. Head to the north side of Riegrovy Sady if you have kids because there are nice playgrounds and a cafe. This area was originally part of "Kanalka" and the area retains its original name Rajska Zahrada or "Garden of Paradise".
---
Riegrovy Sady as a Beer Garden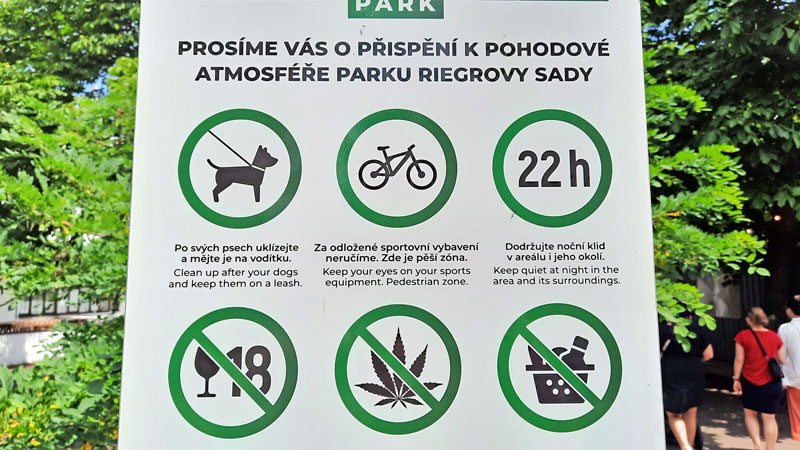 Seven days a week from 12pm the Riegrovy Sady Beer Garden opens for business. Let me explain some of the rules. For a start between Sunday and Thursday it shuts at 10pm and only on Friday/Saturday does it open until midnight. The beer garden does request that you keep the noise down and respect the neighbours after 10pm. Other rules include keeping dogs on a lead (yes), no riding boards or bikes (yes), not bringing your own food/drink (ok) and no smoking weed (mmmh).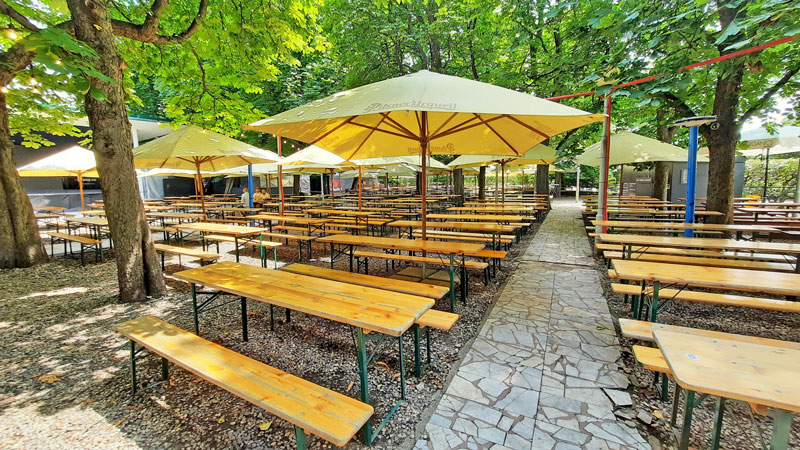 If you are coming here to eat and drink then there are a few things to note. First the bench seating is first-come-first-served so stake out your place and if joining an existing table you ask if it's ok. Next you should sort out your food because it might take some time (also when I was there in August the main food cabins strangely did not include an English translation). When you've ordered and paid you'll get a plastic card which blinks a red light and will start chirping when your food is ready. So put that in your pocket and head over to the bar.
Riegrovy Sady is a Pilsner Urquell bar and as you will want to be drinking from a glass then your first beer will seem a little expensive because you are also paying a CZK50 deposit for the glass. At this point you also have to tell them what sort of beer you want and this depends on how much froth you want. There's a picture at the bar to help you decide but basically "Hladinka" is a regular beer, "Šnyt" is 50% froth and "Mlíko" is about 80% froth. From then on you just pay for beer and when you've had enough just take back the glass and get your deposit back.
---
Something Related or a Few Minutes Away
Food and Drink – Czech Beer Guide
Food and Drink – ST Wenceslas Vineyard
Art/Culture – Theatre Le Royal
History/WW2 – The Prague Uprising
History/WW2 – Thomas Vokes and William Greig
---
Tour Tip: The Prague Pub Crawl and International Party has two start times. Begin at the earlier time and you get 2 hours of unlimited drinks!
---
Tour Tip: This is the original Drunken Monkey bar crawl and in my opinion, probably the most fun if you like beer drinking games.