Monument to Victims of Communism
---
If you are heading for the Funicular to take you up to Petrin Park then consider visiting the Monument to Victims of Communism as it is less than 200 metres away.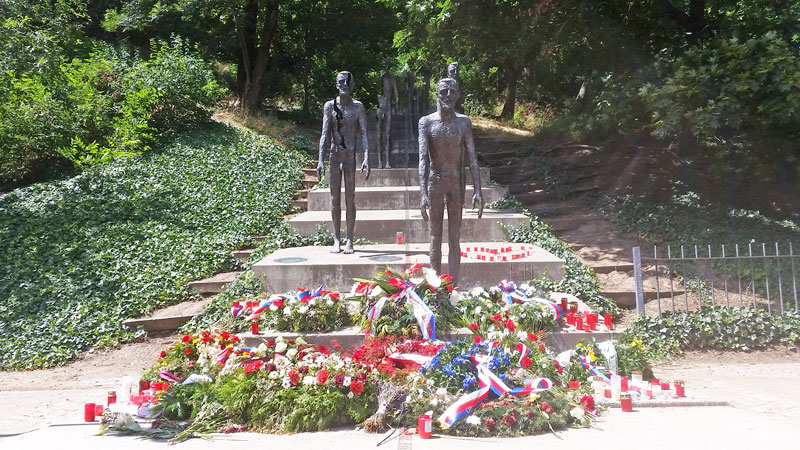 ---
Background
Czechoslovakia formed in 1918 as a democratic Republic. After World War Two it was still a democratic Republic but now the Communist Party had a larger say. Following the 1948 Communist Coup they took full control. Obviously there were many people who did not like the Communist Party taking over the country and over the next 42 years this resistance to them took many forms. Some people were expelled from the country, others imprisoned, many died. The Monument to Victims of Communism in Prague was erected in their memory.
---
The Monument
Next to the Funicular is a small park which in 2018 was named "Alley of Victims of Totalitarianism". At one end of the park you'll find a concrete staircase built into the hill going all the way down to street level. Several of the steps have a figure standing on it. At the lower end of the monument is a whole character but as you walk up the steps this character becomes more and more crippled until he is almost unrecognisable as a man. The Monument to Victims of Communism was designed and built by Czech sculptor Olbram Zoubek in collaboration with architects Zdenek Hölzl and Jan Kerel and was unveiled on May 22nd 2002.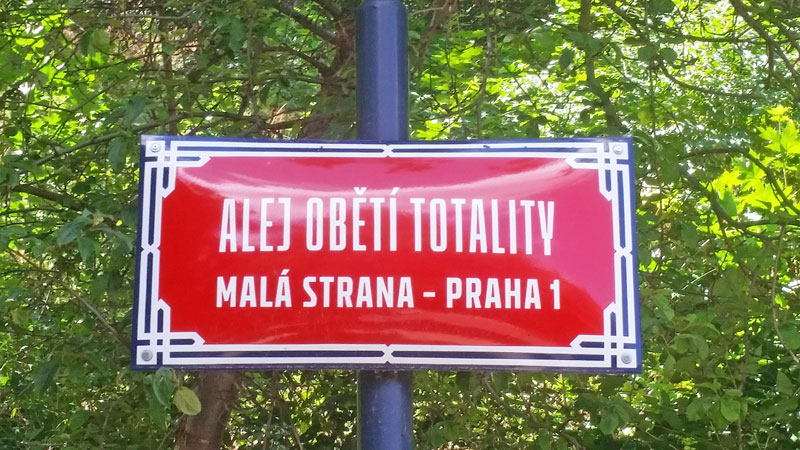 At the base of the stairs is a plaque and it reads:
Victims of Communism 1948 – 1989: 205,486 convicted – 248 executed – 4,500 died in prisons – 327 died at the border – 170,938 citizens emigrated
This same text is also written on the bronze belt which runs through the middle of the staircase from street level to the top step. Most websites will show you a picture and tell you that there are 6 figures on the staircase. Actually there are 7 but you have to look hard for the last one on the very top step because it's just a left foot.
---
Damage and Destruction
Since unveiling in 2002 figures have been wrapped in red tape, regularly grafitti'd, set on fire, one of the figures has been pulled down and it's been bombed. Yes, you read that right. In November 2003 a guy put a pipe-bomb in one of the figures but it was not powerful enough to significantly damage the bronze structure. Read more about the Prague Bomber.
---
Commemorations
You'll find candles and small wreaths here most of the year as birthdays and anniversaries pass for the Victims of Communism in Prague. Mostly it's commemorated on May 22nd because that was officially the date in 1990 when the Communists gave up power and started the first free elections since 1946 (they still won 13.6% of the vote and were second largest party).
You can see more pictures archived on the iDnes website showing the unveiling of the statue and the associated politics https://www.idnes.cz/zpravy/domaci/ujezd-zdobi-pamatnik-obetem-komunismu.A020521_091454_praha_lin
---
Something Related or a Few Minutes Away
Attraction – Little Eiffel Tower
Attraction – Infant Jesus of Prague
Art and Culture – Kampa Modern Art Museum
Parks and Gardens – Shooters Island
Films and Videos – Mission Impossible 1996
---
Some Random Things to Do and See in Prague