Prague National Theatre
---
I never tire of relating the beginnings of the Prague National Theatre. For two hundred years people in Prague had the choice of German language productions at the Estates Theatre or nothing. So people got together and collected enough money to build their own Czech language production theatre. They laid the foundation stone in 1868, spent 13 years to build it, opened it in 1881 and it was then promptly gutted in a fire. This didn't stop the patrons who promptly raised more money and built it again. It reopened two years later and it's exactly like you see it today.
---
The Prague National Theatre is the only venue in Prague that will show classic ballet productions and drama productions (but drama is usually only in Czech unless specified). The National Theatre is on the route of the Prague City Walking Tour. The Prague National Theatre has a large range of Czech Opera with English subtitles including Dvorak's Rusalka, The Devil and Kate and The Jacobin plus a selection of others.
CHECK PROGRAM and TICKET AVAILABILITY
---
BALLET: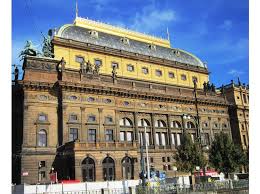 The Prague National Theatre has the largest ballet company in the city. They run between 5 and 7 performances depending on the season. From the classic Swan Lake and Nutcracker productions to Cinderella and local modern productions.
The National Theatre venue Laterna magika will also show ballet performances where modern expression is used but not a large classic production like Swan Lake etc.
---
Prague National Theatre DRESS CODE:
The season starts in October and pretty much until Christmas you'd be expected to make an effort with Jacket and tie. Jeans and trainers are tolerated if you already have the tickets but they could refuse sale on the door.
---
Performance – Ballet – The Nutcracker
Duration: 2 hours
This is Tchaikovsky's two hour version of Dickens' "A Christmas Carol" and as such is an extremely seasonal production from October to December. As with Dickens' famous book the story is one of how Christmas has the power to transform the human character for the good of man. Baaa Humbug!
---
Performance – Ballet – Swan Lake
Duration: 2 hours 45 minutes
Another timeless production and it doesn't matter how much they mess around with the choreography the story will still be the same with Princess Odette once again transformed into a swan by the evil sorcerer. Based on the German Fairytale (I won't spoil the ending). If you don't want the whole 3 hour performance then there's an option at the Hybernia Theatre at Namesti Republiky that does a "best of" Swan Lake.
---
Performance – Opera – The Devil and Kate
Duration: 2 hours 45 minutes (with intermission)
As this is the Prague National Theatre we'll start with a Czech opera. Dvorak's The Devil and Kate was first premiered here in 2003. It's one of two "Fairytale" operas (Rusalka is the other). Both are absolutely loaded with fantasy elements, witches, magical powers and folk tales but I would not bring kids to see them.
---
Performance – Opera – La Traviata
Duration: 2 hours 30 minutes (with intermission)
Guiseppe Verdi's La Traviata is a two and a half hour performance in Italian but with English subtitles. World Premiere at the Venice Theatre in 1853. In this case "Violetta" is now called "Libuse" (an old Czech name) and her story is as sad as ever. A real tearjerker if ever there was one. She will love, she will sacrifice and she will die. But the story lives on.
---
Performance – Opera – Simon Bocanegra
Duration: 2 hours 40 minutes (with intermission)
There's a certain synergy going on in Verdi's life. Two of his works (Simon Bocanegra and Il Trovatore) were both based on books by Antonio Gutierrez. Simon Bocanegra was originally not well received and was shelved for more than 20 years before being revived and rearranged by Arrigo Boito. Arrigo Boito was trying to get Verdi interested in another project at the time. It worked out though and the "other" project became "Otello". Simon Bocanegra is a politics and sex opera to put it bluntly. Feuding families, weddings and assassination. Performed in Italian with English subtitles.
---
Performance – Opera – The Bartered Bride
Duration: 3 hours (with two intermissions)
One of the longest performances, Bedrich Semtana's "The Bartered Bride" is here every season and anytime the Prague National Theatre gets a new artistic director it is rumoured that they must recreate a new production. This is a story of simple Czech village life and all the relationships within it. Sometimes humorous, at other times brutally realistic. It incorporates specialist dance and drama performers.
---
CHECK PROGRAM and TICKET AVAILABILITY
---
Some Random Things to See and Do in Prague