Prague Lobkowicz Palace Classical Concert Venue
---
It's a question I've been asked many times. What is your favourite Prague classical concert venue? For large scale impact I have three favourites but for a small venue there's only one, the Prague Lobkowicz Palace.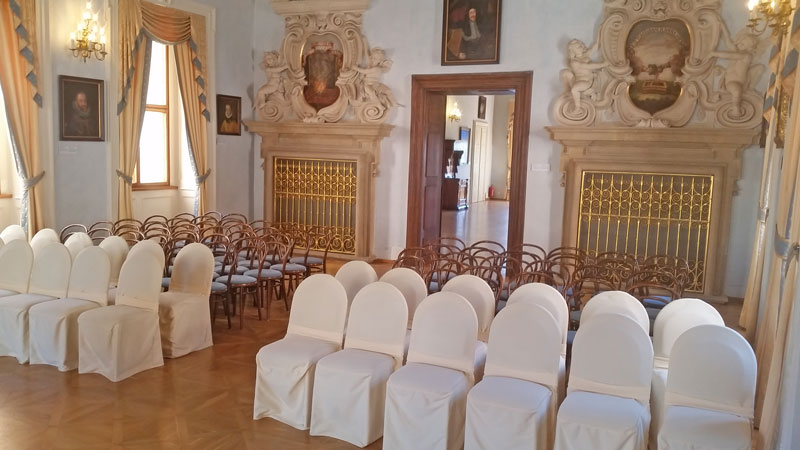 ---
Where is the Prague Lobkowicz Palace?
Be careful, although this is the most well known location i.e. close to the Old Castle Steps at Prague Castle, there are other palaces in the city with the same name (important family). I normally direct people to enter the Prague Castle via the main entry then walk through the Castle courtyards. After you pass ST George Basilica you start to go downhill and the Lobkowicz Palace is the last building on the right. I recommend it for it's scenic cafe. It's also a family museum (strange to see two Canaletto scenes from the River Thames in London) so you have access to the front state rooms etc. You could actually walk through the concert room and not realise it.
---
Why Here?
Firstly, this place is largely decorated in the Late Baroque style which lends itself to that style of music and period clothing if used. Secondly, the room has great accoustics with plain portrait-covered walls and frescoed ceiling etc. Thirdly, the Prague Lobkowicz Palace venue is really small and everybody gets a great view. You can see by the featured picture that maximum capacity is 100 seats. Also if they don't reach capacity they take any spare rows out of the room. I like that. The performances are usually called "Pearls of Classical Music". Here's a recent set list (it may change a bit but you get the idea):
M. A. Charpentier: Te Deum
A. Vivaldi: Allegro (From Four Seasons)
P. H. Lobkowicz: Suite in C major
W. A. Mozart: Turkish March
Ch. W. Gluck: Pizzicato
L. van Beethoven: Fur Elise
J. J. Benda: Grave
Piece for Flute solo
G. Bizet: Carmen Fantasie
A. Dvořák: Valse
B. Smetana: Vltava
C. Debussy: The Girl with the flaxen hair
C. Debussy: Danse bohémienne
W. A. Mozart: Vivat Bacchus
---
Afternoon or Evening?
You may not get a choice but there are usually two performance times. One is at midday (sometimes 1pm but just assume lunchtime) and the other is after 6pm after the museum has closed. Last full-price tickets I saw for a 1 hour performance were about 15 Euros.
---
Tips and Tricks
You may be offered "A" or "B" seating areas at Castle Venues. At the Prague Lobkowicz Palace the "A" tickets (full price tickets) are the rows with the tastefully covered seats (normally the first two rows). Everything behind is the "B" area. Note that there is no seat numbering, you just sit in your section. So if you've got "B" (discounted) tickets, get there early enough and you can sit in the third row. That's just 5 metres from the musicians.
Check the Availability and Prices for Classical Music Events at the Lobkowicz Palace.
---