The Traffic Light Alley and Restaurant Čertovka
---
Over the years without doubt the most common question I get stopped in a street for is "which way is the Charles Bridge?". Another popular question has different forms like "where is the little street with traffic lights?" or "where is the traffic light alley?" or "where is the restaurant with the traffic lights?". You get the drift. So I thought what the hell, why not describe the experience of finding this place and tips for eating/drinking at the Restaurant Čertovka (it sounds like Cher-tov-ka).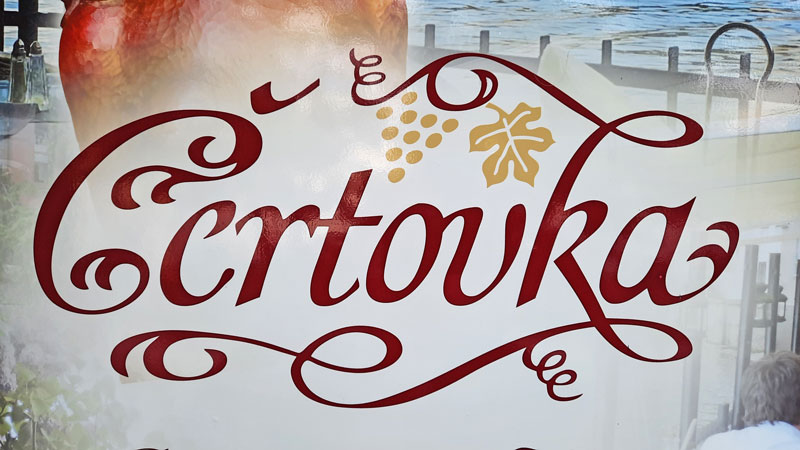 ---
The entry to the Restaurant Čertovka is from the street but the restaurant itself is on the edge of the Čertovka water inlet (also called the Devil's Inlet) and many people stumble across this place by accident i.e. they are probably heading to the "David Cerny Pissing Men" sculpture when they pass the little alleyway. If there's a crowd they are sure to stop. Historically, the alleyway had a practical purpose as it was used as a fire escape down to the riverside.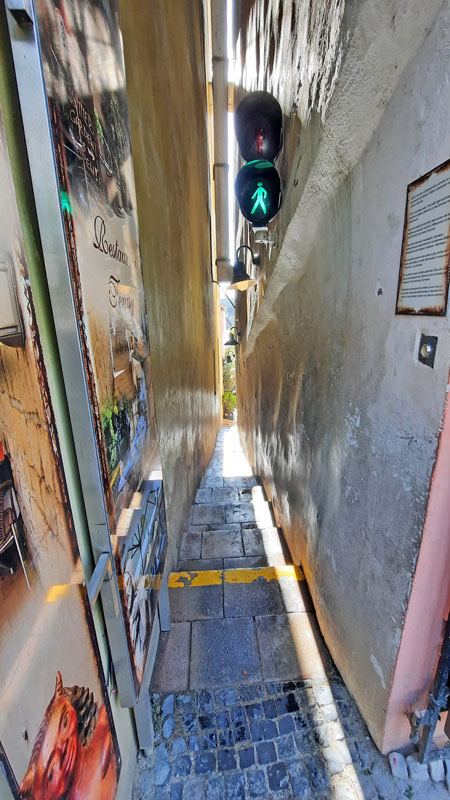 I can't say for certain when the owner decided to install his traffic light system but I can say for sure that I do not remember it being here in 1996. Basically it's a piece of marketing genius in how to get people to walk down a narrow alleyway and have a shot at serving them something. So the guy took a negative aspect of his restaurant i.e. the steep narrow steps, and turned it into a positive by getting people to actually wait to walk up/down those steps based on the red/green light. Genius.
---
Čertovka Pub or Restaurant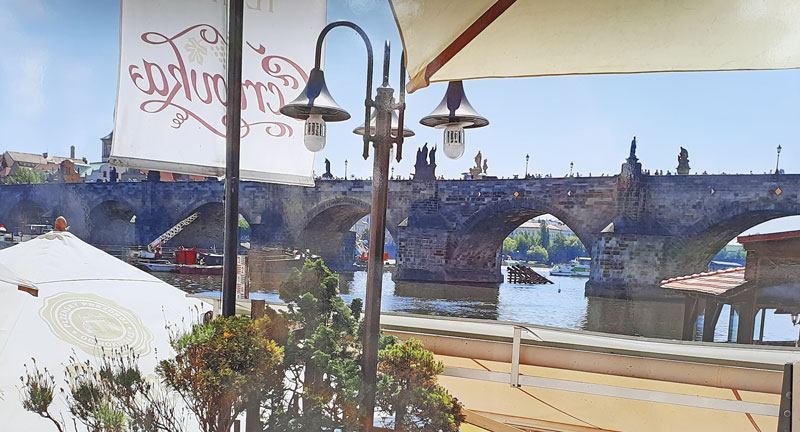 Personally my favourite places are where I can get a beer and a "pub-food" hot starter for CZK200 or less. I've used Certovka as a pub just for a drink with friends/clients or with tour clients who want the scenic view with their meal and don't mind paying. Quite frankly I find the prices here are appallingly expensive. I'm talking double the price of anything nearby so you better enjoy the view because you are paying for it. Hot starters are around CZK295 (Malostranska Pivnice 50 metres away is CZK149 for the same thing), main courses start at CZK335 (soups are @CZK85) but you have to add a side to that so expect a simple starter-main-drink to be coming in at around CZK800 per person. Don't try and change any of the meals i.e. can I have rice instead of dumplings etc because you'll get a stern look from the waiter. The outside terrace really feels like you are in a pub garden and the decor is just like an old Czech pub. Finally the Restaurant Čertovka suffers from a common problem for riverside locations in that they have squeezed 90 seats inside and another 70 seats outside but the kitchen is too small for that kind of capacity so in peak periods if its busy you can expect a long wait especially for your main course. So I stay away from here at peak hours.
---
Why Visit Restaurant Čertovka?
If you want the view, you can eat anything on the menu without asking for changes and you don't mind paying over the odds for the experience then this place is for you.
If you want a place for a scenic riverside drink outside the peak hours then this place is for you.
If quick service, flexibilty and value are important to you then try somewhere else.
Here's the Restaurant Čertovka Website and the address is U Lužického semináre 100/24.
---
Something Related or a Few Minutes Away
Attraction – Water Wheel and the Demon
Activity – Little Venice Cruise
Parks and Gardens – Wallenstein Palace
Museums – Kampa Modern Art Museum
Museums – Karel Zeman Film Special Effects
Memorials – 911 Firefighters Memorial
---
Some Random Things to Do and See in Prague