Prague Streets – Klárov
---
Klárov is not just a street, it's an area and today although it's just a little park its importance to the history of Prague cannot go unrecognised. If you find the Malostranska Metro station on a map then the road directly in front of it is Klárov. It extends up the hill to the border with the Old Castle Steps and at the other end as far as Manes Bridge.
---
This is actually the oldest known inhabited area on this side of the river. A Roman settlement was recorded here and for probably the same reason as others found later. This area of Prague was fairly shallow due to the build-up of sand on the bend in the river and hence the village here became known as Pisek (sand).
A man called Professor Alois Klár had opened the Klárov Institute for the Blind in the Kampa area very close to today's John Lennon Wall back in 1832 but that location was already becoming too small so the year before he died he bought land at the present-day Klárov 131/3. It was his son Pavel who built the new Institute between 1836-44 and his grandson Rudolf who added an extension in 1885. Actually the full title was the Klárov Institute for the Care and Employment of Adult Blind People. This building still has National Protected status and is also under UNESCO Cultural Protection. Currently it is the home of the Prague Institute of Geology.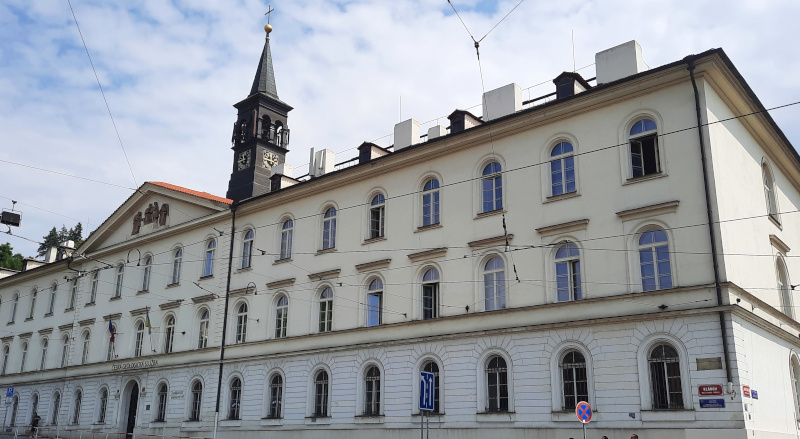 It officially takes the name Klárov Street following an extensive expansion of the city administrative area in 1922. The old wooden buildings were torn down in 1926 to create the park.
---
Weird Trivia
50 metres away from Klárov where the row of buildings is located is a street called U železné lávky. This translates as "At the Place of the Iron Bridge". This is a historical reference to a pedestrian footbridge built in 1868 called "Rudolf's Footbridge" which ran from the other side of the river at today's Jan Palach Square to the end of this road.
Klárov Street terminates at the Old Castle Steps because historically there was no road up the hill until the 17th Century but Klárov did connect to Prague Castle via a road at the rear of the steps called Na Opysi.
---
Something Related or a Few Minutes Away
Attraction – Wallenstein Palace and Gardens
Attraction – Traffic Light Alley
Food and Drink – Castle Vineyard
---
Some Random Things to Do and See in Prague