Prague New York Firefighters Memorial
---
When I sat down to write this post I thought I had "one or two" minor details to work out. Those "one or two details" took me on a journey through the internet, being inspired, being sad, being shocked and being grateful. This journey is ongoing.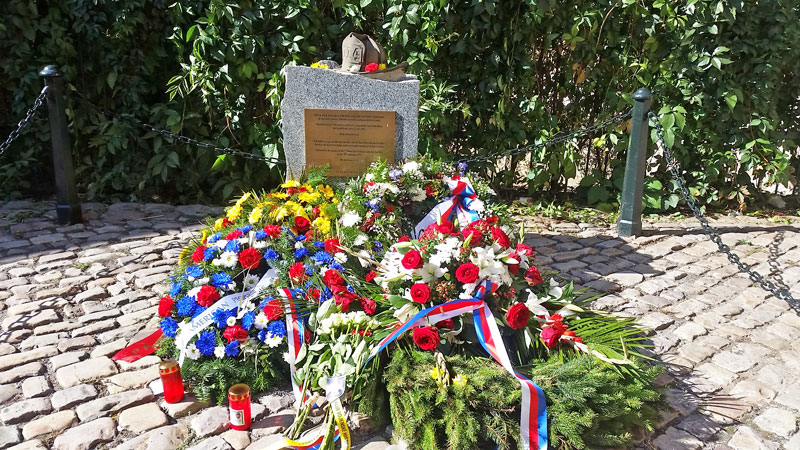 ---
Nobody who still has a memory can fail to forget where they were the first time they heard about the attack on the World Trade Centre on September 11th 2001. It was my generation's "where were you when President Kennedy was shot" moment. It was 9 years before the monument was placed here.
---
A Firefighter is a person who lives in the world twice – once for themselves and once for others. Therefore the life of a fireman holds a true understanding of all that is human.

The Prague New York Firefighters Memorial plaque
The Inauguration
In the year 2010 it was planned to have the inauguration of the first ever Prague 1 volunteer firefighters brigade. They combined the ceremony with the commissioning of the original Prague New York Firefighters Memorial granite stone that was placed on Kampa Island. I say "original" because it wasn't until the following year 2011 they added a surrounding chain and the helmet.
Did you know that the plaque is actually a metal fragment from the superstructure of the World Trade Centre? and there is a website that tracks 9/11 memorials that include fragments/material from the WTC. http://www.memorialmapping.com/memorials/browse-by-medium/wtc-fragments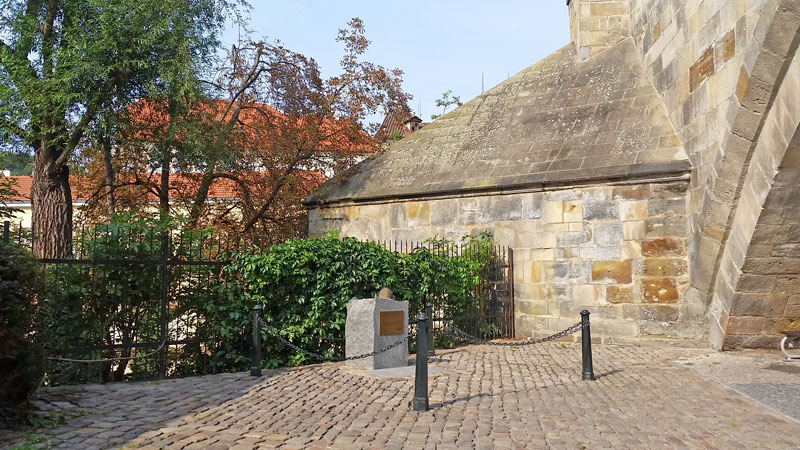 ---
Prague New York Firefighters Memorial Helmet
But it is the helmet that continues to frustrate me. It was put here on the 10th anniversary of 9/11 and it has the number 114. Anything I have ever read in English or Czech says that it symbolises the sacrifice of 343 New York Firefighters. So why 114? Written on a helmet, it would normally indicate the company to which the firefighter belongs. If this is correct then it can only reference Ladder 114 and the death of James "Jimmy" Riches. Eight years as a policeman and two as a firefighter he was killed in the WTC the day before his 30th birthday. Or maybe 114 means something completely different. So far the Prague Volunteer Fire Service has not replied to emails and phone calls. The US Embassy at least acknowledged the request for information but currently has not responded with any answers. To be continued…..
---
The Google Maps shows the position of a gallery at Kampa 493. The 9/11 memorial is between the gallery and the arch of the bridge on the left.
---
Something Related or a Few Minutes Away
The Prague New York Firefighters memorial is included in the Prague City Walking Tour
Attraction – The Traffic Light Alley
Attraction – The Water Wheel and the Demon
Museum – Kampa Modern Art Museum
Museum – Karel Zeman Special Effects Museum
Activity – Little Venice River Cruise
Films and Videos – Mission Impossible 1996
---
Some Random Things to Do and See in Prague